Outlander trading cards might not be on the radar of a lot of collectors, but the line has been a big one for Cryptozoic thus far. A huge part of that is because they've reached fans of the show who might not normally be card collectors. So it shouldn't be surprising that the 2019 Cryptozoic Outlander Season 3 trading cards stick with a similar format as the first two.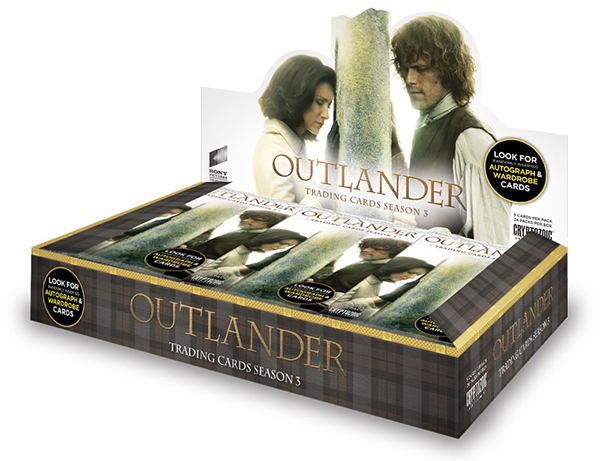 That means an autograph and a costume card in every box.
2018 Cryptozoic Outlander Season 3 Base Set Basics
The main base set uses 72 cards to sum up the third season's 13 episodes. That means more time travel, more steamy romance, more quick-witted dialogue and more from Claire and Jamie.
Historical drama, a unique love triangle, beautiful costumes and science fiction all collide in Outlander. Its popularity began with the books from Diana Gabaldon. With the TV adaptation, that popularity has been taken to another level.
Base cards hone in directly on the events of the show likely leaving other details like character descriptions and seasonal themes for the inserts.
Autographs and Memorabilia Cards
Both Autographs and Wardrobe cards return as box hits in 2019 Cryptozoic Outlander Season 3. Caitriona Balfe leads a large lineup of signers. This is the first set the lead star has signed for.
Wardrobe cards have swatches of costumes worn on the show. And for a show like Outlander, that can mean pieces that have lavish details, multiple colors and interesting textures.
A special 2019 Cryptozoic Outlander Season 3 binder is available on its own. It comes with an exclusive Wardrobe card not available in packs.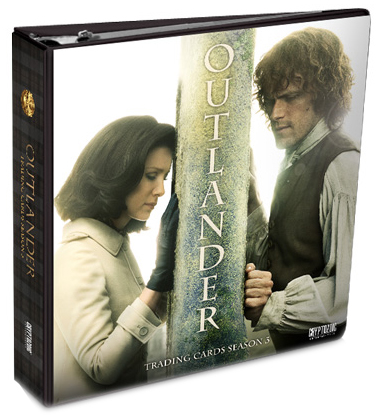 2019 Cryptozoic Outlander Season 3 trading cards at a glance:
Cards per pack: 5
Packs per box: 24
Boxes per case: TBA
Set size: 72 cards
Release date: February 15, 2019
What to expect in a hobby box:
• Autographs – 1
• Costume Cards – 1