The BGS 100 Most Submitted Cards: 60 – 51
It's Tuesday, so that means it's time for the next installment of the BGS 100 Most Submitted Cards. Before we get to this week's entries, let's do a quick review of the names we have seen so far. Kobe Bryant is the current leader in the clubhouse with three cards on the list. I'm certain that a good deal of the reasoning there is his untimely death earlier this year, but being a Top 5 player of all-time doesn't hurt either.
After Kobe, there are a number of players that have a pair of entries on the BGS 100 Most Submitted Cards. Sosa, Shaq, Gretzky, Ripken, and Jeter all appear twice. Those are all names that shouldn't be surprising to anyone. As the countdown continues I'm sure more familiar names will start to pop up as well, like the Gun Slinger here at number 60.
60. 1991 Upper Deck #13 Brett Favre RC (4,827 Copies Graded)
With so much of Favre's history being played out in Green Bay, one almost forgets that he was a rookie in Atlanta.  The added intrigue here is how much Falcons head coach, Jerry Glanville, did not want him there. On more than one occasion he used some very colorful language to help express that to whoever would listen. Long story short, Brett was traded to Packers and the rest is NFL history.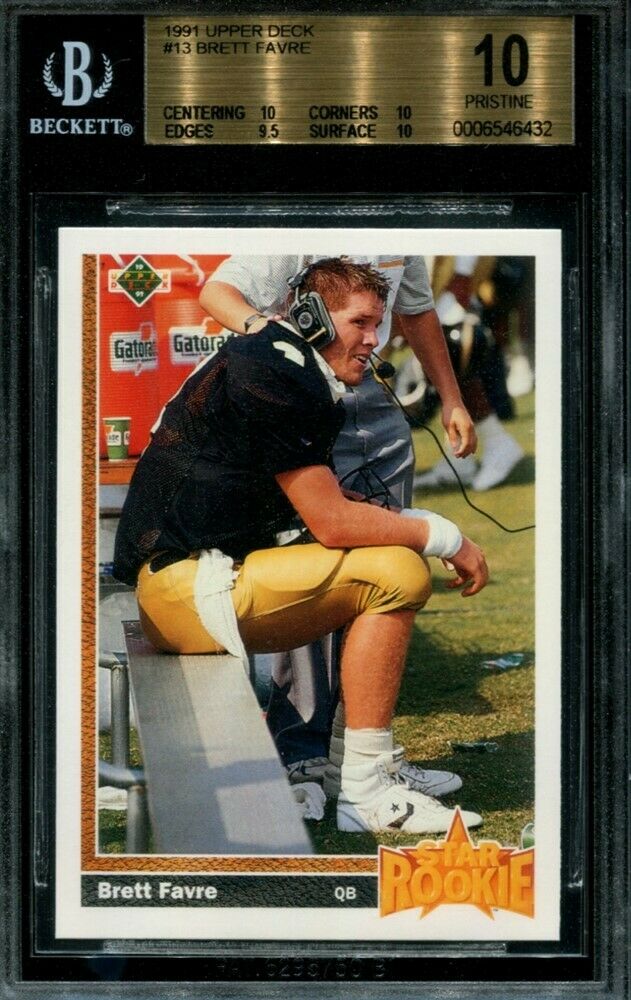 59. 1990 Score Supplemental #101T Emmitt Smith RC (4,875 Copies Graded)
This is my favorite football card from the '90s that I have never owned. In my opinion, this card is perfect. I love how the blue of the card pairs perfectly with Smith's jersey. It's a simple design but it just pops against this photo of what appears to be Smith turning the corner on Taylor. It's a reminder of when the NFC East was fun to watch. The exact opposite of what it is in 2020.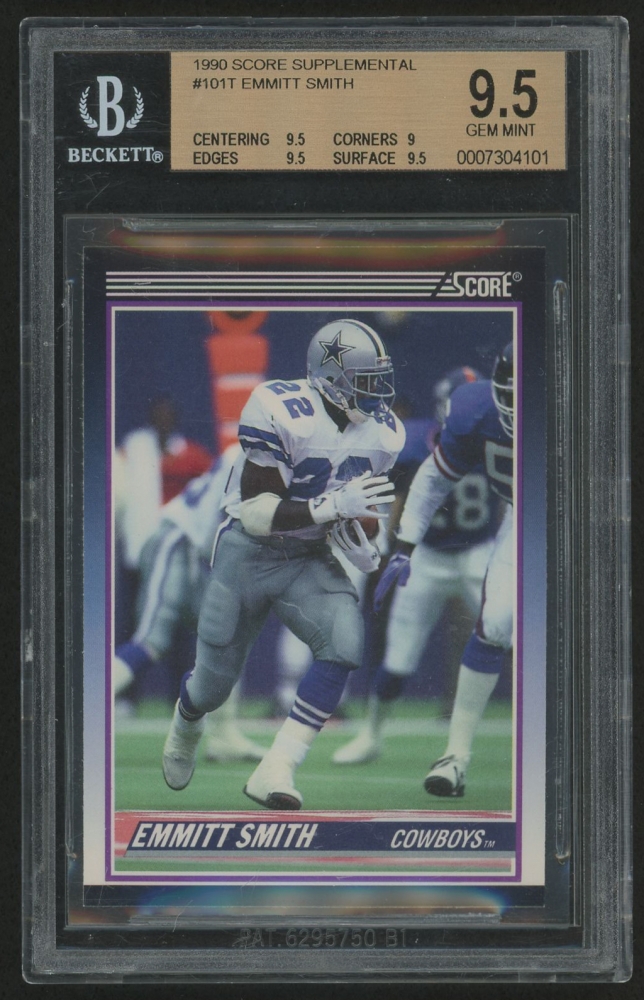 58. 1991 Upper Deck Final Edition #2F Pedro Martinez RC (4,914 Copies Graded)
Just like Favre above, it's cool if you don't remember Pedro with the Dodgers. Some of that would probably do with his little brother Ramon being the Martinez they held onto. However, it's most likely due to how dominant Pedro was in Boston. His time in Montreal was a precursor to that dominance as he finished his final season there with a 19-7 record, then exploded on the American League in 1999 going 23-4 with a 2.07 ERA.  Yet here he is, pencil-thin mustache and all, in a Dodgers uniform.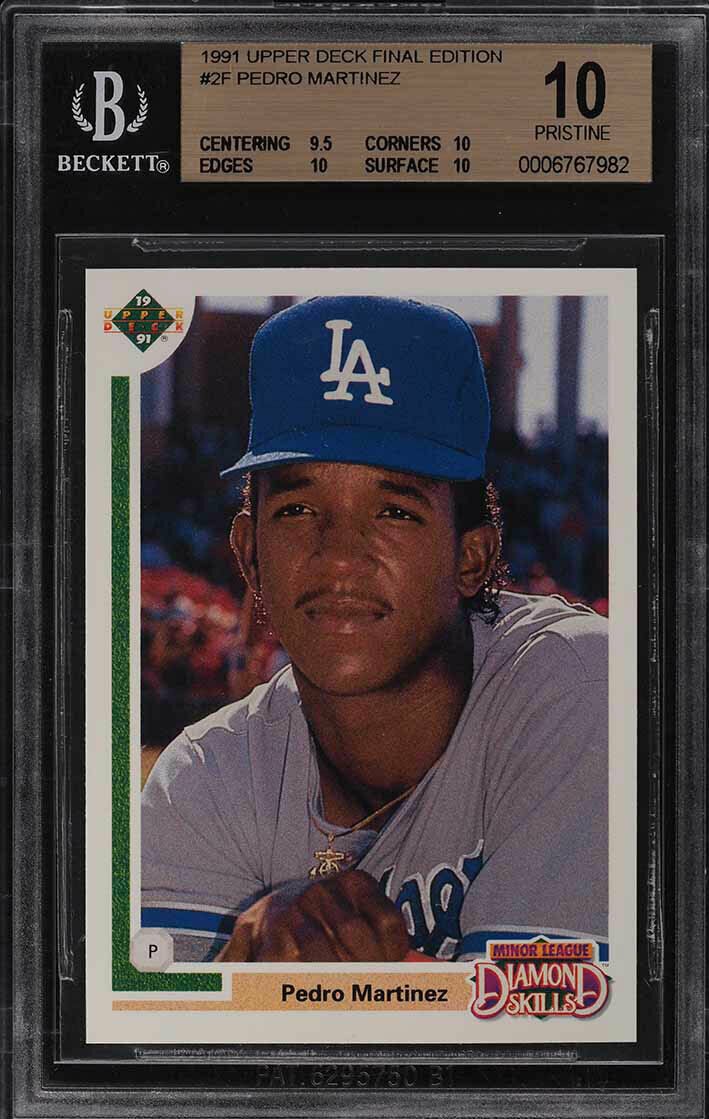 57. 2018-19 Panini Prizm #280 Luka Doncic RC (4,951 Copies Graded)
It was only a matter of time before we got to Panini Prizm, and it should be no surprise that it's this Luka Doncic rookie. The hype behind this card over the last two NBA seasons has been nothing short of a frenzy. However, the fact that it's sitting here at number 57 is somewhat of a shocker. That may speak to how tough of a pull it is or the popularity of the cards ahead of it. Either way, I'm sure it will be in the Top 50 next year.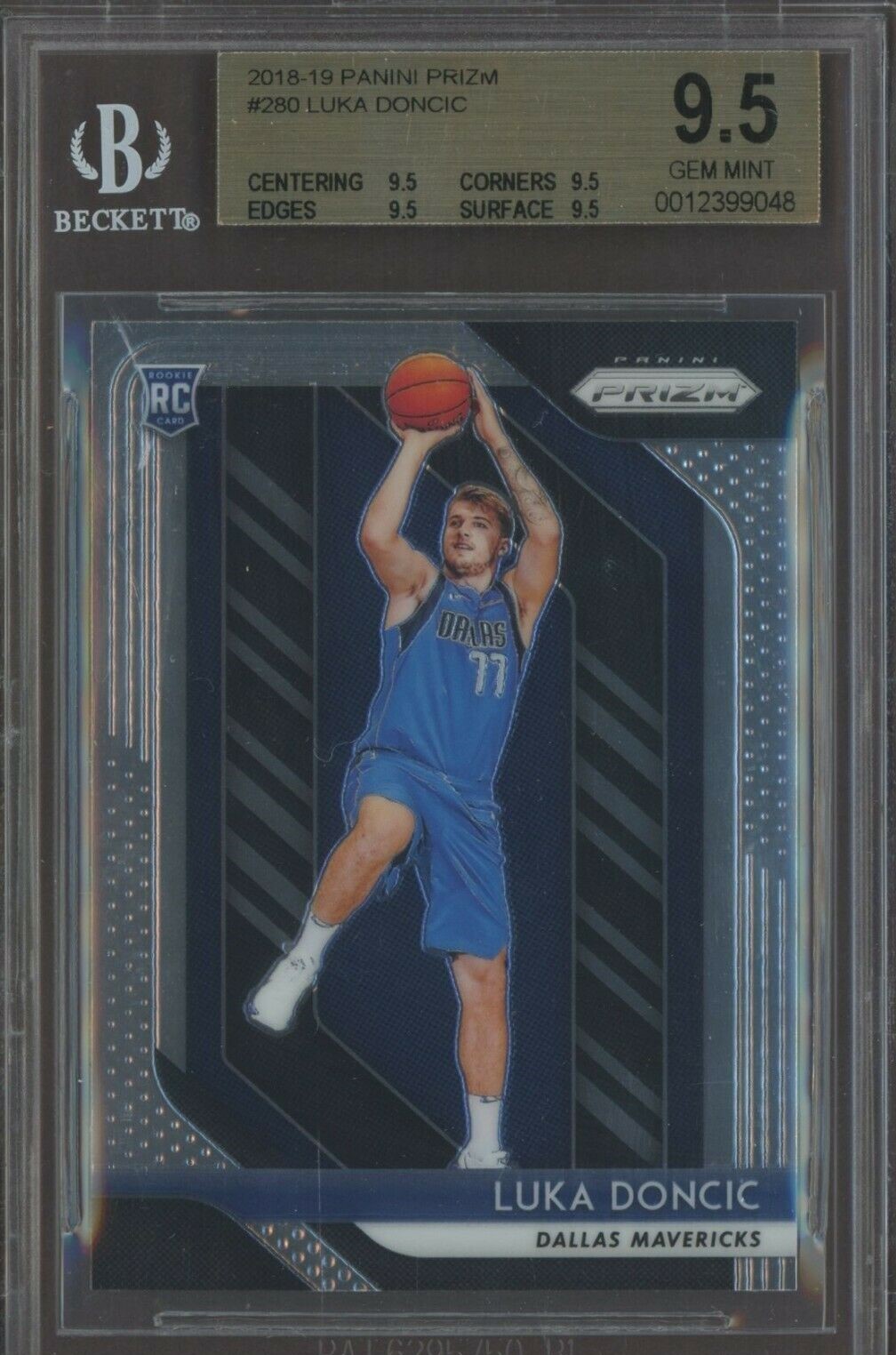 56. 2001 Upper Deck Victory #564 Ichiro Suzuki RC (5,002 Copies Graded)
Just as a reminder here, Ichiro Suzuki was one of the greatest hitters of all-time. He may not have hit for power but he was clutch at the plate. With his almost crooked batting stance, Suzuki was poised to slap a single over the infield at any time necessary. More often than not, that single was stretched into a double with ease. This is Ichiro's only card in the Top 100 and that seems almost criminal. Long live Sodo Mojo.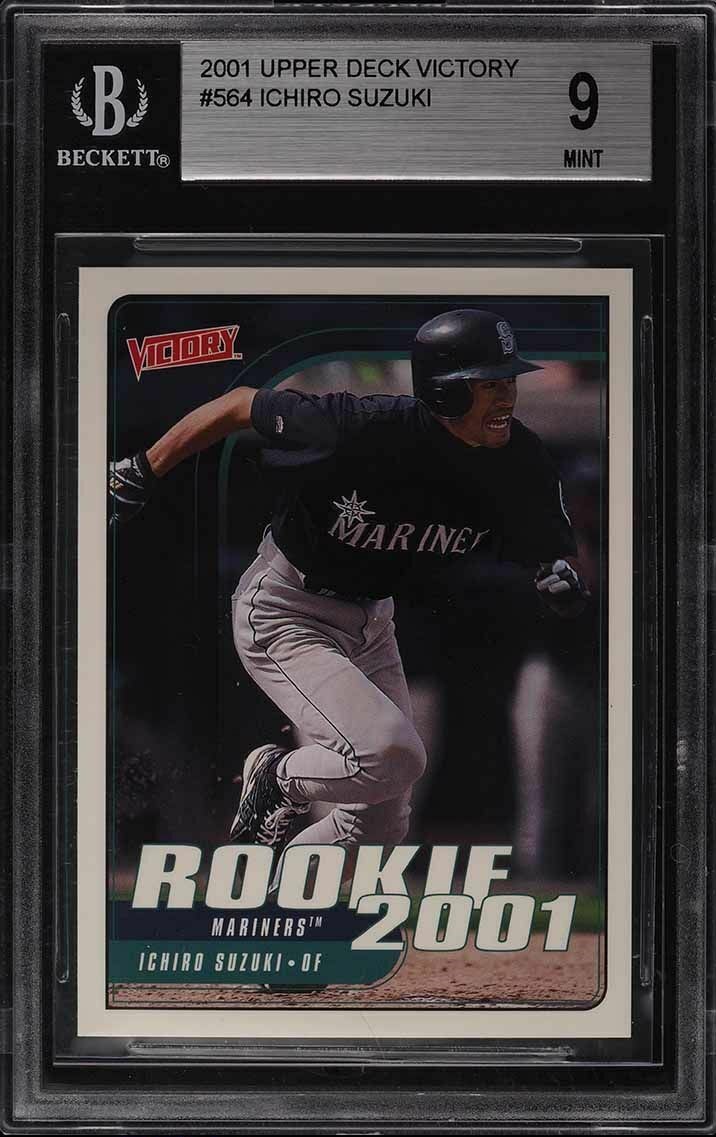 55. 2001 NetPro #1 Andy Roddick (5,003 Copies Graded)
Who would have thought that a card with a high book value of just $2 would have over 5,000 copies graded? Moreover, a freaking tennis card at that. This just goes to show you how hot the graded card market is.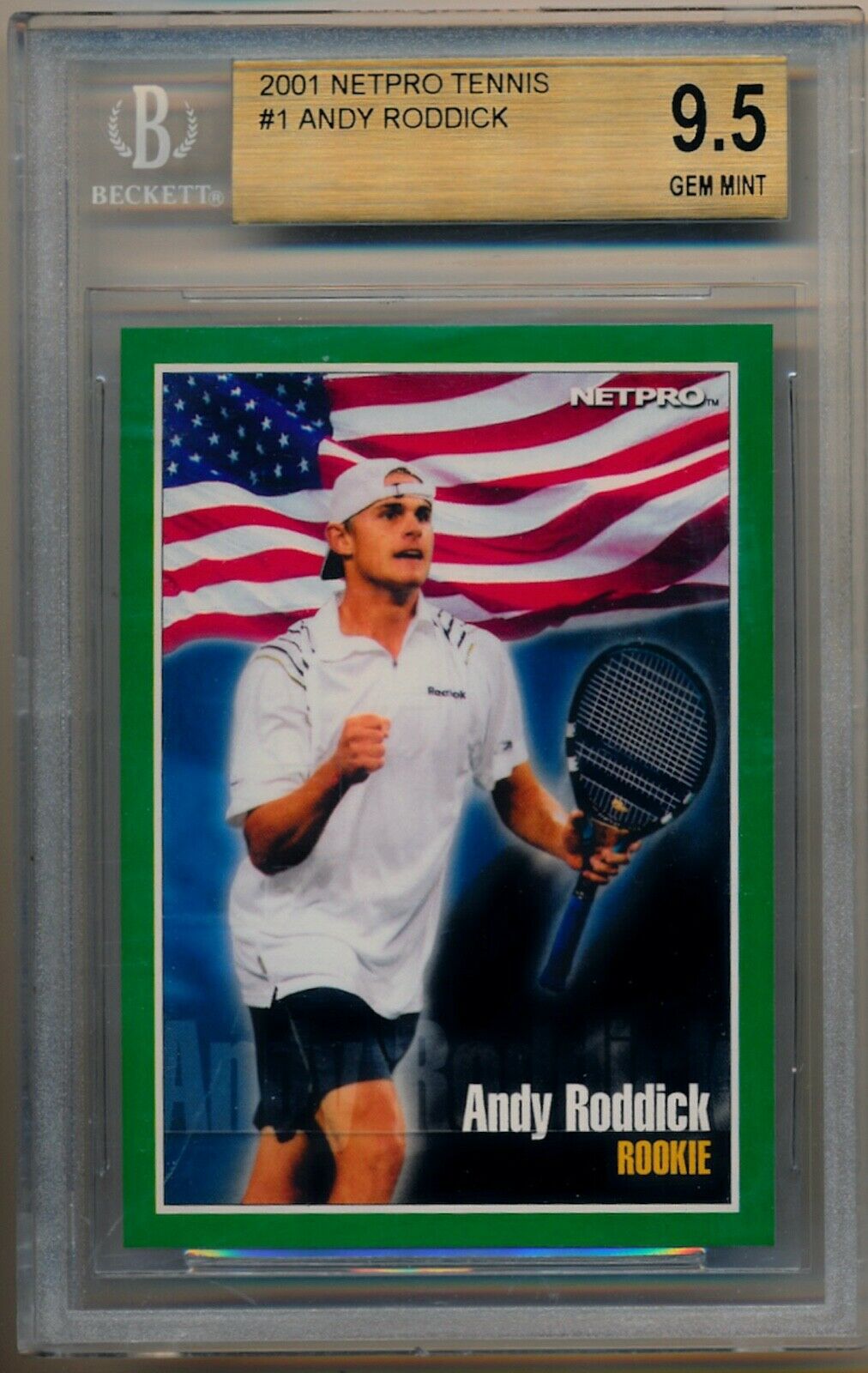 54. 1988-89 Fleer #17 Michael Jordan (5,026 Copies Graded)
For just the second time we see Michael Jordan on the countdown. The first was his 90-91 Fleer back at number 76.  Same brand here, as well as the same tongue, extended out of his mouth, but this time he's shooting over Hawks forward Kevin Willis.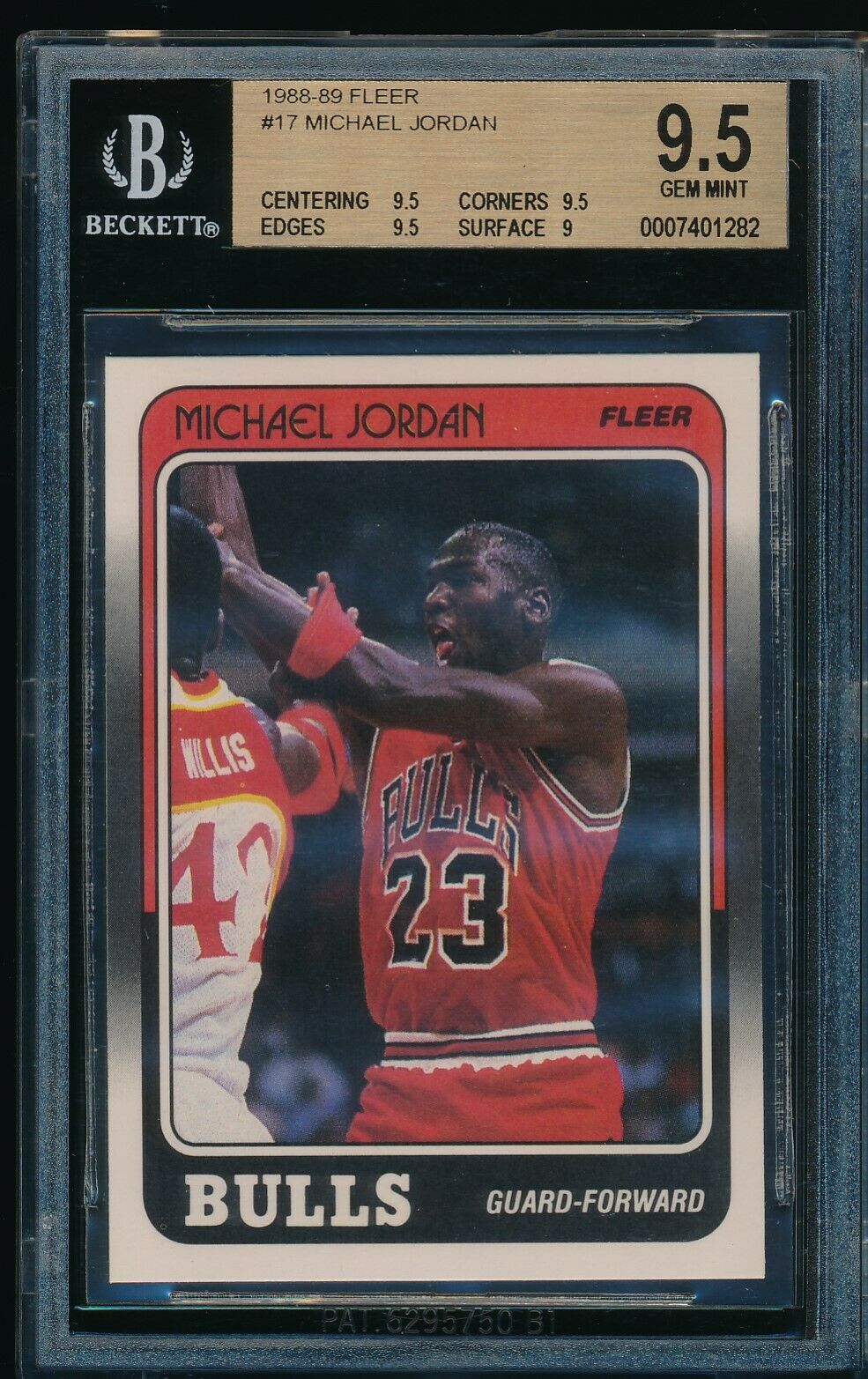 53. 1992-93 Upper Deck #1B Shaquille O'Neal TRADE (5,062 Copies Graded)
Obviously, you understand that another Shaq movie reference is due here. Besides, what is a Shaq entry on the BGS 100 Most Submitted cards if you can't mention his fine work in Carrot Top's Chairman of the Board?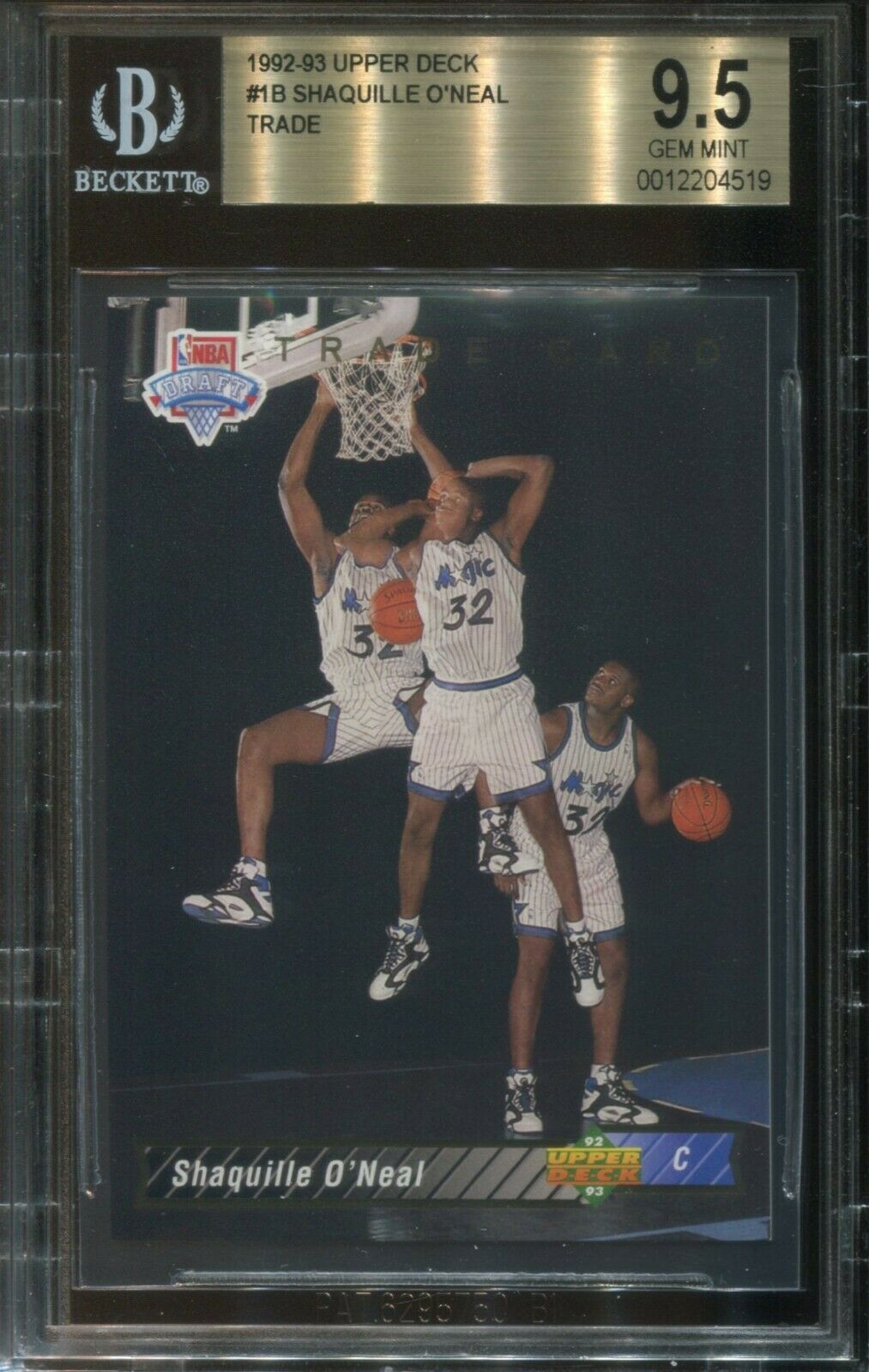 52. 1994 SP #3 Marshall Faulk RC (5,097 Copies Graded)
Unquestionably one of the best running backs to ever step onto the gridiron is Marshall Faulk. He's just outside of the Top 10 All-Time NFL Rushing Leaders at number 12 on that list. However, he's probably first in the hearts and minds of Colts and Rams fans. This is an underrated card from the '90s that would be a great addition to any football collection.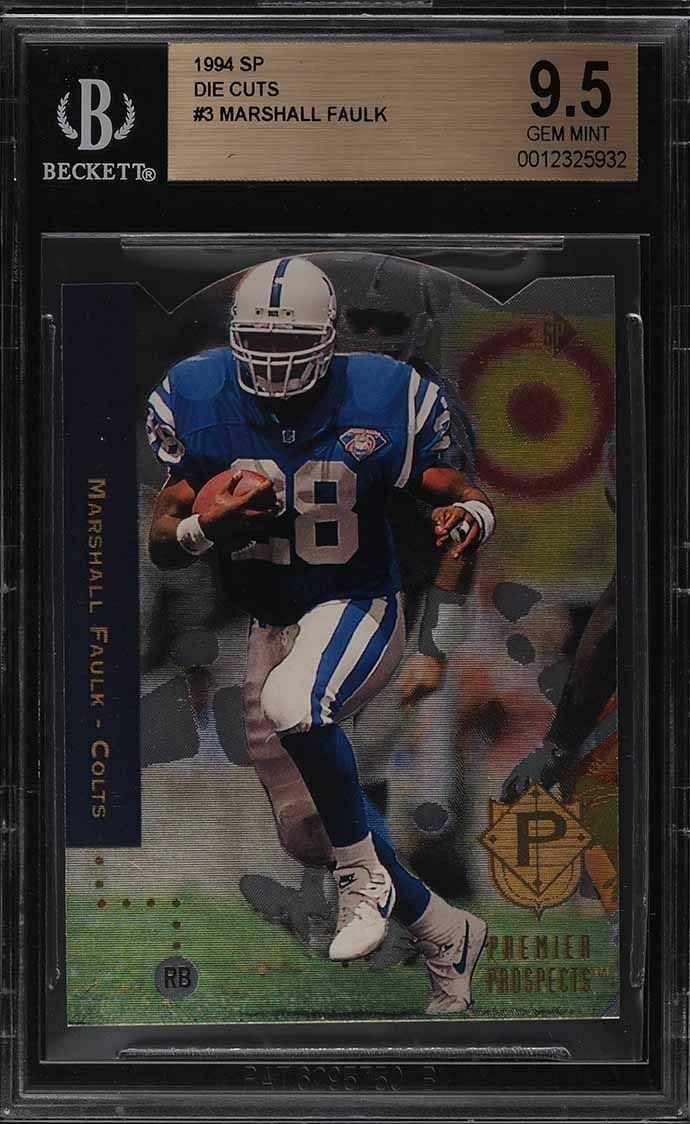 51. 2006 Score #360 Reggie Bush RC (5,256 Copies Graded)
Finally, we have come to the end of this week's entries in the BGS 100 Most Submitted Cards Countdown. An interesting case study could be done here on Reggie Bush. I for one think he got the raw end of the deal for what happened at USC. Though he never panned out in the NFL he legacy as one of the greatest college running backs of all-time is cemented in our memories. You can't blame prospectors for submitting this Score rookie back in '06, it made all the sense in the world then.