The Ben Simmons Rookie Card portfolio has no shortage of valuable entries. But when it comes to the modern hobby that's filled with autographs and memorabilia, it's a very different picture. And for some, it might even feel like a throwback.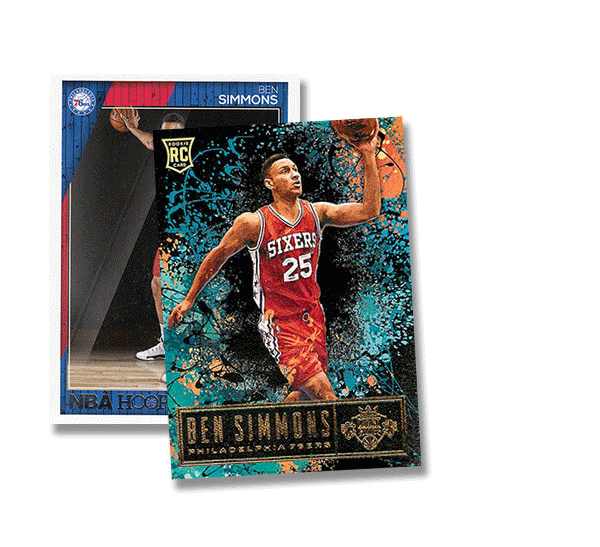 More than 20 Ben Simmons Rookie Cards exist with him in a Philadelphia uniform. Some are readily available and not particularly fancy. Others have extremely limited print runs and higher quality production. When you get to Flawless, there's even a diamond.
But what you won't find on a of the NBA Ben Simmons Rookie Card is a signature. That's because the point guard signed an exclusive autograph deal with Upper Deck, joining the likes of Michael Jordan and LeBron James. With Panini holding exclusive rights to NBA cards, it made for an interesting situation. Panini could still make Ben Simmons Rookie Cards but they could only do so without signatures. As a result, most of his early cards are found mixed in with veterans on the various 2016-17 basketball checklists.
Despite this, Ben Simmons Rookie Cards were still a driving force, even when he ended up missing the season due to injury. Now that's he's healthy and The Process has been set in motion in Philadelphia, things are heating up again.
For those looking for Ben Simmons autograph cards, Upper Deck has produced some but not a lot. Besides some special edition promo cards, two of the top options are 2016 Upper Deck Goodwin Champions and a 2016-17 Exquisite Ben Simmons autograph. This insert is numbered to 99 and was included in 2017 Goodwin Champions.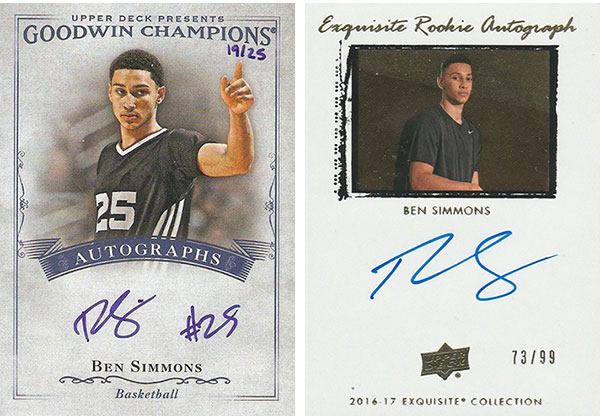 Both of these — as well as Upper Deck's other Ben Simmons autographs — are inserts and don't fit traditional Rookie Card definitions. But that hasn't stopped them from soaring in prices and commanding big prices. The fact that there aren't many to go around has certainly helped, too.
If you're curious about the Ben Simmons Rookie Card lineup, want to know what's worth the most or just want to see them all in one place, they're waiting for you in the list below.
Most Valuable Ben Simmons Rookie Card Rankings
The following list included only Ben Simmons Rookie Cards marked with the RC tag in the Beckett Basketball Card Database and Price Guide. Inserts, parallels and some other cards are not. Rankings are based on their value in the price guide.
Comments? Questions? Contact Ryan Cracknell on Twitter @tradercracks or by email.