1916 M101-4 Babe Ruth Rookie Card Found in Piano, Soars at Auction
Steven Bloedow, Beckett Media Director of Auctions, knew the collection of 1916 M101-4 cards including a Babe Ruth Rookie Card could be special find. The fact that over 80 vintage cards were uncovered in a piano from their 100-year old hiding place gave the Ruth card its signature name, the "Piano" Rookie Card.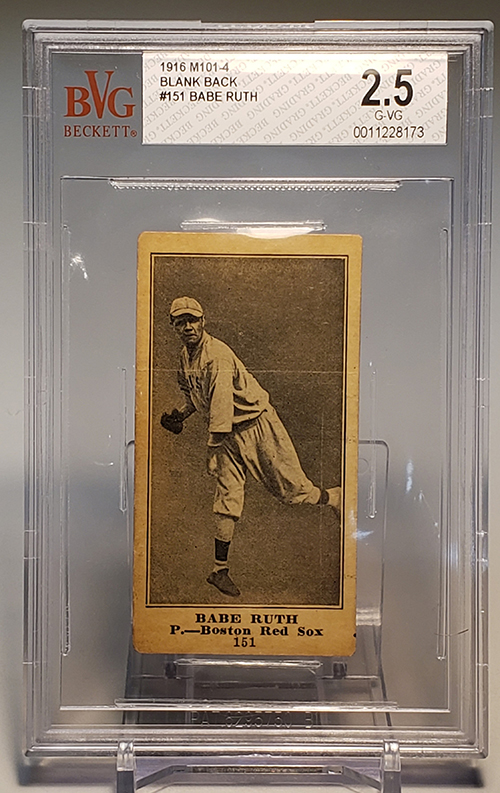 The Ruth card, along with a number of other significant turn-of-the-century cards and items, are available now in Goodwin Auctions' Masterpieces and Uncommon Commons 78.
Until recently, the 1916 M101-4 Babe Ruth Rookie Card, in its many variations, received little respect from the hobby's elite. From the moment memorabilia prices and card prices in particular, began to skyrocket during the 1980s, the Ruth Rookie faded into the shadows of the market behind the holy grail of the industry, the T206 Honus Wagner.
Bloedow believes the tide might be turning as the BVG graded Ruth M101-4 blank back Rookie Card has already soared beyond pre-auction estimates with a current bid of over $89,658 with just under two weeks remaining on the online auction.
"We thought $40,000 to $45,000 was a fair estimate for this card," said Bloedow. "This blank back version presents much nicer than the BVG 2.5 grade it received at first glance, but has a print line running across his chest accounts for the Good+ grade. What is also amazing about this card is the fact that it was found in a piano with the rest of the collection. This 'Ruthian' heirloom is anxiously awaiting a new home in an esteemed world-class collection."
The 1916 M101-4 card of Ruth features the Bambino as a pitcher for the Boston Red Sox. The card is graded a BVG 2.5. While the technical grade is because of a horizontal line, the centering and overall eye appeal make this particular card visually impressive and better than its grade.
The collection of cards is currently included in Goodwin Auctions' Masterpieces and Uncommon Commons 78 with the "Piano" Ruth Rookie Card, a high grade Topps MasterSet and a 1933 Goudey Jimmie Foxx garnering the most attention from bidders.
The auction runs through April 25.
Others agree that the 1916 M101-4 "Piano" Babe Ruth Rookie Card will continue to draw interest as the end date draws near.
"The King of baseball collecting is Babe Ruth. And the ultimate Rookie Card belongs to the Sultan of Swat. Even after 20 years of being a professional card grader, my biggest thrill is helping to bring newly discovered collections to the hobby," said Andy Broome, Senior Vintage Card Grader. "From the T206 Honus Wagner card that once resided under someone's bed in a sandwich bag to this collection of 1916 M101-4 cards that was discovered inside a piano, the story is part of the fun and excitement of authenticating and grading original collections. To know that a monumental card such as this "Piano" Ruth Rookie Card is 'fresh' and not previously seen in decades is appealing to collectors and investors alike."