Babe Ruth "Piano" Card Tops $130,000
The 1916 M101-4 Babe Ruth card found with a stack of old baseball cards tucked away in the pedals of a family piano has sold for $130,054 with buyer's premium.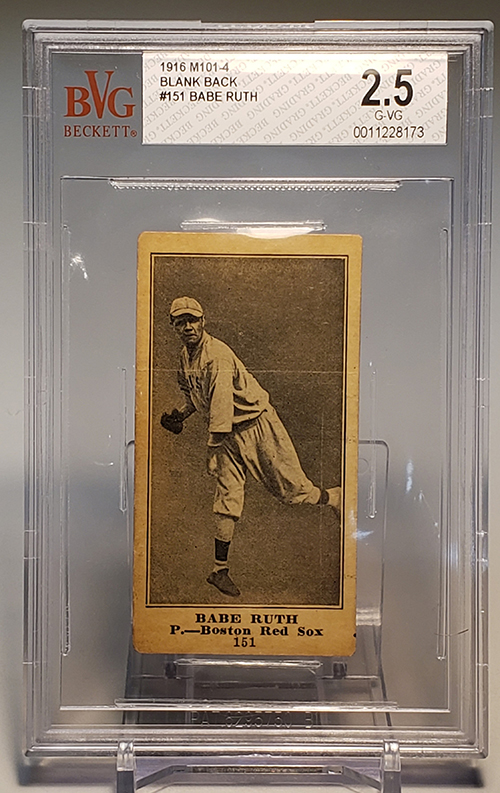 The blank-backed Ruth card, #151 in the set and graded a 2.5 G-VG by Beckett Vintage Grading, was sold in Beckett Goodwin Auctions' Masterpieces and Uncommon Commons 78 auction that closed April 25. It had attracted 23 bids.
"We were expecting $60,000-$75,000 [for the card], so it far exceeded our expectations," said Steve Bloedow, Beckett Director of Auctions. "Ruth's RC continues to soar in price and has clearly joined the hobby's elite. The centering and eye appeal on this one was very strong so it's not shocking that it exceeded all expectations."
The card had gained notoriety as the story of how it was discovered became known. The consignor, Ellen Kelly of Maryland, said the Ruth and several other vintage-era cards including Hall of Famers were found in the early 1990s in the pedals of a piano that used to belong to an aunt and uncle. She purchased the piano for $25 from a family estate sale.
It wasn't until she had the piano tuned that the cards were discovered, in remarkably good shape.
Kelly told Beckett Vintage Collector that friends and family had suggested she keep the cards in a secure place. One night, Kelly says she lay awake in bed with the cards, fearing they could be stolen. "The next morning," she said, "I was at the bank when they opened."
She told the woman preparing a safe deposit box for her that her package contained only "some stuff found in a piano."
Several years later, when the family member that owned the safe deposit box passed away, Kelly took possession of the cards, but opted to take them home. She placed them in a container in her kitchen where they remained until a family friend convinced her to get them appraised. She agreed, and the Ruth ultimately was sent to Beckett for grading, and then on to Beckett Goodwin Auctions.