Alternative Wacks: The World of Satirical Trading Cards Not Named Wacky Packages
When you click on links to various merchants on this site, like eBay, and make a purchase, this can result in this site earning a commission.
First produced back in 1967, Topps' Wacky Packages remain in production today and rank among some of the best-selling cards ever produced. During the 1970s the cards even outsold their licensed baseball cards. Prices for the original 1967 series are all over the place, with PSA graded cards with high grades bringing the most money. A complete 44-piece set, listed as #8 on the PSA Registry, sold on Goldin Auctions for $9,000, including buyer's premium.
Topps continues to produce spinoff s and a variety of name brand product parodies, updated to today's wacky products. But it's not just Topps that has taken advantage of the concept, with many other card producers jumping on the parody bandwagon.
Silly, Smelly, Crazy, Foney, Killer, Galactic Parodies
In 2008, Top Shelf Enterprises, Inc released Silly Supermarket Trading Card Stickers. These stickers contained 24 six-sticker packs per box. The 30 die-cut cards featured parodies of supermarket products and included cards with the titles "Blasted Flakes," "Spite," and "Chef-Poor-Artie." The card backs made up three, nine-piece puzzles. Unopened boxes are currently selling for $25. A series 2 & 3 were also produced.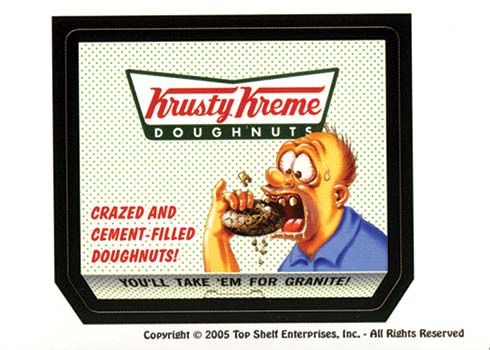 Joe Simko is the founder of Wax Eye LLC and the creator of the parody sticker set, Cereal Killers. Familiar with trading cards and parody sets due to his work for Topps on Wacky Packages and Garbage Pail Kids, Joe combined his love for cereal and cult horror films, creating the popular card set. The 55-card base is randomly collated and comes in full color wrappers complete with a fluorescent spot color. Each box holds 24 packs.
Cereal Killers II was released in 2012, adding another 55-base sticker cards. Titles include Donnie's Dark O's, The Elephant Bran, Scream of Wheat, and Queen of the Grahamed. Card fronts resemble a box of cereal and include characters from films throughout the years. Insert cards range from Silver Spoon Foil Cards (nine cards), Sugar Glitter Cards (eight cards) and Glow-in-the Dark Stickers (three cards).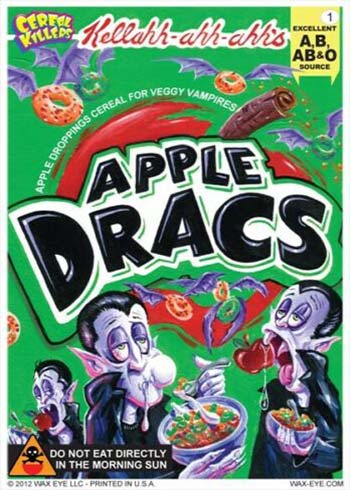 The set has two packaging configurations: traditional packs and mini cereal boxes. The cereal boxes come packaged as sets of three with 20 cards per mini-cereal box. A complete set of Series 1 cards (55-base set) can be purchased for $30 with unopened mini-cereal box sets selling in the range of $50.
In addition to grocery stores and cereal aisles, non-sports covered the world of advertising with 1960's Foney Ads by Leaf. The 72-card set produced a number of product parody cards and was the predecessor to Topps Wacky Packages. More than a few of the product names were duplicated years later in the Topps cards. Some sample cards included Betty Rocker Cake Mix, Hurts Rent-A-Car, Mr. Mean, and Old Mice After-Shave Lotion.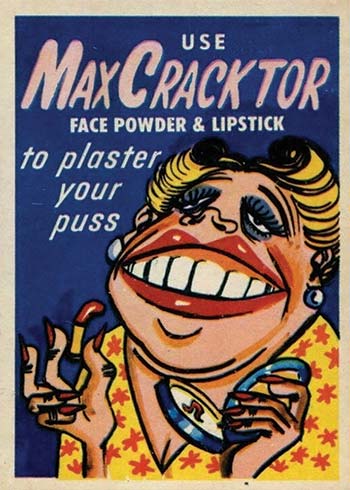 Packs included five cards and a stick of gum and sold for five cents. Key cards, PSA graded in near mint condition, have sold for as high as $29.
Parody or Lawsuit?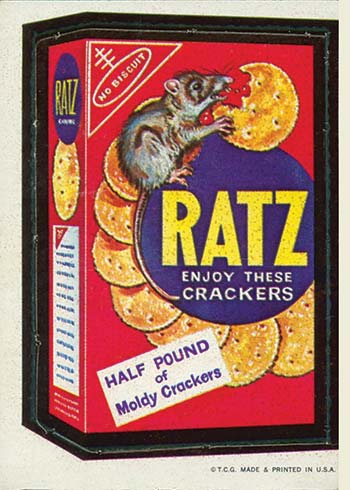 The original Wacky Packages drew a lot of attention when released in 1967—unwanted attention. Potential lawsuits and cease and desist orders flourished, but Topps won out in all but one case. Fourteen cards were pulled from the original series, including Cracked Animals, Moron Salt, and Ratz Crackers. Jolly Mean Giant, a replacement card, was also later pulled.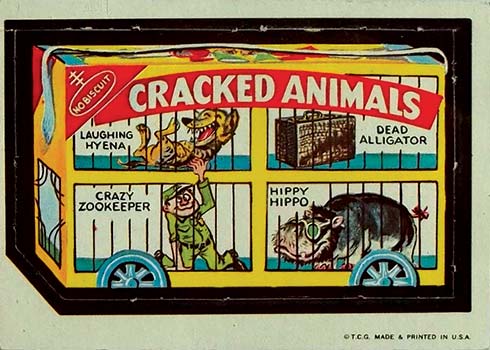 In 1969, Topps released Wacky Ads, a series of 36, 3 x 5-inch cards designed to look like miniature billboards in the same vein as Wacky Packages. Card #25, Good and Empty, a parody of Good and Plenty, was pulled when Leaf Brands sued. A substitute card, Mixwell Hearse Coffee was prepared, but has never seen print.
Package Parodies was an obvious spoof of Wacky Packages and was released at the Philly Non-Sports Card Show in 2000, with a full release in 2003. The 30-card set was produced by NewHamm and sold with the original base set and two parallel sets. Card parodies included Cannibals Soup, Cheat-Os, and Croak Beverage. Boxes included packs of 48 with two stickers and one puzzle piece per pack.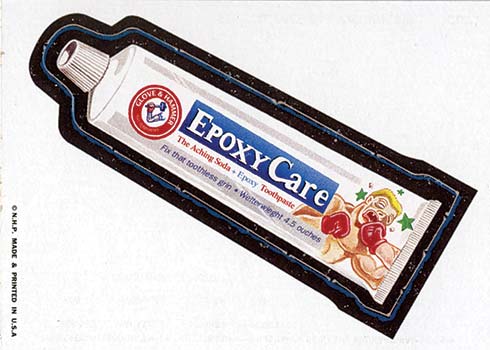 Galactic Groceries was released by artist George Wright of Wright Stuff Graphics. The series, as the name implies, blends common grocery items with characters from space operas such as Star Trek and Star Wars. The set was released as individual cards and sold at the Philly Non-Sports Card Show. It appears there are only ten cards to date. Cards sell for around $4 each.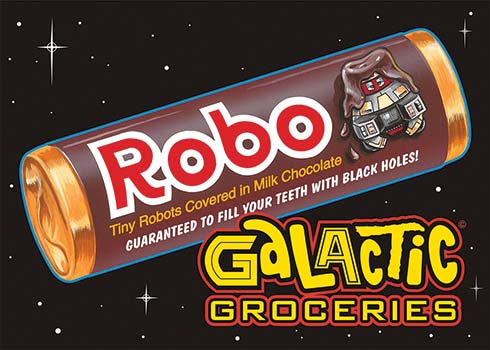 In 1973, when the Wacky Packages craze was becoming a phenomenon, Fleer jumped into the fray with their own set of parody stickers. However, instead of taking on food items, they turned their attention to magazine covers. Fleer's first series of Crazy Magazine Covers consisted of 30 stickers and a nine-piece puzzle with checklists on the back. This was the exact configuration of Wacky Packages. A Series 2 was released with 30 new titles. These sticker cards were a bit crude by comparison to Wacky Packages but were effective enough to garner a second set.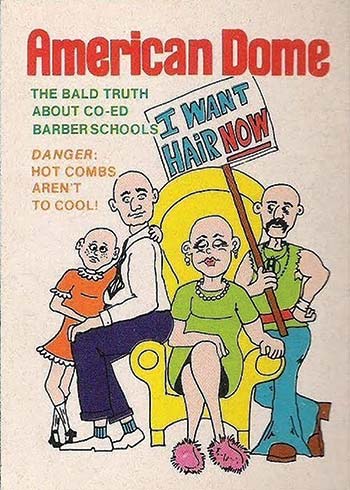 In 1991 Fleer released a 64-card set entitled TV Smelly Awards. The set featured sticker cards that parodied television shows. Examples include Brawl in the family, Bob Low Heart Show, Kojerk, The Jerkersons, and more. Card backs had a ballot that allowed the collector to write in his Smelliest Show, Worst Actor, Worst Actress, and Biggest Bomb of the Year. Cards are quite common with near mint cards selling in the $1 range.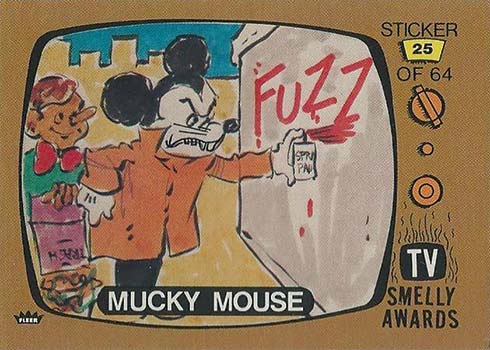 The Saunders Influence
Norm Saunders was the artist responsible for crafting the card fronts for many of Topps best-selling card sets. The original artwork from the first set of Wacky Packages back in 1967 featured Saunder's work on the card Band-Ache, which parodies Johnson & Johnson Band-Aid. The original painting measured 5 x 7 inches and was offered online for the asking price of $1 million by Topps. While the original art didn't sell, other Saunders originals did quite well at auction. The original art for 1962 Topps Mars Attacks #1 The Invasion Begins, sold at auction for $82,250.