2016 Topps MLB Wacky Packages are a fully endorsed parody of big league baseball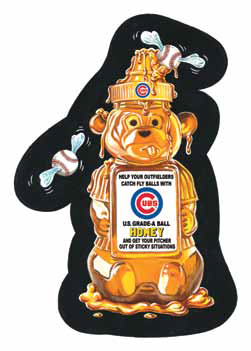 By Ryan Cracknell | Hobby Editor
Often, huge corporations take themselves seriously. Fully endorsed by the league, 2016 Topps MLB Wacky Packages show a lighter side to the sport. Taking the satirical nature that has been a Wacky Packages staple for almost 50 years, the product loving makes fun of all 30 teams.
Like other recent Wacky releases, 2016 Topps MLB Wacky Packages can be found with two separate hobby configurations. There's basic hobby, which is intended to cater more to those looking for a basic set with a few added extras. Hobby collector boxes have more exclusives and inserts. They also promise one autograph, sketch or relic card, which regular hobby boxes do not.
See also: 2016 Topps MLB Wacky Packages Checklist
The 2016 Topps MLB Wacky Packages base set has 90 cards. That works out evenly to three cards per team. These 90 cards are divided into three parody subsets: Franchises, Events and Ballpark Food.
Green Grass parallels are inserted one per pack, no matter the hobby type. Hobby collector boxes also have a Sepia parallel in every pack. Other hobby collector-exclusive parallels include Black Ludlow Back (one per box), Red Ludlow Back (/10), Lumber (/5), Artist Autograph (/5) and Printing Plates. Gold (/25) parallels are randomly inserted in both types of boxes.
Autographs come in a couple of forms. Active Stars Autographs use the same general design as 2016 Topps Baseball. However, rather than a photo, the player is done with artwork instead. Signatures use stickers. Mascot Autographs take a similar approach with the look and use of a drawing.
Relics in 2016 Topps MLB Wacky Packages are not specific to a player. Stadium Seat Relics have a piece of a chair from a MLB ballpark. Ticket Relics have a stub from a notable game embedded in them.
All four of the autograph and relic inserts have one-of-one Red parallels that are only available in hobby collector packs.
Sketch cards are also randomly inserted.
2016 Topps MLB Wacky Packages at a glance:
Packs per box: 24 (hobby), 14 (hobby collector)
Cards per pack: 10 (hobby), 6 (hobby collector)
Boxes per case: 8 (hobby), 6 (hobby collector)
Set size: 90 cards
Release date: March 9, 2016
What to expect in a hobby box:
Grass Green Parallels – 24
What to expect in a hobby collector box:
Autograph, Sketch or Relic Card – 1
Black Ludlow Back Parallels – 1
Grass Green Parallels – 14
Sepia Parallels – 14