If you're looking a Zion Williamson Rookie Card, you'll have plenty to choose from by the end of the basketball card season.
Williamson enters the NBA with a lot of hype. He's the biggest rookie basketball has seen since since LeBron James. Not surprisingly, those expectations are carrying over to the collecting world as well.
Before the 2019-20 basketball card season is over, collectors will have more than 20 Zion Williamson Rookie Cards to choose from. While there's going to be significant demand for all of them if the hype continues the way it is already, there will be a big price range. Entry-level sets will be more readily available and affordable. Collectors can expect others from high-end sets like National Treasures to come with limited print runs and things like autographs and premium memorabilia pieces. These will run thousands of dollars.
Panini has an exclusive deal with the forward that means they'll be the only company producing Zion Williamson cards and autograph cards.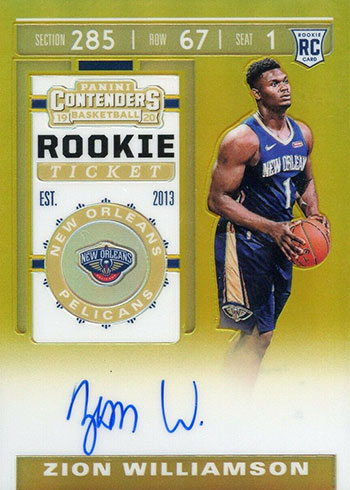 On top of the traditional Zion Williamson Rookie Cards — base cards found in main sets — there will be plenty of other autographs, inserts and parallels to chase.
Zion Williamson Rookie Card Guide
The following list highlights Zion Williamson cards with the RC tag in the Beckett database. Essentially, this means his main card found in mainstream base sets. Inserts and parallels are not. A full Zion Williamson card checklist and price guide is available in the Beckett basketball database.
This list and guide will grow throughout the season as more sets come out.
---
---
---
---
---
---
---
---
---
---
---
---
---
---
---
---
---
Other Early Zion Williamson Cards of Note
Here's a look at the Zion Williamson cards available before his first in-pack, mainstream releases.
---
---
---
---
---
---
---
Beware of Bootleg Zion Williamson Cards
The enormous interest in everything Zion has brought a lot of new and returning collectors back to cards. It's also brought lots of unlicensed and bootleg cards. These are essentially cards people design and print themselves.
Even though some look legit, they're far from official. They also carry no value as collectibles. In essence, they're homemade cards. Unfortunately, it's one of the drawbacks of online marketplaces like eBay. It can be hard to keep up with and monitor them. And for collectors who might be new to the hobby, these cards can create tremendous confusion.
The best thing to do is avoid these types of cards. If you're looking for a Zion Williamson Rookie Card or other cards, stick to the real thing.