As Upper Deck kicks off its 30th season in the hockey market, take a look back at some of the sets, singles and initiatives that left an indelible mark on the hobby.
1. 1990-91 Upper Deck French Hockey
It's difficult to truly grasp the mania surrounding UD French if you weren't there. It was the product that turned sports fans into hockey fans and hockey collectors into hardcore investors. Bolstered by rampant rumors of scarcity in a pre-Internet hobby awash with cash, UD French was hyped as the product that was going to put your kids through college. Prices would climb by the hour at card shows, with cases topping $17,000 and key cards like the RCs of Sergei Fedorov and Pavel Bure reaching $500 or more. Ultimately, the bubble burst when it became apparent that the product was still being printed – you can read all about it in the great book "Card Sharks" – but the impact of this brand during the boom years of the hobby is undeniable.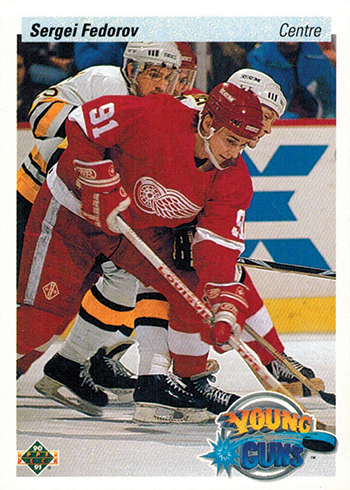 2. 2000-01 Upper Deck Young Guns
It's hard to remember a time when Young Guns weren't the heart of the hockey hobby. The term debuted in 1990-91 (most famously on the RCs of Bure and Fedorov), but it would be another decade filled with failed launches before the concept coalesced into the most popular RC subset on the market. Young Guns proved that a card didn't need an autograph or swatch of memorabilia to capture the imagination of collectors.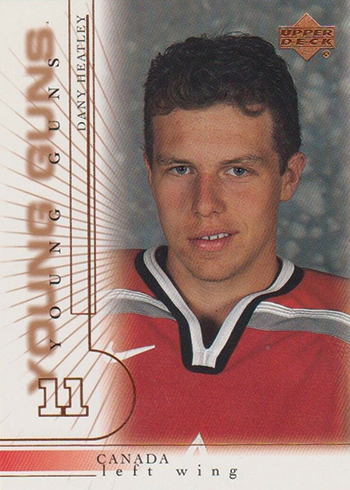 3. 1996-97 Upper Deck Game Jerseys
Like Young Guns, this was a game-changer. Inserts had been a part of the hobby forever, but by adding a swatch from a jersey actually worn by a player, the approach of what made a card collectible/valuable completely changed. And, in the process, it also created the concept of the "hit." Although the basic game-worn jersey card idea has been driven into the ground by UD and other manufacturers over the past two decades, it led to many other many other exciting ideas that continue to power the hobby today.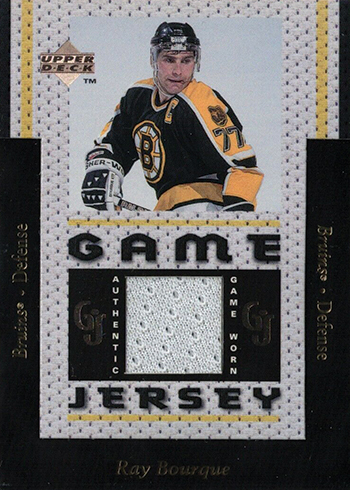 4. 1990-91 Upper Deck
This product was to hockey cards what the introduction of color was to the movies. With its premium, white card stock, brilliant photography and crisp design, it raised the bar for all manufacturers by altering the perception of what hockey cards could be…and how much collectors would be willing to pay for them.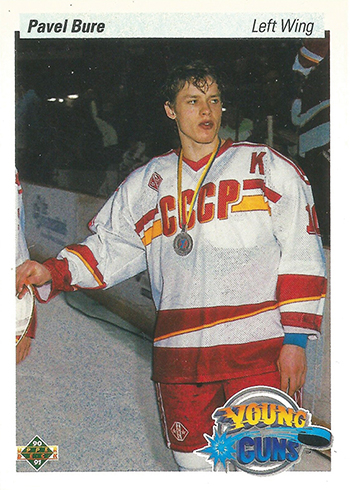 5. 2005-06 Dual Rookie Class
Losing the entire 2004-05 season to the NHL lockout was a devastating blow to the hockey hobby. Fortunately, the two warring sides came to an agreement just in time to hold a draft just ahead of the 2005-06 campaign. That 2005 class was led by Sidney Crosby, a generational talent who went on to become the most collected player of the next decade. Add in the top prospects from the 2004 draft, including first-overall pick Alexander Ovechkin, and this class offered an unprecedented level of star appeal that drove collectors back into the shops, where they were greeted by Upper Deck's most creative and rewarding slate of products to date.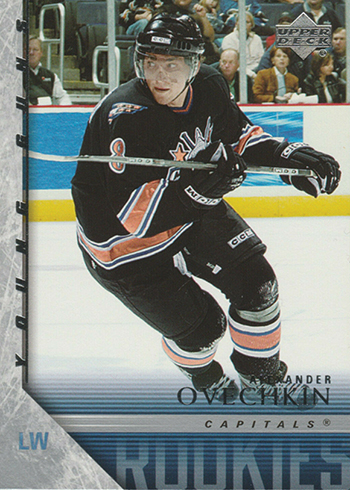 6. 2005-06 The Cup
Although several products had previously tested the price resistance point of collectors, this was the first brand to raise the bar so high that it became an aspirational purchase. At around $500 a pack, buying The Cup was well beyond the means of most hobbyists. But for those looking for the ultimate in modern collectibles, it delivered a lineup of fresh concepts that lived up to the sticker price. From the Rookie Patch Autographs to the Dual NHL Shields and Legendary Cuts, the debut of The Cup offered brilliantly designed items printed in ridiculously small quantities, essentially introducing the term White Whale to the hockey hobby.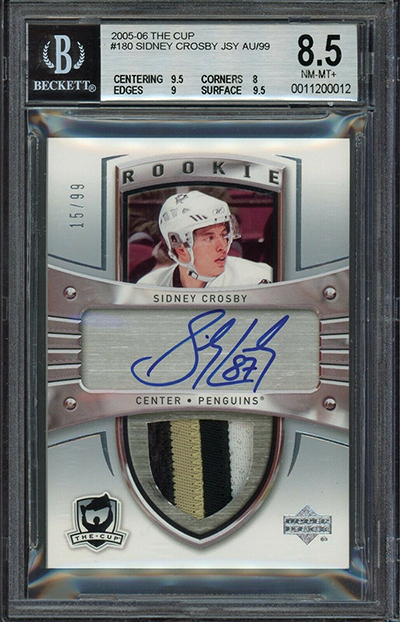 7. Upper Deck e-Pack
If you've ever wondered why UD had its exclusive NHL/NHLPA licenses renewed, here's the key: the company has done a magnificent job tackling the challenges of a maturing hobby. Chief among those: How to attract game-obsessed younger collectors and win over a consumer base growing ever more comfortable with the convenience of shopping online. With e-Pack, UD masterfully addressed both issues. By delivering an easy shop-at-home option, the company turned collecting into a 24/7 pastime that could be pursued from anywhere in the world with an internet connection. And with a flashy, interactive interface, UD created a collecting experience that, while not quite video game quality, managed to trigger the same endorphin response. Genius on every level.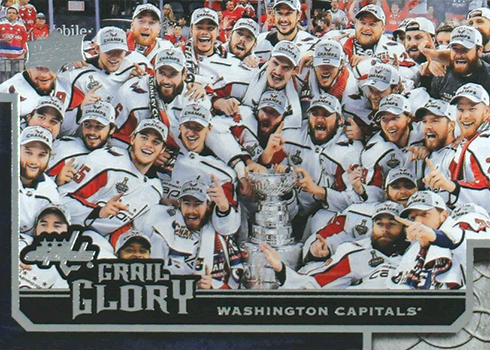 8. The World Juniors/Team Canada Licenses
Right from the start, UD recognized the importance of the WJC and the opportunity it presented to get the most exciting rookies in its packs first. Bure was pictured at the tournament on his 1990-91 RC as was Felix Potvin as part of a 23-card Team Canada subset. A multi-nation 50-card subset followed in 1991-92, forcing other manufacturers to follow suit or risk missing out. UD eventually focused on a relationship with Team Canada (re-upped in 2013) that puts the country's best male and female players at all age levels into a variety of products.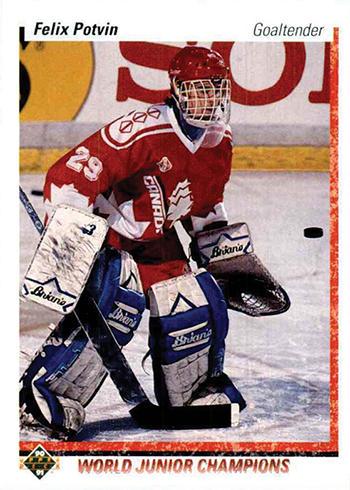 9. Tim Hortons Partnership
It's the eternal challenge: How to introduce hockey cards to hockey fans who aren't already collectors? McDonald's was an important gateway for years, but as important – and successful – as that partnership was, the 2015-present deal with the ubiquitous donut shop has been the game changer. After all, people may go to Mickey D's a couple times a week, but a sizable number of Canadians visit a Timmies every single day…sometimes more than once. The promotion, which runs for about a month every fall, allows fans to buy a three-card pack for a buck – the perfect entry point. Add in promotions involving spokes-men Sidney Crosby and Nathan MacKinnon and it's an irresistible offer that's introduced the hobby to a new generation.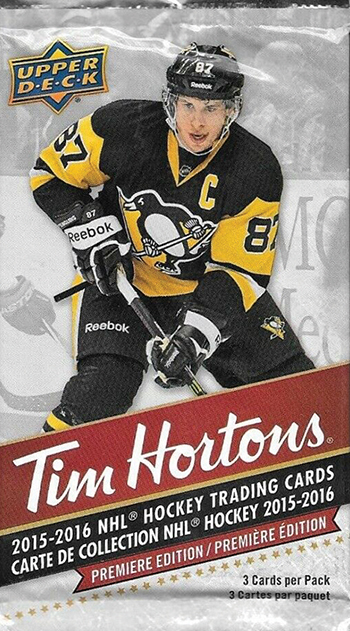 10. 2005-06 Upper Deck License Exclusive
One of the most impactful seasons in hobby history also was marked by Upper Deck gaining sole possession of the hockey card market. The decision by the NHL and NHLPA was widely criticized at the time, but the foresight of the licensors proved accurate. The single-manufacturer model was the ideal approach to a heavily contracted market, ensuring minimal confusion and product overlap and giving the hobby time to find its feet again in the aftermath of the lockout.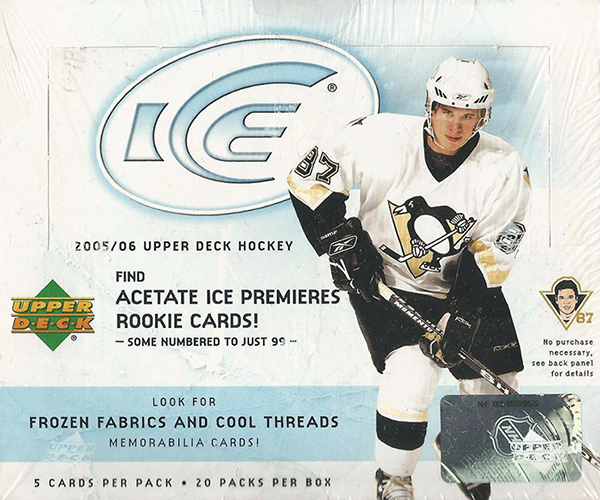 11. 1995-96 Post Wayne Gretzky Autograph
UD has done a masterful job of locking down some of the greatest names in hockey history to exclusive autograph deals, from Patrick Roy to Gordie Howe to Bobby Orr. But the biggest fish it landed was The Great One. Gretzky first signed on as a spokesman for the company in 1990, but his first two autographed cards appeared in Be A Player releases. That changed in 1995-96 when he inked 500 copies of an Upper Deck-produced card that was inserted into Canadian boxes of Post Cereal. Gretzky's signatures have been exclusive to UD since 2002-03.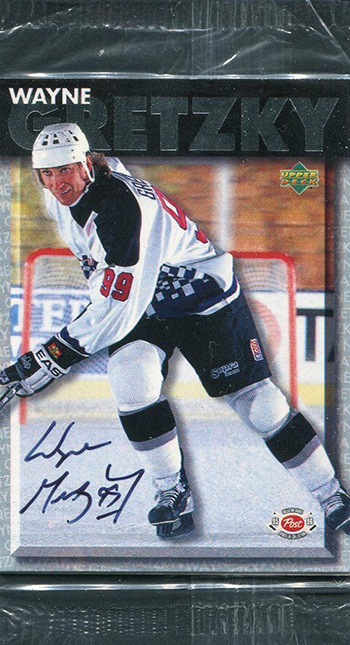 12. 2015-16 The Cup Connor McDavid RPA /99
This was easily the most anticipated single since the debut of The Cup 10 years earlier. Even though his rookie season was cut short by injury, McDavid's status as a generational superstar was secured, ensuring massive demand upon release. When it finally hit shelves in 2016 a er a lengthy delay, the card quickly settled in as the most valuable modern RC.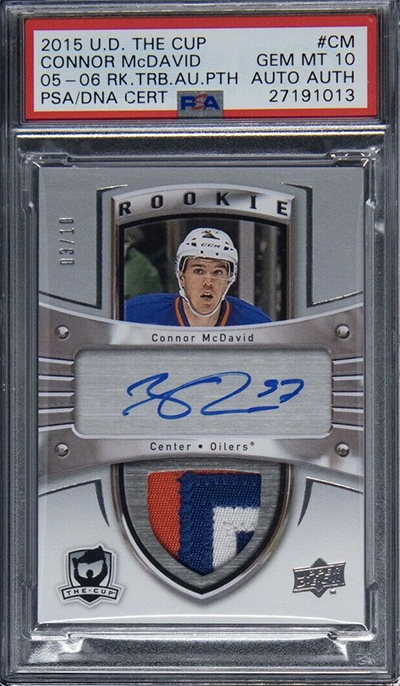 13. The Return of O-Pee-Chee
The O-Pee-Chee name boasts the deepest roots in the history of hockey cards, evoking a sense of tradition even the Upper Deck base brand can't match. UD recognized the value in the name and resurrected the dormant brand for the 2006-07 season with a massive 700-card series that got right to the heart of old-time set building. Although there were minor quibbles with the first few releases, OPC has settled into a nice rhythm that delivers both the nostalgia of the early hobby alongside some of the bells and whistles that make today's products more compelling than ever.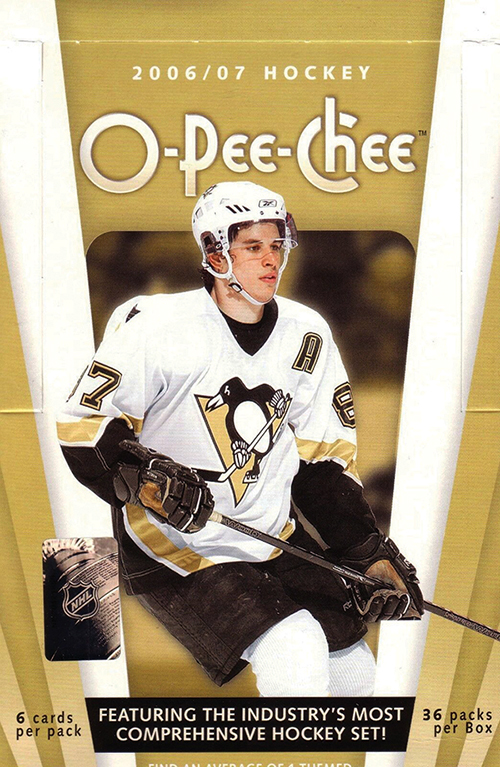 14. 1991-92 Upper Deck McDonald's
You want cards with that? This wasn't the fast-food chain's first attempt to lure customers through the doors with a hockey promotion (what, you forgot 1982-83 McDonald's stickers?), but it was certainly the most successful. Launched during the height of the hobby boom, this set featured 25 players in their All-Star Game gear, along with six randomly inserted holograms. A quick sell through saw the program expanded in the following years, culminating with the outstanding 1999-2000 series that saw Game Jerseys and Patch parallels limited to the player's jersey number. As a tool for pushing cards into the consciousness of Canadian hockey fans, this was an undeniable value.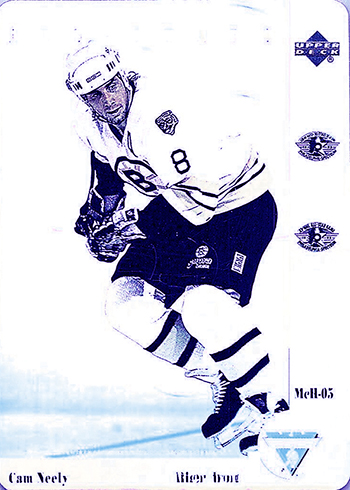 15. 2003-04 UD Premier Collection NHL Shields
After introducing game-worn jersey swatches and, later, patches, UD was fully invested in providing collectors with the most compelling memorabilia-enhanced cards. It took them a few years, however, to recognize that one swatch was more desirable than all the rest. Since there can be only one cut from any game-worn jersey (except for those used by Gretzky), the shield patch that debuted in Premier Collection quickly became the must-have for serious player collectors.
16. National Hockey Card Day
Looking to generate some buzz – and drive traffic to hobby shops – UD borrowed a concept from the comics industry and created NHCD in Canada in 2009. The hook was simple: Visit a local hobby shop and walk out with free cards. It was so well received that the program expanded to the US in 2012, leading to hundreds of thousands of exclusive NHCD packs being put in the hands of fans and new collectors.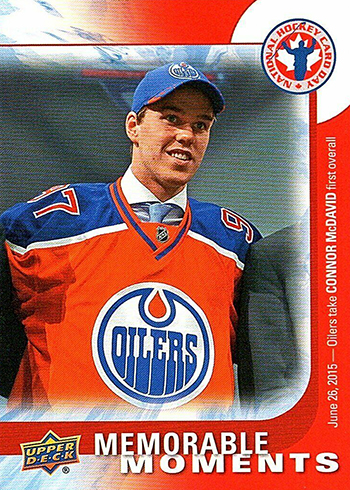 17. 2015-16 Upper Deck Connor McDavid RC
Although it hasn't topped the Hot List in some time, this is inarguably the most heavily traded card of the past several years. McDavid's transcendence as a player has lured countless lapsed collectors back to the hobby and encouraged collectors of other sports to dip their toes in the hockey market.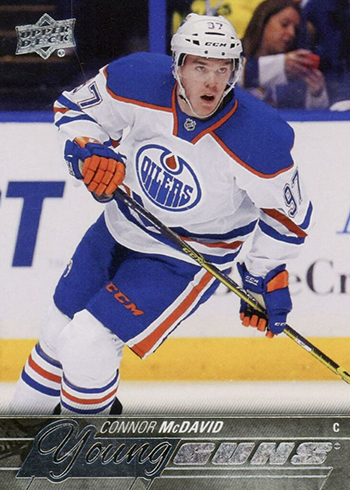 18. Upper Deck Predictors
It was a brilliant concept: An insert that kept collectors engaged throughout the season with the promise of special sets as the pictured players competed for scoring titles, trophies and more. Introduced for the 1994-95 season, it was brilliantly adapted as an event-exclusive promotional set for the 1996 NHL All-Star Game. Unfortunately, the concept was quickly abandoned in hockey, although it reappeared as recently as 2007 in UD baseball products.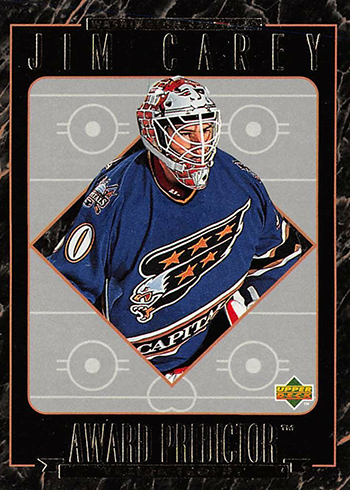 19. 1991-92 Upper Deck Pavel Bure
Bure-mania was in full swing when UD unleashed what may be the most memorable, and revealing, card of the Russian Rocket. Instead of showing him in action, Bure was pictured wearing shorts at the beach, showing off a pair of tree trunks that perfectly illustrated why he was the fastest man in the game. It was a bold photo choice, and one of the all-time great cards.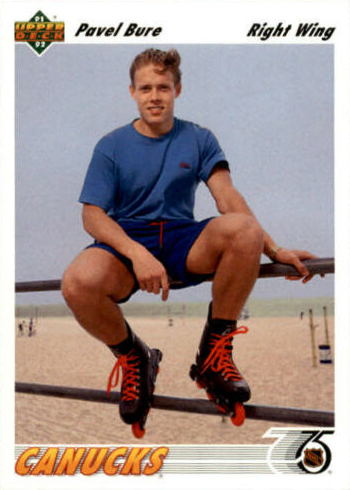 20. Game Dated Moments
When they debuted more than 20 years ago, Upper Deck's Game Dated Moments cards were part of a subset that featured photography from key games during the previous season. Their return in 2017-18 was powered by the immediacy of the company's e-Pack platform, allowing collectors to acquire cards capturing a highlight mere hours after it occurred. Of course, they had to be quick – GDM cards were "retired" one week after release – requiring hobbyists to pay close attention to the program or risk missing out.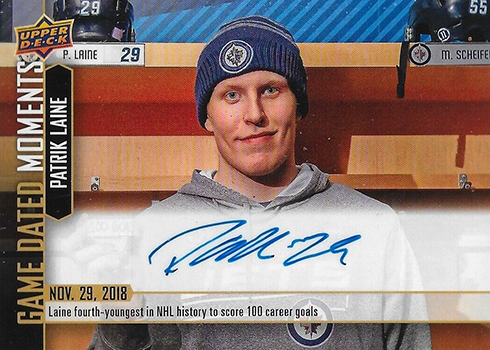 21. 1999-2000 Arena Giveaways
It's a truism of the hobby: All collectors are fans, but not all fans are collectors. So, in an effort to narrow the gap, UD kicked off an ongoing series of giveaways aimed at putting cards directly into the hands of fans as they came to watch their favorite teams play in person. No better way to introduce the hobby to the people most likely to pursue it.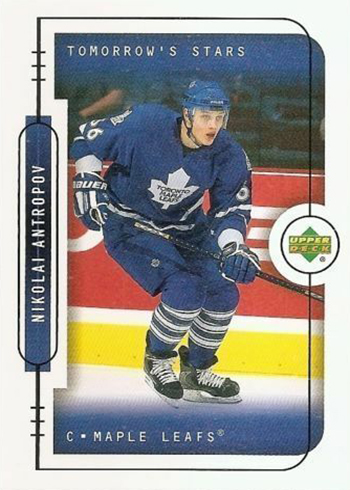 22. 1999-2000 SP Authentic Buyback Autographs
With autographs becoming the single biggest draw to snare collector dollars, UD came up with a brilliant hook: Have players sign previously released cards for insertion into current products. The concept was initially limited to earlier SPA singles of stars like Gretzky, Bure and Brett Hull but eventually spread to other UD brands where the lure of a hard-signed auto was irresistible.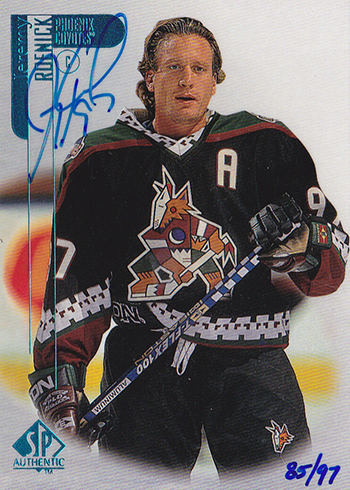 23. Employee Purple Precious Metal Gems
First issued in 2015-16 and distributed only to UD employees as a thank you for their service, these ultra-limited singles eventually leaked into the market and created a frenzy among player collectors. No doubt a spike in job applications shortly followed.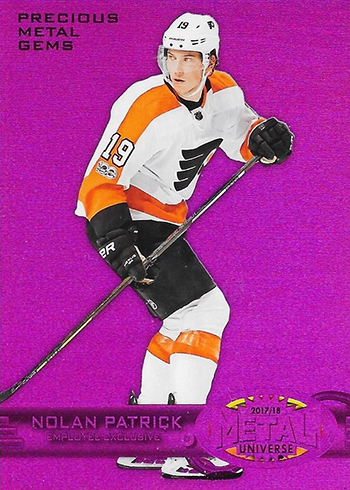 24. NHLPA Rookie Showcase
To be fair, this isn't strictly an Upper Deck moment, but the annual event gathering the most anticipated youngsters in the game has morphed from an early opportunity for the company to acquire signatures and memorabilia into a powerful branding event that draws media from around the world and pushes discussion of collecting, and especially Rookie Cards, into the mainstream.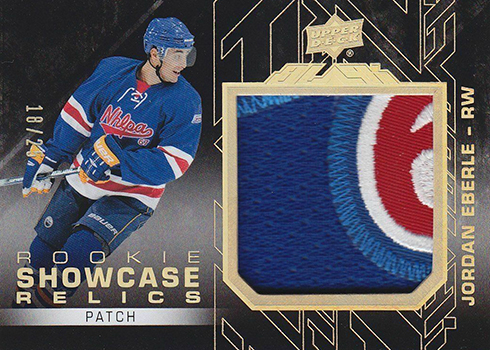 25. The Trade Roy Curse
It probably seemed like a good idea at the time. Having recently signed a deal with Patrick Roy, UD decided to create a PR campaign around the popular goaltender for the 1993 NHL All-Star Game in Montreal. The company created billboards and placards that read "Echange Roy," which at its heart meant trade his cards. Problem was, it wasn't received that way. "I started playing not very well for a while, and the real [trade] rumors started," Roy told the Denver Post. "They took a survey in the paper and they said it was time for Montreal to trade me." He rebounded to lead the Habs to the '93 Stanley Cup, but his relationship with the team soured. He was dealt to Colorado two years later.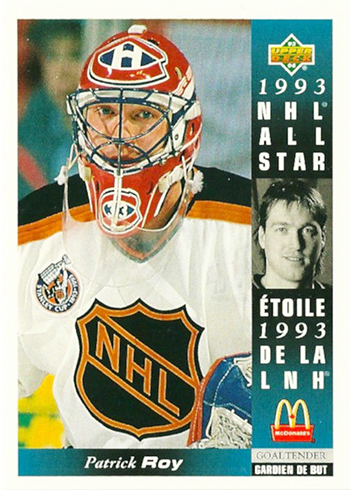 26. Upper Deck Bounty Program
Set completion had always been the essence of collecting, but as the number of brands swelled and price points skyrocketed, the act of filling a checklist was in danger of extinction. Looking to revive (and incentivize) the practice, UD came up with a brilliant concept to reward collectors who were among the first to finish certain sets with limited cards that were unavailable in packs. The Bounty Program debuted with the release of 2016-17 SP Authentic Hockey, and offered the first 50 collectors who completed the entire 99-card Spectrum FX insert set a 100-card Gold parallel set. The continuing challenge has not only spurred set building but in the process led to an uptick in collector-to-collector trading, another positive development for the hobby.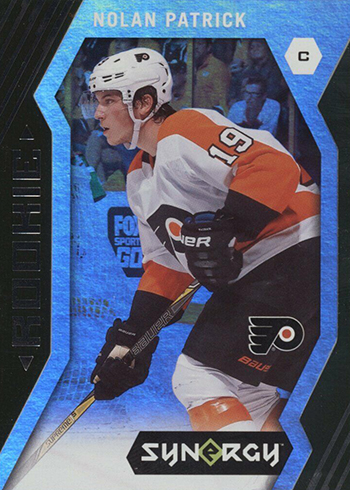 27. Heroic Inspirations
The Inspirations program creates collectibles of special individuals who persevere despite facing some tough obstacles in life. It's a terrific outreach by the company that reminds us that someone doesn't have to be a pro athlete to be a hero.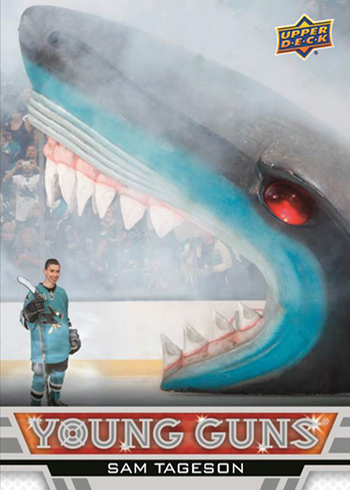 28. 2018-19 SP Authentic Jack Eichel Autographs
The hobby was knocked for a loop when Leaf Trading Cards signed Eichel, the second pick in the 2015 draft, to an exclusive autograph deal, effectively preventing Upper Deck from including any signed cards from the prospect in any products for three full seasons. Although the presence of McDavid ensured their brands wouldn't suffer greatly, it was definitely a blow to the demand of Eichel's licensed trading cards. Fast forward three years to the end of the Leaf deal and UD made lemonade by retroactively releasing signed versions of Eichel's 2015-16 SP Authentic cards in 2018-19 SPA packs. Although the cards are not recognized as RCs, they did prove to be popular with set builders and Eichel collectors and gave the product a bit of buzz that no doubt helped sales.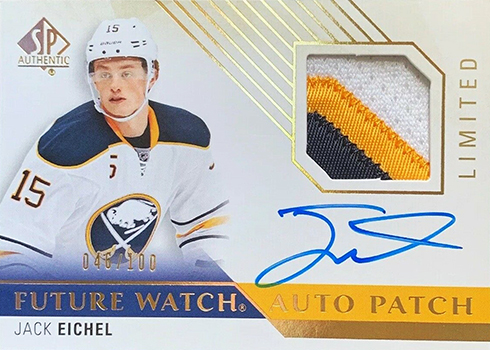 29. Upper Deck Day With The Cup Inserts
This may be the one card that players treasure more than their RC. This insert series, which debuted in 2011-12 Upper Deck to celebrate the reigning champion Boston Bruins, captures the unpredictability of one of hockey's most unique and treasured traditions. Whether it's Brad Richards filling the Cup with P.E.I. lobsters or Martin Jones hanging out with an owl, it's a series that brings home how special it is not just to win the ol' mug, but to share it with others.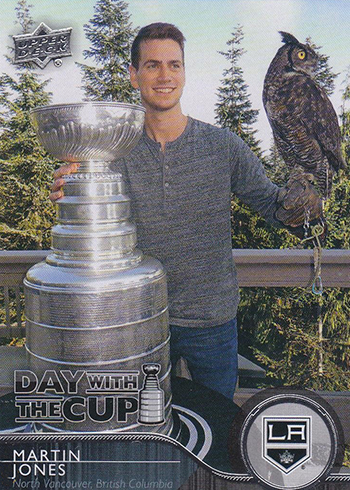 30. 1991-92 Upper Deck Czech
Coming off a wildly successful first season and smelling a chance for world domination, UD surprised collectors with a 100-card set featuring players from the 1991 World Junior Championships … made exclusively for what had to be a tiny market in the Czech Republic. Naturally, cases (and cases) of the product made their way to North America, allowing collectors to stock up on dozens of prospects never to be heard from again. Still, it was a fascinating look into the risk-taking nature of UD that later paid off with greater success.