Junior Gems: Ranking the Best CHL Team-Issued Sets of 2017-18
There's a certain kind of thrill that comes with being ahead of the crowd. With driving the bandwagon instead of simply climbing on. That's the lure that motivates junior collectors, that dopamine rush of acquiring a card of the Next Big Thing a year or two before he's on the radar of the rest of the hobby…and knowing that it will be one of the toughest cards he ever appears on.
Not every junior release contains a player preordained to top the Hot List, but the 2017-18 season offered a solid group of sets that demand your attention. Here's our take on the must-haves.
1. Rimouski Oceanic
It pays to pay attention. A copy of this extremely limited set was sniped recently on eBay when the seller highlighted Samuel Dove-McFalls – a 2015 fourth-rounder cut loose in 2017 by the Flyers – instead of Alexis Lafreniere, the top pick in the 2017 QMJHL draft and the likely first overall NHL selection in 2020. At 16, he's already drawing comparisons to Sidney Crosby and this is his first card. If you track down only one junior release this year, make it this one.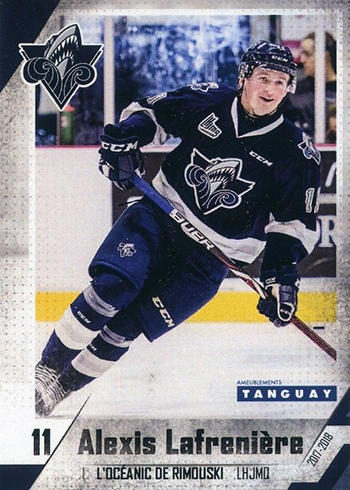 2. Halifax Mooseheads
Rookie forward Filip Zadina will be a top-three pick in June after carving up the Q for 44 goals and 82 points in just 57 games. He averaged a ridiculous 0.82 primary points per game at even strength this season. The next best draft-eligible player? Halifax teammate Benoit-Olivier Groulx at 0.44. He's rated as a late-first rounder this year, along with defenseman Jared McIsaac. This 24-card set from Extreme also features Raphael Lavoie, a 6-foot-3 center who scored 30 goals this season as a rookie, setting him up to be a top-five pick in the 2019 NHL Draft.
3. Sault Ste. Marie Greyhounds
The CHL's top-ranked team features a pair of prospects who could go top-10 in June. Barrett Hayton looks like a future first-line center while Rasmus Sandin projects as a top-pair defender. Add in some highly-touted draftees like Boris Katchouk (Tampa Bay), Morgan Frost (Philadelphia) and Conor Timmins (Colorado) and 2017 first-rounder Hayden Fowler (later traded to Erie) and this 25-card might be the year's deepest junior issue.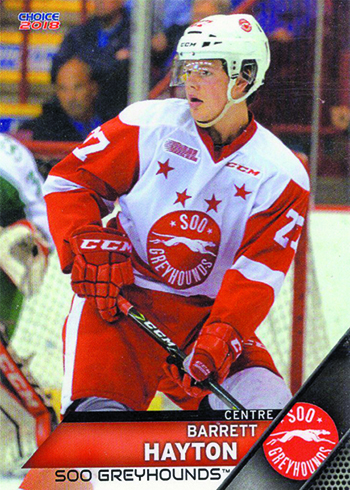 4. London Knights
Love 'em or hate 'em, you have to admire the way the Knights consistently develop premium talent. This season's 25-card set from Choice is bursting at the seams with NHL prospects, led by Evan Bouchard, an offensively gifted defenseman ranked as the fourth-best North American prospect for this year's draft by the NHL's Central Scouting Bureau, and Liam Foudy, a fast-rising center who was listed 91st at midseason but finished 19th. The set also features 2016 first rounder Max Jones (Anaheim) and Cliff Pu (third round, Buffalo), a slick-skating pivot with top-six potential, along with Alex Formenton, who started the season with the Ottawa Senators before starring for Canada at the 2018 World Juniors.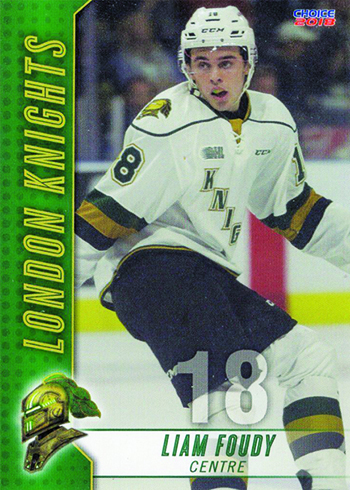 5. Barrie Colts
Rasmus Dahlin may be the favorite to go first overall this June, but there are a few scouts who say they'd take Andrei Svechnikov if given the chance. The lanky forward is a lock to become the first player to win rookie of the year honors in both the USHL and OHL after he scored 40 goals in just 44 games for the Colts. If he develops as expected, this card will go down as one of his toughest singles. This 23-card team-produced set also features Ryan Suzuki, the first pick in the 2017 OHL draft and a potential top-10 NHL selection in 2019.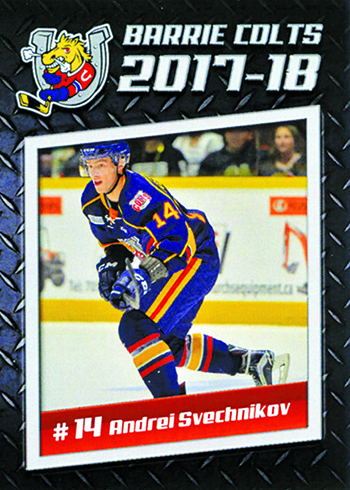 6. Regina Pats
This 35-card set is loaded with NHL prospects including 2017 first rounder Sam Steel (Anaheim), Libor Hajek (Tampa Bay) Jake Leschyshyn (Vegas), Josh Mahura (Anaheim), Cale Fleury (Montreal) and Jesse Gabrielle (Boston). It also boasts a bold, albeit divisive, design that immediately distinguishes it from the rest of the field.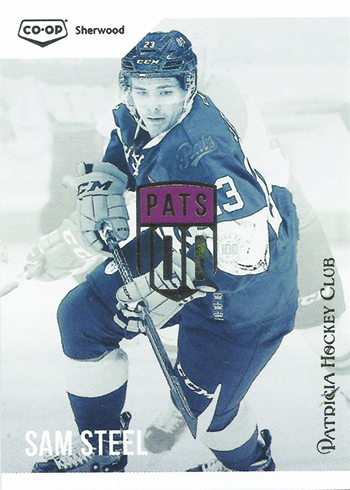 7. Everett Silvertips
Looking for the next Carey Price? Flyers prospect Carter Hart posted the best goals-against average and save percentage two straight years in the Western Hockey League, including a ridiculous 1.60 and .947 this season. He'll leave big skates to fill when he turns pro next years, but his heir apparent might be up to the task. Rookie Dustin Wolf is undersized (5-foot-11, 150) but showed enough in 20 appearances that he's already being mentioned as the top goalie in the 2019 draft. Defenseman Ty Smith, the third star in this 27-card issue, is a lock to go in the first round this year.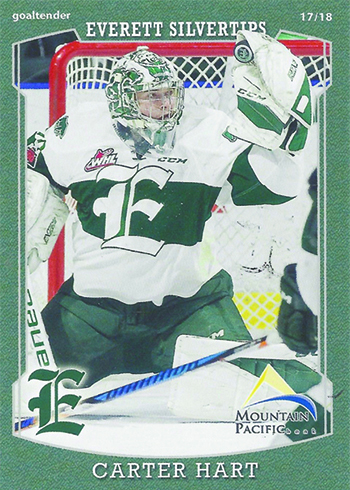 8. Niagara Ice Dogs
Akil Thomas might be slated as a mid-first rounder, but several scouts believe he has first-line center potential. He's an elite playmaker with a projectable shot and room to mature physically. Ben Jones was a seventh-round pick of the Knights last year and look like a steal after a breakthrough 30-goal, 79-point campaign. And keep an eye on Philip Tomasino. The fifth-overall pick in the 2017 OHL draft has explosive speed and elite one-on-one skills. He could be a breakout star next season.