3 Key Bryce Harper Cards – Beckett Pricing Insider
This edition of the Beckett Pricing Insider is sponsored by MVP Sports Collectibles.
Arguably the top free agent target this off-season, Bryce Harper has had a bit of a roller coaster ride in the hobby since his first cards appeared in Upper Deck's 2008-09 USA Baseball product. He was one of the hottest players in the hobby throughout his first few seasons, but cooled off considerably over the past couple of years. While his production numbers on the field remain relatively steady, it's almost as if the hobby has moved on to the new "next big thing."
If you believe the latest rumors, signs point to him signing with the Phillies, which should prove to be a positive move for his cards. Philadelphia has a large and passionate fan base of collectors and it should translate to higher sales for Harper's cards if he ends up in the City of Brotherly Love. At the very least, it could kickstart interest.
Let's take a look a three Bryce Harper cards that might be among the biggest movers once he actually does sign.
2008-09 Upper Deck USA Baseball Bryce Harper #47
The card that started it all. Currently valued at $75-$200, this card debuted in the Price Guide at just $10-$25. Not a very rare card, but one collectors seem to love.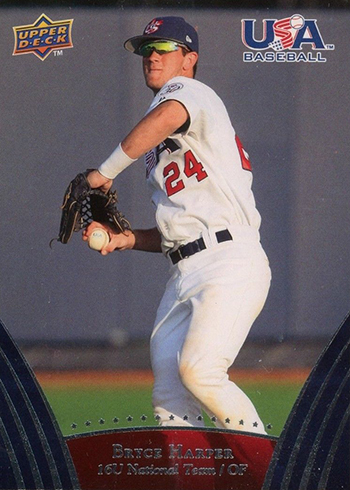 2010 Bowman Chrome 18U USA Baseball Bryce Harper #18BC8
This was Harper's first Bowman Chrome card. Pictured as a member of the 18U USA Baseball team, it wasn't a particularly difficult pull from packs. Currently valued at $25-$60, the card has hit $100 in the Price Guide on several occasions over the past nine years. Not too bad for a basic Bowman Chrome insert card!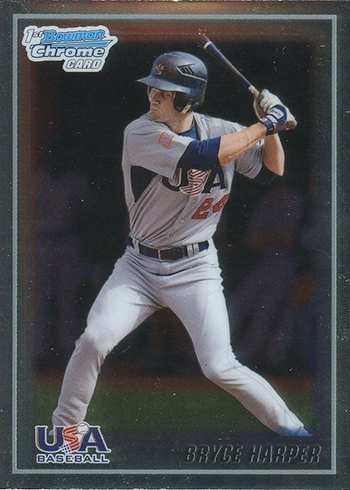 2011 Bowman Chrome Prospect Autographs Bryce Harper #BCP111B
We've said it time and time again – when a player gets hot in the hobby, more often than not it's going to be his first main Bowman Chrome Autograph card that really takes off. Currently valued at $800, the card debuted in the Price Guide for $350, and peaked at $1,200.