First look: 2011 Bowman Chrome baseball cards
Let the countdown begin …
Topps unveiled its plans for 2011 Bowman Chrome on Friday afternoon, thus starting the clock for the arrival of Bryce Harper's first Bowman Chrome autographed prospect cards.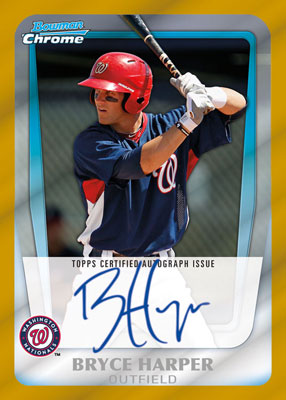 BC-Day is Oct. 19.
There will be one Chrome autograph per 18-pack hobby box with Harper among nearly 40 players on the preliminary autograph checklist.
The base prospect set will consist of 110 players, while the veterans checklist will include 220 cards — 170 veterans and 50 rookies.
Each of the autographs will come with a SuperFractor parallel as well as a Red (limited to five), Orange (25), Gold (50), Blue (150) and Refractor version (numbering TBD).
New inserts this time around include Bowman's Best Prospects (one per box), 2001 Bowman Chrome Throwbacks (two per box) and 2021 Bowman Chrome Future cards (two per box). Each of those will have 1/1 Atomic parallels while also having XFractors (25) and Refractor versions limited to 99. The Throwbacks set will consist of 20 cards while the Future cards, which are diecut, include 25. The Bowman's Best cards also include 25 players with the numbering starting at card No. BBP51 — where the cards in 2011 Bowman left off.
The standard Chrome set will have Canary Diamond parallels — 1/1s — as well as SuperFractors, Red, Orange, Gold, Blue and standard Refractor versions. All cards also will have printing plates as has been the norm in recent years.
The USA Baseball presence will include the 18U National Team on autographs that will be bonus sigs for those who find them. Those cards will be found as Supers, Oranges, Gold, Blues, XFractors and standard Refractors. There also will be autographed printing plates for each player.
There also will be a USA Baseball team redemption card that is good for a team set — with redemptions to be found for printing plate, SuperFractor and the entire Refractor rainbow as well.
Among the players on the prospect autograph preliminary checklist are Ethan Martin, Jordan Lyles, Manny Banuelos, Melky Mesa, Aaron Hicks, Jordan Swaggerty, Brett Lawrie, Cutter Dykstra and Cameron Bedrosian among others.