3 Early Clint Capela Cards to Consider – Beckett Pricing Insider
Houston Rockets center Clint Capela is having an All-Star-caliber season, averaging career highs in points, rebounds, and blocked shots while shooting over 60 percent from the field.
Despite his on-the-court success, collector interest in Capela cards is still lukewarm at best. This lack of hobby attention could stem from the fact that Capela has no Rookie Cards from the juggernaut basketball products like Panini Prizm and National Treasures. That being said, here are three Clint Capela cards from his first season worth checking out.
1. 2014-15 SPx Clint Capela Auto Jersey #76 /499
For those seeking a National Treasures-like style, this is the card as it is serial numbered and features both an autograph and large jersey piece, albeit not from a Rockets uniform. The card books in the $10-$25 range. You can find lots of asking prices greater than that but realized prices are still on the lower end.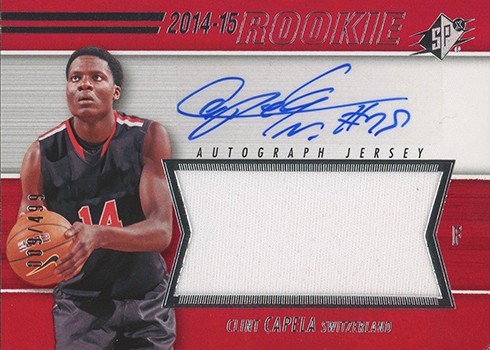 2. 2014-15 Select Prizms Silver Clint Capela #187
When it comes to parallel inserts, Silver Prizms are collector favorites. This card stands out as one of his most popular rookie offerings due to Select's similarity to the Panini Prizm brand and Capela being pictured in his Houston uniform. Also, there is grading potential here. Select cards tend to grade out well, and the lone BGS submission received a non-black label Pristine 10. Be sure to double check the centering, particularly left to right, as this tends to be the main condition issue.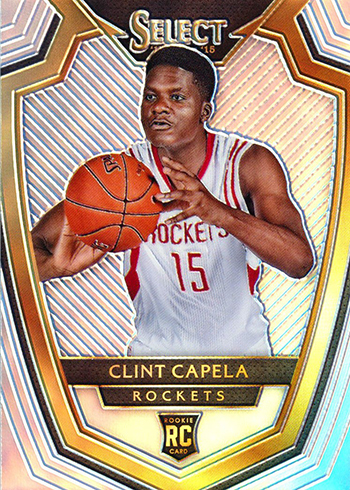 3. 2014-15 SP Authentic Clint Capela Autograph #81 /475
Another serial numbered card from Capela's rookie season, this one comes with an on-card autograph in gold or blue ink. Sitting in the $10-$25 price range, this card could experience an uptick if Capela continues performing at a high level and the Rockets can get back in the playoff picture. The all-white corners and edges make this a grading-friendly candidate as well.