Blowout Cards' parent company sues Upper Deck over distribution policy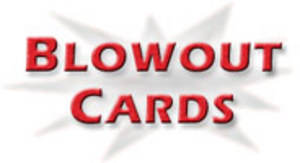 By Chris Olds | Beckett Baseball Editor
Blowout Cards' parent company, Frontline Collectibles Inc., counter-sued Upper Deck in a U.S. District Court on Wednesday, alleging that the Carlsbad, Calif.-based card company's distribution policies introduced earlier this year are illegal under antitrust laws and have "manipulated the pricing of its products" and "have harmed and continue to harm competition for the sale of hobby sports trading cards."
Frontline claims that Upper Deck's limited selection of distributors in the United States and Canada — which does not include it, despite an 18-year history of selling in the industry — is an "unlawful campaign to erect artificial barriers to entry, restrict output and maintain its monopoly power" with a select few licenses (NCAA, MLS) and a roster of exclusive athletes whose autographs can only be found in Upper Deck products such as Tiger Woods, Michael Jordan, LeBron James and Landon Donovan.
In March, Upper Deck Sports Marketing and Social Media Manager Chris Carlin wrote on UD's blog about the genesis of its program, saying "this course of action was important in order to strengthen and protect the company's brands, while also streamlining and better-defining the company's channels of distribution. UD crafted this program by working in collaboration with our Certified Diamond Dealers (hobby shops), Authorized Distributors and legal team."
On Thursday, Carlin said Upper Deck declined to comment on the case.
"We cannot comment on any ongoing litigation," he said, "[nor] can I share information regarding how we select our business partners."
Frontline, which in its court filing readily admits its business strategy is to sell more volume at a lower profit as "of one of the largest volume and the lowest-cost providers of hobby sports trading cards," cannot purchase UD products from any other authorized dealers, who aren't allowed to sell to those who would re-sell the products, as part of its agreement.  Specifically, it contends that "Upper Deck intended to specifically exclude or reduce competition from Frontline because Frontline was engaged in price-cutting to offer the best prices to its customers."
Specifically, Frontline contends that Upper Deck is in violation of Sections 1 and 2 of the Sherman Antitrust Act and Section 3 of the Clayton Act with its policy.
Previously, Frontline had been a direct buyer of product from Upper Deck since it opened for business, according to the court filing. In an April meeting between Frontline's Thomas Fish and Upper Deck, Fish was told, according to the filing, that Upper Deck would not recognize its Virginia retail location as a storefront and that enhancements would not help.
Furthermore, Frontline claims that "for pretextural and factually unsupportable reasons" Upper Deck refused to grant it status as an authorized Internet retailer, which has "severely damaged Frontline through lost sales and profits." Frontline has been an online seller since at least 2004.
Upper Deck's new policy, which started in April, requires that authorized distributors can only sell to UD-approved dealers, according to the filing. It also requires that those dealers maintain a permanent brick-and-mortar storefront. These dealers and the authorized Internet dealers cannot sell current products to anyone who is not an "end-consumer" within 90 days of the product's release. Dealers found to be violating these rules — which Frontline contends are selectively enforced — risk losing their ability to sell products. The requirements to become an authorized distributor or online retailer were not disclosed to the public, though an authorized online retailer apparently must also have a storefront and be an authorized dealer, according to one familiar with the policies.
If a customer has a problem with a product which was not purchased through an authorized dealer, they will not be helped by Upper Deck — also a move that Frontline contends has hurt its business.
Frontline has requested a jury trial to decide on compensatory damages, an award triple the amount of damages, restitution and incidental damages as well as attorneys' fees and any other relief deemed proper by the court.
The counterclaims are in response to a court filing earlier this month by Upper Deck, which requested a southern California district court judge declare that its policy doesn't violate anti-trust laws in the wake of Blowout/Frontline's public insistence that the policy was illegal. At that time, Blowout was given until Wednesday to respond.
Chris Olds is the editor of Beckett Baseball magazine. Have a comment, question or idea? Send an email to him at colds@beckett.com. Follow him on Twitter by clicking here.