2023-24 Upper Deck Series 1 Hockey Gets a Configuration Overhaul
When you click on links to various merchants on this site, like eBay, and make a purchase, this can result in this site earning a commission.
With 2023-24 Upper Deck Series 1 Hockey, the packs are getting bigger but the boxes are getting smaller. This is one of several changes coming to the sport's cornerstone brand. Collectors will also find more parallels than before and more insert content at the pack level.
One thing that isn't change? Young Guns. The popular Rookie Cards return and, despite fewer packs, they're still six per hobby box.
2023-24 Upper Deck Series 1 Hockey Checklist Overview
2023-24 UD Series 1 hobby packs are up to 12 cards from eight. Collectors will also find an average of three non-base cards per pack instead of one. Hobby boxes will be a significantly faster rip now with just 12 packs, half of what they had been. It also means fewer cards overall.
The base set is staying put with 250 total cards. The first 200 make up the shell set, offering a look at veterans from throughout the league. Young Guns make up the final 50. The hobby odds drop from 1:4 packs down to 1:2.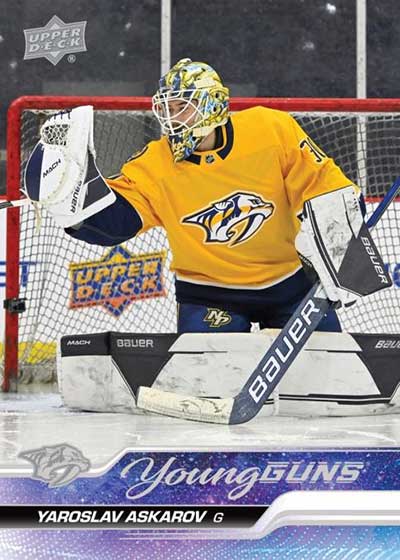 Another noticeable change, this time on the checklist, is the parallel lineup. Series 1 introduces several new levels for all 250 cards, including the Young Guns, to go alongside some familiar names:
Outburst Silver – 1:15 packs, Young Guns 1:60 hobby packs
Clear Cut – 1:48 hobby packs, Young Guns 1:144 hobby packs
Deluxe – /250
Exclusives – /100
Outburst Red – /25
High Gloss – /10
Outburst Gold – 1/1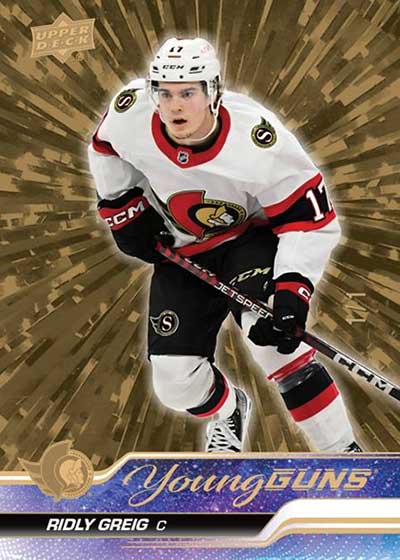 Outside of Printing Plates, Outburst Gold marks the first time Young Guns have been given the one-of-one treatment.
Inserts
Another thing that hasn't changed from recent flagship Upper Deck Hockey releases is that hits in the form of autographs and memorabilia cards are minimal here. The checklist does have plenty of other inserts, though.
It begins with the initial installment of UD Canvas, which will carry through Series 2 and Extended Series. A total of 120 cards are available in Series 1 including Young Guns. These fall approximately four per hobby box. Black and White (1:48 packs, Young Guns – 1:144 packs) and Printing Plates (1/1) also exist. Scarce autographs are also on the checklist.
UD Portraits (1:7 packs) are also back with another over-the-top design. This year, the frames double as parallel points with Silver (/99) and Red (/25) versions available alongside one-of-one Printing Plates.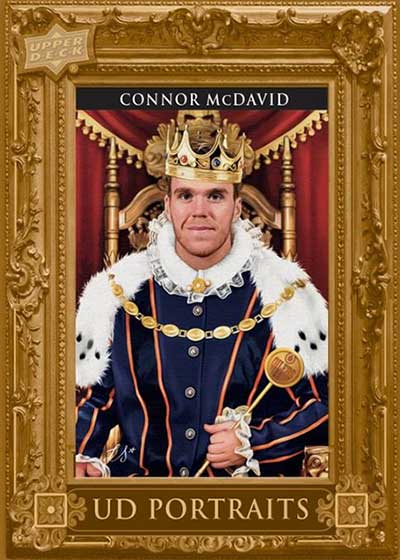 Honor Roll (1:3 packs) and Dazzlers (1:12 packs) both have all-veteran checklists here. Rookies will follow in Series 2. Honor Roll has Silver (/250), Gold (/25) and Printing Plates (1/1) parallels while Pink Dazzlers (1:144 packs) can also be found in hobby packs.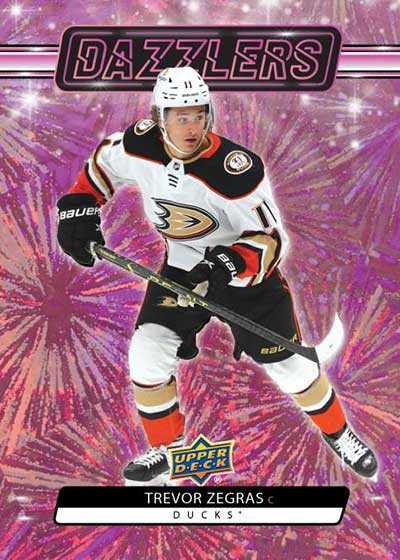 Graded cards are the inspiration for Population Count. The number of the tier corresponds with the print run: 1000, 500, 100, 50, 25, 10 and 1.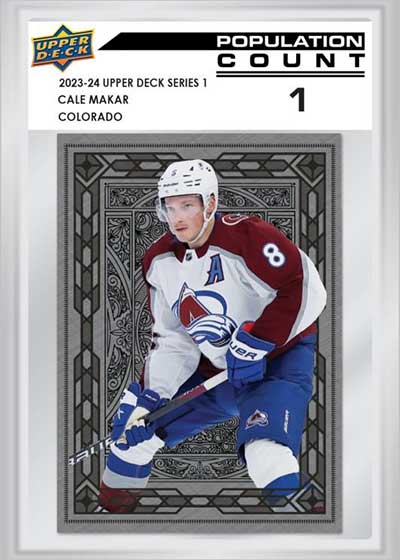 Although not entirely new, Special Edition inserts are back. Base versions for these regal inserts are 1:5 hobby packs with Red (1:180 packs) and Gold (/50) versions also available.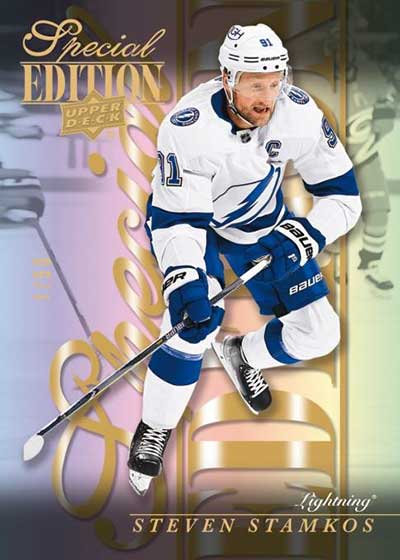 New Inserts
200′ x 85′ inserts (1:6 packs) refer to the dimensions of an NHL rink. It's appropriate given the ice backdrop that these cards have. Done with Lite FX, these cards have some added pop. Parallels include Gold (1:36 packs), Red (/99) and Black (1/1).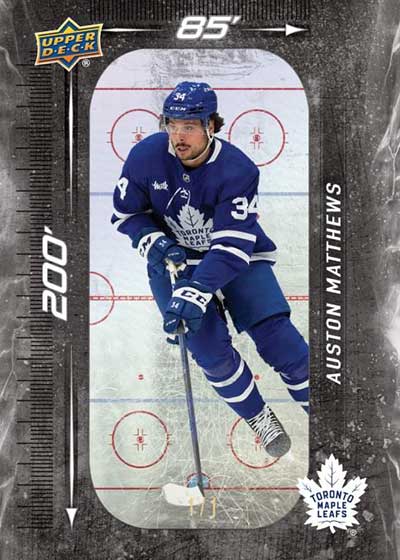 Up-and-comers are the focus of Star Surge (1:7 packs). Both of the parallels for these, Red (1:240 packs) and Gold (/25) are die-cut.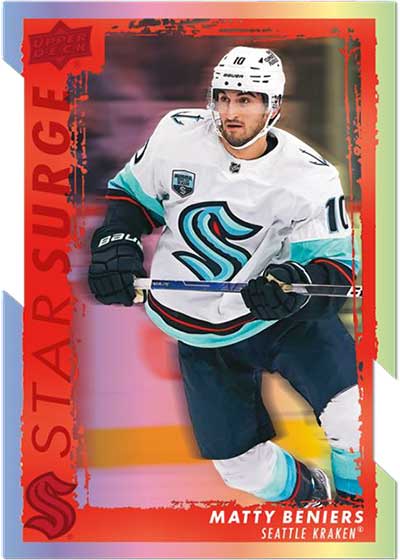 Star Zone (1:7 packs) looks at vets. These also have Red (1:240 packs) and Gold (/25) parallels.
Other 2023-24 Upper Deck Series 1 Hockey insert themes include Rookie Retrospective (1:8 packs), Stat Box Fillers (1:6 packs) and Teacher's Pet (1:5 packs).
2023-24 Upper Deck Series 1 Hockey cards at a glance:
Cards per pack: Hobby – 12
Packs per box: Hobby – 12
Boxes per case: Hobby – 12
Set size: 250 cards
Release date (subject to change): November, 2023
What to expect in a hobby box:
200′ x 85′ – 2
Blue Dazzlers – 1
Debut Dates, Rookie Retrospective, Stat Box Fillers or Teacher's Pet – 8 Total
Honor Roll or UD Portraits – 6 Total
Special Edition, Star Surge or Star Zone Inserts – 6 Total
UD Canvas – 4
Outburst Silver Parallels – 1
Clear Cut, UD Canvas Black and White or 200′ x 85′ Gold Parallels – 1 Total
Additional Rare Inserts or Serial-Numbered Cards – 1 Total
Young Guns – 6
Recent Upper Deck Series 1 Hockey releases:
The full 2023-24 Upper Deck Series 1 Hockey checklist and team set lists will be up as soon as they're available, likely shortly before the set's release.