2022 Topps Elvis Presley: The King of Rock and Roll Checklist and Details
Elvis is back in the building. 2022 Topps Elvis Presley: The King of Rock and Roll trading cards bring the music icon into the print-to-order era. Over the course of the year, the set will tell the story of Presley's life and career with new cards each week.
Three cards will be added to the checklist every Tuesday for 50 weeks. A complete 2022 Topps Elvis Presley set will have 150 cards.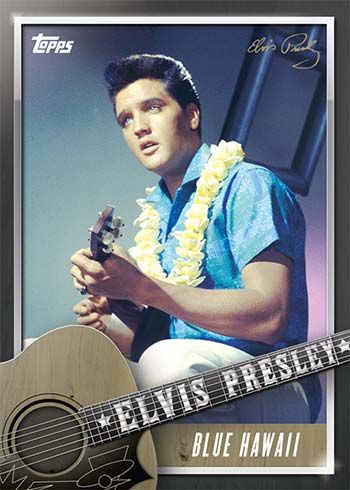 Exclusive to the Topps website, cards are available on their own or in weekly groups of three. This gives collectors a couple of entry points into the set. Of course, there's the every-card approach. But collectors can also go for singles depicting a key moment, favorite song or a card with a particularly stellar photo.
Parallels are randomly included: Pink (/45), Blue (/10), Red (/5) and Gold (1/1).
Album Cover Cards
Every fifth week, there is a fourth card. These are part of a separate Cover Cards set that looks back on Presley's iconic album catalog.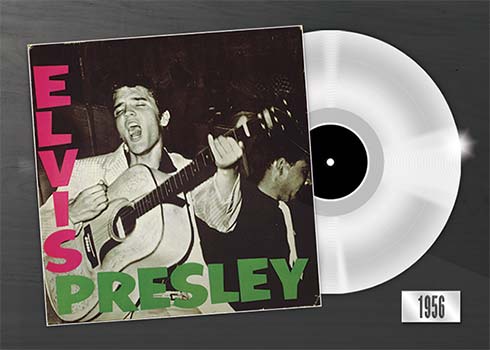 Each card costs the same and is available for the same one-week window. However, these are numbered separately from the main 2022 Topps Elvis Presley checklist.
Cover Cards parallels come in the form of Foil Silver Frame. Sold separately, each has 45 copies.
How to Order 2022 Topps Elvis Presley: The King of Rock and Roll Cards
Individual cards are $9.99 each. Discounts are available for order five ($29.99) or 20 ($79.99) copies of the same card. Weekly three-card bundles are $24.99. Another option is eBay. Some sellers pre-order in bulk and make singles available on pre-sale for less than Topps' website. Going this route, it's important to understand cards will take a little longer. It's also wise to consider their feedback rating.
The slow-burn approach is similar to the one used for Muhammad Ali in 2021. The big difference here (besides the subject matter) is that the 2022 Topps Elvis Presley set has an original design. The Muhammad Ali set was inspired by a variety of Topps sets that corresponded with the year of the depicted event.
This isn't the first time Topps has produced Elvis Presley trading cards. In 1956, they released a 66-card set that is still extremely popular today.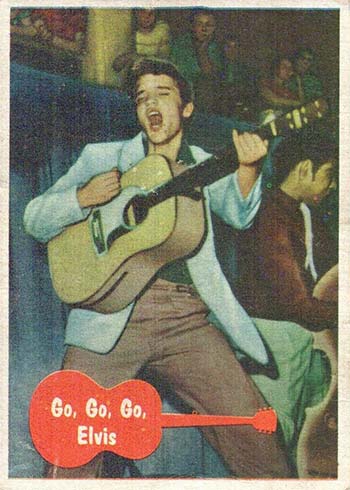 More recently, they included cards, including relics, in such products as 2001 and 2002 Topps American Pie.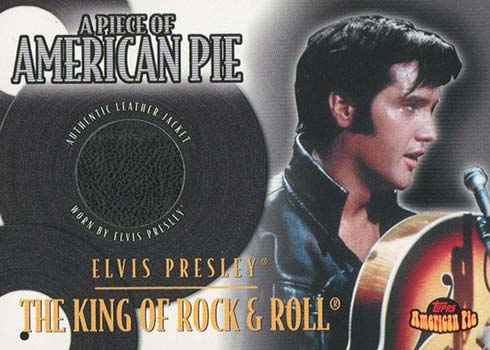 The last company to produce full sets of Elvis Presley trading cards was Press Pass who released several products between 2006 and 2012.
2022 Topps Elvis Presley: The King of Rock and Roll at a glance:
Set size: 150 cards (when complete)
Release date: January 11, 2022
2022 Topps Elvis Presley: The King of Rock and Roll Checklist
This is an ongoing checklist that will grow as new cards come out. Print runs will be added as they become available. If you're looking for a specific card, click on the links to see what's available on eBay.
Parallels:
Pink – /45
Blue – /10
Red – /5
Gold – 1/1
1 Elvis Born in Mississippi – 1,647
2 Young Elvis – 1,378
3 Moves to Memphis – 1,397
4 In High School – 925
5 Elvis at Sun Records – 933
6 Elvis Begins to Perform – 906
7 Louisiana Hayride – 860
8 Elvis' Big Break – 844
9 Elvis Catches On – 826
10 Elvis Signs to RCA Records – 719
11 National TV Debut – 727
12 Elvis Records Elvis Presley – 722
13 Milton Berle Appearance: USS Hancock – 764
14 At New Frontier – 763
15 First Residency Ends – 756
16 Elvis' Stirring Second Milton Berle Appearance – 768
17 Elvis Releases Hound Dog – 837
18 Tours Midwest – 763
19 First Plays Ed Sullivan – 739
20 Performance at State Fair – 711
21 Records & Releases Elvis – 704
22 Elvis' First Film – 674
23 Love Me Tender – 688
24 Success at the Box Office – 677
25 Continues to Tour – 665
26 Elvis Purchases Graceland – 735
27 A Castle Fit for a King – 626
28 Elvis' Second Film – 677
29 Loving You – 737
30 Tupelo Benefit Concert – 671
31 Jailhouse Rock – 647
32 Second Starring Role – 638
33 Elvis Is Vincent Everett – 636
34 Films King Creole – 635
35 Elvis as Danny Fisher – 634
36 Last Film Before Army – 615
37 Elvis Drafted Into the US Army – 673
38 Hair Today, Gone Tomorrow – 606
39 Elvis' Mom Passes Away – 605
40 Deployed to Germany – 652
41 Private Elvis Presley – 647
42 Elvis' Duty to Country – 619
43 Elvis Returns a Sergeant – 567
44 Elvis Takes on Miami – 565
45 Welcome Home, Elvis – 611
46 G.I. Blues – 580
47 As Tulsa McLean – 585
48 G.I. Blues Rules the Charts – 587
49 Flaming Star – 572
50 Elvis as Pacer Burton – 576
51 Christmas at Graceland – 571
52 Elvis Presley Day Proclaimed – 587
53 75 Million Records Sold – 609
54 Elvis Named Honorary Colonel – 546
55 Pearl Harbor Memorial Show – 556
56 Over $60,000 Raised – 583
57 Last Public Performance for 7 Years – 576
58 Wild in the Country – 526
59 Elvis as Glenn Tyler – 555
60 Elvis at Red West's Wedding – 546
61 Purchases Scatter
62 Scatter, The Troublemaker
63 Inducted Into LA Tribal Council
64 Blue Hawaii – 581
65 Elvis as Chadwick Gates – 571
66 Blue Hawaii: A Huge Hit – 575
67 Focuses on Films – 519
68 Follow That Dream – 578
69 Elvis as Toby Kwimper – 542
70 Kid Galahad
71 Elvis as Walter Gulick
72 Elvis' On-Screen Versatility
73 Girls! Girls! Girls!
74 Elvis Presley as Ross Carpenter
75 "Girls!" a Success
76 It Happened at the World's Fair – 516
77 Elvis as Mike Edwards – 513
78 Second Degree Black Belt
79 Fun in Acapulco
80 Elvis Presley as Mike Windgreen
81 Elvis Hands Out Christmas Checks
82 Elvis Buys USS Potomac – 502
83 Kissin' Cousins – 508
84 Plays Two Characters – 513
85 Viva Las Vegas
86 Elvis Presley as Lucky Jackson
87 The Iconic Viva Las Vegas
88 Elvis Named Special Deputy Sheriff – 513
89 Rustabout – 533
90 Elvis as Charlie Rogers – 518
91 Elvis Turns 30 – 520
92 Girl Happy – 514
93 Elvis Presley as Rusty Wells – 501
94 Gold Cadillac Goes on Tour – 524
95 Tickle Me – 560
96 Elvis Presley as Lonnie Beale
97 Elvis Visits USS Arizona Memorial – 497
98 Harum Scarum – 498
99 Spending Time at Graceland – 514
100 Snowfall at Graceland – 514
101 Frankie and Johnny – 517
102 Elvis as Johnny – 500
103 Paradise Hawaii Style
104 Spinout
105 Elvis & Horses
106 Elvis Purchases Circle G Ranch
107 Easy Come, Easy Go
108 Double Trouble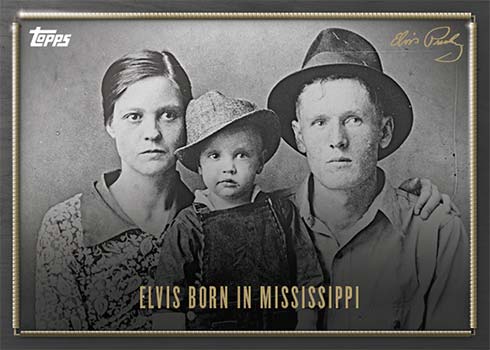 Album Covers Checklist
Parallels:
Foil Silver Frame – /45 (sold separately)
C1 Elvis Presley Test Pressing – 885
C2 Elvis (1956) – 781
C3 King Creole (1958) – 589
C4 Elvis Is Back! (1960) – 536
C5 His Hand in Mine (1960)
C6 Blue Hawaii (1961) – 576
C7 How Great Thou Art (1967)