2021 Topps Muhammad Ali: The People's Champ Checklist, Print Runs and Details
The story of a boxing icon is being told once again through trading cards. 2021 Topps Muhammad Ali: The People's Champ is taking a slow-burn approach, offering a weekly drop of two cards through their website. With a complex story to tell and a tremendous legacy, collectors shouldn't expect the set to stick to Ali's in-ring accomplishments. It's a more complete look at his life, including personal moments.
That's apparent from the start with the first two cards in the set featuring a young Cassius Clay winning gold at the 1960 Olympics and his conversion to Islam.
2021 Topps Muhammad Ali: The People's Champ Overview
The cards' designs are inspired by a variety of Topps designs from the past, similar to what they do with their online Throwback Thursday line. This means, when necessary, slight adjustments and tweaks to make it work for boxing.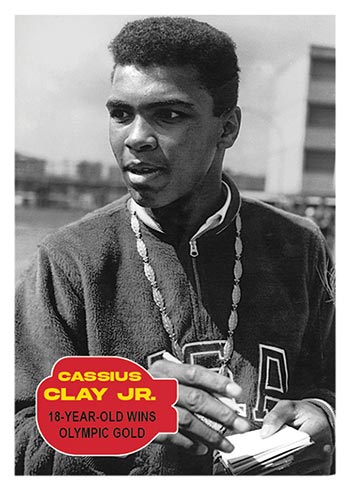 Card backs offer a write-up on the background of the featured event. This is different from the majority of recent Topps online releases in other sports and subjects that have generic text and blurbs.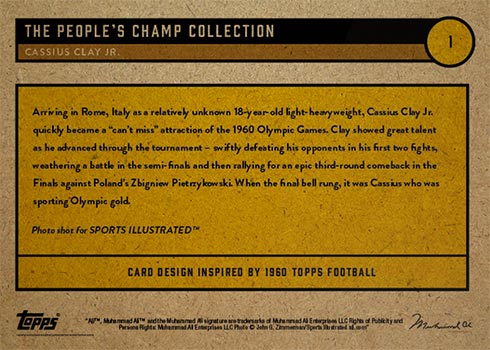 When complete, the 2021 Topps Muhammad Ali: The People's Champ checklist will have 100 cards and last 50 weeks.
Muhammad Ali x Tyson Beck
A couple of months into the set, Topps added another layer. Muhammad Ali x Tyson Beck runs alongside the main People's Champ set but is, technically, different.
Featuring designs by Tyson Beck, an artist who helped launch the Fire line as well as a Topps Project 2020 and Project 70 participant, these cards focus on the iconic Rumble in the Jungle fight between Ali and George Foreman.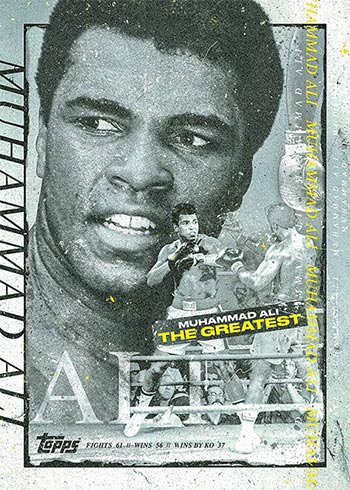 Muhammad Ali x Tyson Beck cards are available individually or as part of a three-card bundle with the week's regular cards.
How to Get Cards
Cards are available through the Topps website for $9.99 each or $17.49 for both of the week's cards. Single cards also have discount options available for lots of up to 20 cards. Dealers may also have some available on eBay at a discount during the sales window as they're ordering in bulk.
New cards release every Tuesday and have a sales window of seven days. Print runs are based on what's ordered during that time.
Leaf was the last company to produce trading cards of Ali based on his life and career. Between 2011 and 2016, they did several sets at a variety of price levels and configurations. Before that, Upper Deck did the high-end Muhammad Ali Master Collection in 2000.
2021 Topps Muhammad Ali: The People's Champ at a glance:
Set size: 100 cards (when complete)
Release date: January 19, 2021
2021 Topps Muhammad Ali: The People's Champ Checklist
This is an ongoing release with new cards being released each week. Print runs will be posted as they're announced. If you're looking for a specific card, click on the link to see what's currently available on eBay.
Parallels:
Black – /56
Red – /10
Silver – /5
Yellow Gold – 1/1
1 Cassius Clay Jr. – 18-Year-Old Wins Olympic Gold – 4,043
2 Cassius Clay Jr. – Converts to Islam – 3,381
3 Cassius Clay Jr. – Is Boxing's Nostradamus – 2,241
4 Cassius Clay Jr. – Release of I Am the Greatest! – 2,227
5 Cassius Clay Jr. – Clay Vs. Jones – Prefight Hype – 1,986
6 Cassius Clay Jr. – Clay Vs. Jones – Outcome – 2,063
7 Cassius Clay Jr. – Pre-Fight Mind Games Vs. Liston – 1,974
8 Cassius Clay Jr. – TKOs Sonny Liston in the 7th Round – 2,088
9 Cassius Clay Jr. – Captures 1st World Title – 2,057
10 Muhammad Ali – Becomes Muhammad Ali – 2,083
11 Muhammad Ali – Ali vs. Liston – The Rematch – 1,784
12 Muhammad Ali – Defends Title with TKO – 1,798
13 Muhammad Ali – Ali vs. Patterson – 1,581
14 Muhammad Ali – "Like Picking the Wings Off a Butterfly" – 1,746
15 Muhammad Ali – Ali Refuses to Join the U.S. Army – 1,553
16 Muhammad Ali – The Champ Makes His Feelings Known – 1,551
17 Muhammad Ali – Defending Overseas – 1,416
18 Muhammad Ali – Ali Shuffle – 1,478
19 Muhammad Ali – What's My Name – 1,469
20 Muhammad Ali – Ali vs. Terrell – 1,426
21 Muhammad Ali – Ali vs. Foley Prefight Interview – 1,186
22 Muhammad Ali – Ali KOs the Veteran at MSG – 1,188
23 Muhammad Ali – Stripped of the Title – 1,200
24 Muhammad Ali – Rock and a Hard Place – 1,171
25 Muhammad Ali – Atlanta Grants Boxing License – 1,109
26 Muhammad Ali – Time to Train – 1,274
27 Muhammad Ali – Return to the Ring – 1,090
28 Muhammad Ali – Quick Result After Long Delay – 1,092
29 Muhammad Ali – Ali vs. Bonavena – 1,085
30 Muhammad Ali – "I Want Joe Frazier!" – 1,086
31 Muhammad Ali – A War of Words – 1,009
32 Muhammad Ali – Build Up for Ali vs. Frazier – 1,045
33 Muhammad Ali – Undefeated Fighters Clash – 998
34 Muhammad Ali – Ali Suffers 1st Loss – 1,005
35 Muhammad Ali – Ali vs. Ellis – 967
36 Muhammad Ali – Ali vs. Bugner – 968
37 Muhammad Ali – Training for Norton – 992
38 Muhammad Ali – Ali Tastes Defeat – 956
39 Muhammad Ali – Ali vs. Norton 2 – 1,002
40 Muhammad Ali – Ali Wins Via Split Decision – 1,004
41 Muhammad Ali – Trash Talking Frazier – 971
42 Muhammad Ali – Training – 884
43 Muhammad Ali – Ali vs. Frazier Fight 2 – 934
44 Muhammad Ali – Ali Defeats Frazier – 962
45 Muhammad Ali – Rumble in the Jungle – 878
46 Muhammad Ali – Trip to Zaire – 860
47 Muhammad Ali – The People's Champ – 853
48 Muhammad Ali – Le Militant Statue – 875
49 Muhammad Ali – Hitting the Bag – 877
50 Muhammad Ali – Press Conference – 862
51 Muhammad Ali – Ali vs. Foreman – 879
52 Muhammad Ali – Ali Looks in Trouble – 813
53 Muhammad Ali – Rope-a-Dope – 940
54 Muhammad Ali – Regains the World Title – 937
55 Muhammad Ali – Ali vs. Bugner 2 – 737
56 Muhammad Ali – Ali Wins by Points – 748
57 Muhammad Ali – Thrilla in Manilla – 807
58 Muhammad Ali – "First Round Knockout" – 828
59 Muhammad Ali – Ali vs. Frazier 3 – 890
60 Muhammad Ali – Late-Round TKO – 882
61 Muhammad Ali – Ballpark Brawl – 807
62 Muhammad Ali – Ali vs. Norton 3 – 810
63 Muhammad Ali – Bout Goes the Distance – 862
64 Muhammad Ali – Ali Retains His Title – 828
65 Muhammad Ali – An Epic Entrance – 852
66 Muhammad Ali – Champ Shows Acting Chops – 844
67 Muhammad Ali – Ali vs. Spinks – 796
68 Muhammad Ali – Walk in the Park? – 853
69 Muhammad Ali – Tough Loss – 784
70 Muhammad Ali – New Champ – 778
71 Muhammad Ali – The Rematch – 756
72 Muhammad Ali – 63K in Attendance – 756
73 Muhammad Ali – Ali Exacted Swift Revenge – 789
74 Muhammad Ali – 3-Time World Champ – 769
75 Muhammad Ali – Ali Returns After Retirement – 735
76 Muhammad Ali – Mocking Holmes – 734
77 Muhammad Ali – Ali Enters the Ring – 713
78 Muhammad Ali – Heartbreaking Encounter – 713
79 Muhammad Ali – Ali vs. Berbick
80 Muhammad Ali – Ali Loses His Final Match
81 Muhammad Ali – Ali Retires
82 Muhammad Ali – 56 Wins
83 Muhammad Ali – 50th Birthday – 775
84 Muhammad Ali – Torch Bearer – 810
85 Muhammad Ali – Medal of Freedom – 714
86 Muhammad Ali – Passing the Torch – 702
87 Muhammad Ali – Quotes from the Champ
88 Muhammad Ali – Quotes from the Champ
89 Muhammad Ali – Quotes from the Champ
90 Muhammad Ali – Quotes from the Champ
2021 Topps Muhammad Ali x Tyson Beck Checklist
TB-1 Muhammad Ali – The Fight – 2,475
TB-2 Muhammad Ali – Fight Night Hype – 1,808
TB-3 Muhammad Ali – Round 3 – 1,130
TB-4 Muhammad Ali – Round 4 – 1,271
TB-5 Muhammad Ali – Round 5 – 1,046
TB-6 Muhammad Ali – Round 6 – 1,011
TB-7 Muhammad Ali – Round 7 – 1,010
TB-8 Muhammad Ali – Round 8