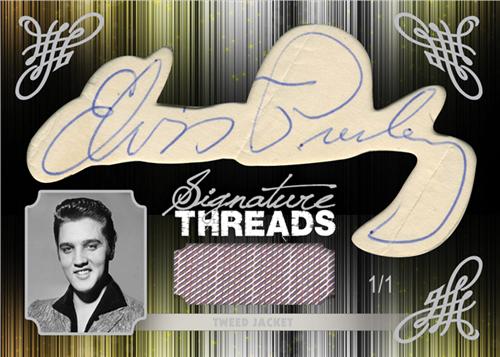 By Susan Lulgjuraj | Contributing Editor
Almost 35 years after his death, Elvis Presley remains one of the most iconic cultural icons. Imagine if was still around today, the companies would be clamoring for exclusive autograph deals with The King.
Press Pass, however, is still doing what it can to bring fans close to Presley with its forthcoming set Essential Elvis, which is due out in February.
Just 35 base cards in the set, but the real treat is in the hits.
There are several Presley 1/1 cut signatures, including a dual signature with his father Vernon Presley and a cut auto/memorabilia card.
In addition, three hits in each seven-card box, including at least one autograph. Autographs can come from former band mates and friends, cut autos of the man himself, and former co-stars, including Mary Tyler Moore, Barbara Eden and Nancy Sinatra.
This is the first time Moore has signed for a trading card company – although she did have a cut autograph in a previous product.
Her tie to Presley goes back to 1969 when she starred as a nun opposite of him in "Change of Habit." There will be two to three Moore autos per case.
Initially, Press Pass planned on including just two hits in every box. But the company received enough autographs to increase the amount of hits to three. Press Pass states the break down of the extra hits will be roughly two-third autographs and one-third memorabilia.
Many of the memorabilia cards will also be dual, triple and quad relics and by the looks of the preview pics, Press Pass specifically labels every piece of memorabilia. Collectors won't be wondering about these cards.
Some of the other hits include 1/1 sketch cards and artist proof autographs from Alfred Wertheimer and George Kalinsky.
Susan Lulgjuraj is a contributing editor for Beckett Media. You can email Susan here. Follow her on Twitter here.