2022 Topps Baseball Card Design Revealed
It's still about six months away from releasing, but the 2022 Topps Baseball base card design has been revealed.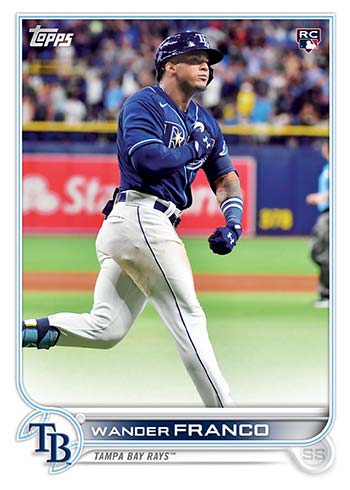 Topps made the announcement via social media including Twitter and Instagram.
It's back to a white border for a second year in a row. The player name is much more prominent and bigger compared to 2021.
The other prominent feature is the partial baseball icon in the nameplate. It's a little reminiscent of the home plate in the 2013 flagship design.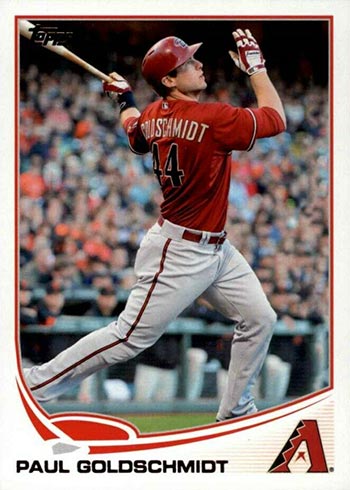 A Confirmation with the 2022 Topps Reveal
Topps' reveal of the 2022 flagship baseball design does some double-duty as well. Although a mock-up at this point, they opted to used Wander Franco.
With the inclusion of the RC logo, it confirms that his base set Rookie Cards will be in 2022 baseball card products and not late-2021 sets like Topps Update.
This isn't surprising as his first 2021 Topps Now card, which commemorates his June 22 MLB debut, has a "Call-Up" notation and not the RC logo like some earlier debuts like Jarred Kelenic.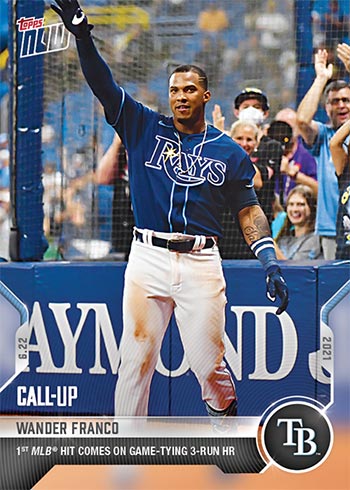 The MLBPA is largely responsible for deciding the rookie cut-off date each season when it comes to baseball cards. This is why Topps and Panini products line up with their player lists each year.
What do you think of the 2022 Topps design?