2021 Topps Now Baseball Checklist, Team Set Lists and Details
2021 Topps Now Baseball marks the sixth year for the print-on-demand set. The concept remains the same — key events get a baseball card the morning after they happen. When complete, the massive set will act as a chronicle of the season's milestones, records, debuts, big performances, special events and more. And, if the trend from previous years continues, lots of walk-off home runs.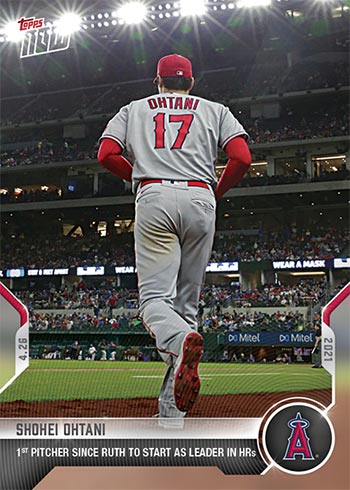 2021 Topps Now Baseball: How to Order
Cards are sold through the Topps website and are available for just 24 hours. Individual cards remain $9.99. Bulk discounts are available for lots of five ($29.99), ten ($49.99) and 20 ($79.99) copies of the same card.
There are also daily bundles. The size and price of these vary from day to day, but there is a discount versus buying them individually.
Collectors for a cheaper rate without buying in bulk can look to eBay. During the sales window, sellers typically offer single cards for $5-$6 each. They're ordering in bulk from Topps and offering a discount up front. Cards will typically take a little longer to arrive, but the savings can add up.
Parallels and Autographs
Base cards have five different parallels. These are numbered to 49 (Blue), 25 (Purple), 10 (Red), 5 (Orange) and 1/1 (Gold) and are randomly sent out with orders. You won't know if you have one of the rare versions in advance.
Parallels do replace the regular card that's ordered. They are not an extra card.
Select cards also have autographs. These are sold separately. Print runs vary from player to player. However, on-card signatures have been a key to the program since they debuted.
2021 Topps Now Baseball Checklist
The checklist will continue to grow and expand throughout the season. Print runs will be added as they become available. If you're interested in a specific card, click on the links to see what's currently available on eBay.
April
2021 Topps Now Baseball Checklist – April
Parallels:
Blue – /49
Purple – /25
Red – /10
Orange – /5
Gold – 1/1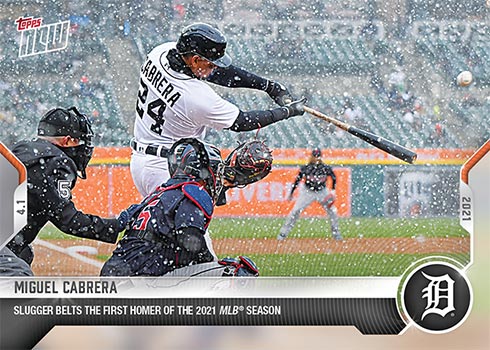 1
1 Miguel Cabrera – Slugger Belts the First Homer of the 2021 MLB Season – 11,821
2 Ke'Bryan Hayes – Rookie 3rd Baseman Sets Tone with HR in Win – 3,887
3 Shane Bieber – 12-K Performance Puts Hurler in Rare Company – 680
4 Cody Bellinger – Bizarre RBI Single Clears Fence – 749
5 Jean Segura – Opening Day Walk-Off in Philadelphia – 697
6 Dylan Carlson – Opening Day HR by 22-Year-Old Sets Franchise Mark – 2,540
7 Arizona Diamondbacks – 6th Inning Power Surge Makes MLB History – 578
8 Jonathan India – Reds 5th Overall Prospect Makes MLB Debut – 1,742
9 Kyle Isbel – 3-Hit Debut Puts Isbel in Royals Record Book – 1,240
Autographs
1A Miguel Cabrera – Blue /49, Purple /25, Red /10, Orange /5, Gold 1/1
2A Ke'Bryan Hayes – Base /99, Blue /49, Purple /25, Red /10, Orange /5, Gold 1/1
6A Dylan Carlson – Base /99, Blue /49, Purple /25, Red /10, Orange /5, Gold 1/1
2
10 Trey Mancini – Picks Up 1st Hit in Triumphant Return to Baseball – 602
11 Jose Abreu – Reigning AL MVP Slugs 1st Grand Slam of 2021 – 531
12 Yermin Mercedes – 1st Player Since 1993 with 5 Hits in 1st MLB Start – 6,571
13 Michael Kopech – Earns 1st Win Since 2018 After 2 Shutout IP – 448
14 Eric Hosmer – Scintillating Start Makes Padres History – 518
15 Fearless Feline – Dashes Through the Infield, Caught at the Warning Track – 2,958
3
16 Nolan Arenado – Slugger Hits 1st HR with His New Team – 611
17 Gary Sanchez – 2nd Yankees Catcher Ever to Homer in the First Two Games of a Season – 462
18 Jake Arrieta – Earns Win in Return to Cubs Rotation – 466
19 Zack Wheeler – 1 Hit Allowed Over 7 IP, 2 Hits and 2 RBI at the Plate – 423
20 Jose Berrios – 12 Ks Over 6 Brilliant, No-Hit Innings – 419
21 Yermin Mercedes – 8-for-8 Start to Season Sets Modern Era Record – 5,152
22 Zach McKinstry – Pinch-Hit, Inside-the-Park HR for 1st of Career – 1,044
23 Taylor Trammell – Center Fielder Lands First Career Hit and RBI – 994
24 Ryan Weathers – Padres Prospect Earns First Career Save – 646
Autographs:
21A Yermin Mercedes – Base /99, Blue /49, Purple /25, Red /10, Orange /5, Gold 1/1
4
25 Akil Baddoo – Baddoo Starts MLB Career with a Bang – 4,182
26 Cedric Mullins – Lefty Makes Orioles Franchise History – 362
27 Bo Bichette – Shortstop Reaches Century Mark in Historic Fashion – 643
28 Nate Lowe – MLB RBI Leader Sets Rangers Record – 291
29 Taylor Widener – First Career Start Leads to Victory – 452
30 Shohei Ohtani – Dual-Threat Phenom Breaks 118-Year Drought – 4,673
31 Jared Walsh – First Walk-Off HR of the 2021 Season – 535
Autographs:
25A Akil Baddoo – Base /99, Blue /49, Purple /25, Red /10, Orange /5, Gold 1/1
5
32 Nelson Cruz – Monster Day at the Plate Includes 2 HRs, 5 RBI – 336
33 Akil Baddoo – Historic Debut Week Continues for Rookie – 3,890
34 Giancarlo Stanton – Launches Game-Breaking, 471-Ft. Grand Slam – 451
35 Jacob deGrom – Makes Mets History with Team's 1st Hit of Season – 610
6
36 Akil Baddoo – Adds Walk-Off Single to Legendary Debut Resume – 2,687
37 Tyler Naquin – 7-RBI Day Leads to 4th Consecutive Reds Win – 448
38 Gerrit Cole – Dominant 13-K Outing Paves Way for Victory – 399
39 Juan Soto – Walk-Off Single Smoked at 115.3 MPH, per Statcast – 664
40 Nate Lowe – 4-RBI Night Rewrites Rangers Record Book – 250
41 Pete Alonso – Fastest Player in MLB History to 70 HRs – 764
42 Andrew Vaughn – Impresses with Double for First MLB Hit – 1,740
43 Jose Abreu – 6th Cuban-Born Player to Reach 200 HRs – 381
44 J.D. Martinez – Crushes 2-Run, Walk-Off Double in 12th Inning – 302
45 Ryan McMahon – 1st 3-HR Game of 2021 Highlights 4-Hit Performance – 207
46 Matt Peacock – 1st MLB Hit, Winning Decision in Debut Makes History – 427
Autographs:
36A Akil Baddoo – Base /99, Blue /49, Purple /25, Red /10, Orange /5, Gold 1/1
7
47 Shane Bieber – Back-to-Back 12-K Outings Set MLB Record – 386
48 Mitch Moreland – Secures 1st Oakland Athletics Win on Walk-Off – 231
49 Dylan Carlson – 1st Career Grand Slam Leads Cardinals Win – 1,856
8
50 Trey Mancini – Receives Standing Ovation During Home Opener – 481
51 Jeff McNeil – Birthday HR Sets Up Mets 9th-Inning Victory – 400
52 Yermin Mercedes – The "Yerminator" Stays Hot with 485-Ft HR – 1,843
53 Nolan Arenado – Go-Ahead, 2-Run HR Fuels Win in Home Opener – 833
54 Lance Lynn – Hurls 1st Complete-Game Shutout of 2021 – 365
55 Vladimir Guerrero Jr. – Connects for 1st MLB HR in Dunedin History – 552
Autographs:
52A Yermin Mercedes – Base /99, Blue /49, Purple /25, Red /10, Orange /5, Gold 1/1
Relics:
55A Vladimir Guerrero Jr. – Base /99, Blue /49, Purple /25, Red /10, Orange /5, Gold 1/1 (GU Base)
9
56 Los Angeles Dodgers – Receive World Series Rings in Front of Home Crowd – 1,186
57 Ronald Acuna Jr. – 456-Ft HR Paves Way for Opening Night Win – 1,409
58 Joe Musgrove – Throws 1st No-Hitter in San Diego Padres History – 6,566
Autographs:
58A Joe Musgrove – Base /99, Blue /49, Purple /25, Red /10, Orange /5, Gold 1/1
10
59 Jacob deGrom – Ties Career-Best Mark with 14 Punchouts – 628
60 Trevor Rogers – Rookie Strikes Out 10 En Route to Marlins Win – 461
61 Tim Locastro – Sets New MLB Record on the Basepaths – 515
11
62 Brent Honeywell Jr. – Rays No. 19 Prospect Debuts with 2 Perfect IP – 472
63 J.D. Martinez – Tie MLB Record Following 3-HR Performance – 338
64 Kyle Seager – 2nd HR Drives in 3 to Cement 9th-Inning Comeback – 284
Autographs:
63A J.D. Martinez – Base /99, Blue /49, Purple /25, Red /10, Orange /5, Gold 1/1
12
65 Gerrit Cole / David Cone – Yankees Ace Matches Cone with 29 Ks Through 1st 3 Starts of Season – 477
66 Tyler Glasnow – Career-High, 14-K Outing Sets Up Rays Victory – 264
67 Casey Mize – Earns First MLB Win Following Stellar Start – 2,394
68 Shohei Ohtani – 119-MPH Double Highlights 3-for-5 Night – 872
13
69 Rafael Devers – Joins Red Sox Legends with 4-Game HR Streak – 351
70 Jonathan Villar – Walk-Off Hit Seals Extra-Inning Win – 292
71 Adam Duvall – 7-RBI Night Paves Way for Marlins Win – 240
72 Shane Bieber / Lucas Giolito – Combine for 19 Strikeouts in Epic Pitchers' Duel – 445
73 Baltimore Orioles – Walk-Off Single Splits Doubleheader with Mariners – 220
14
74 Yadier Molina – Starts Record 2,000th Game as Cardinals Catcher – 1,842
75 Bo Bichette – Walk-Off HR Ties DiMaggio for Most Multi-XBH Games in 1st 87 Career Games – 1,005
76 Corbin Burnes – 30 Ks, 0 BBs Through 1st 3 Starts of 2021 Mark a 1st Since 1906 – 527
77 Alex Verdugo – Sparkling Glove, Hot Bat Fuel Doubleheader Sweep – 456
78 Ronald Acuna Jr. – 2 HRs Bring Red-Hot Star to 19-for-Last-35
79 Carlos Rodon – Hurls 20th No-Hitter in White Sox History – 1,780
Autographs:
74A Yadier Molina – Base /99, Blue /49, Purple /25, Red /10, Orange /5, Gold 1/1
78A Ronald Acuna Jr. – Base /99, Blue /49, Purple /25, Red /10, Orange /5, Gold 1/1
79A Carlos Rodon – Base /99, Blue /49, Purple /25, Red /10, Orange /5, Gold 1/1
15
80 Major League Baseball – MLB Celebrates Jackie Robinson Day by Wearing 42 – 658
81 Ronald Acuna Jr. / Hank Aaron – 14 XBHs Through 1st 13 Games Ties Hank Aaron's Franchise Record – 1,668
82 Dansby Swanson – Finishes 3-for-4 Day with a Walk-Off Single – 350
83 Max Kepler – Comes Through with a Clutch, Walk-Off Single – 326
16
84 Max Scherzer / Cy Young – Leaps Cy Young in Career Strikeouts for 22nd All-Time – 768
85 Kyle Schwarber – 1st Washington National HR Is a 463-Ft Walk-Off – 461
86 Fernando Tatis Jr. – Crushes HR First Game Back in the Lineup – 851
87 Ty France – Smokes 1st Career Walk-Off Hit in Mariners Win – 375
17
88 Jacob deGrom – 9 Straight Ks Highlight 2nd Straight 14-K Outing – 891
89 Willson Contreras / Kris Bryant – Pair Powers Cubs Offense with 2 HRs Each in 13-4 Rout – 402
90 Yadier Molina – A Part of Back-to-Back Blasts Twice in 2-HR Game – 786
91 Joey Votto – Diving Snag Starts Extraordinary Triple Play – 633
92 Tyler Stephenson – 10th-Inning, Walk-Off Single Powers 3-2 Win – 721
93 Jorge Alfaro – Walk-Off, 2-Run Double Leads Extra-Innings Win – 251
94 Salvador Perez – Launches 459-Ft, Walk-Off HR to Beat Blue Jays – 402
Autographs:
88A Jacob deGrom – Base /99, Blue /49, Purple /25, Red /10, Orange /5, Gold 1/1
18
95 Aaron Nola – Ace Strikes Out 10 in Complete-Game Shutout – 416
96 Nolan Ryan / Shane Bieber – 48 Ks Through 1st 4 Starts Ties Nolan Ryan's MLB Record – 863
97 Marcus Stroman – Behind-the-Back Web Gem Highlights Quality Start – 417
98 Nate Lowe – Hits Walk-Off Single in Extra-Innings Win – 279
99 Gerrit Cole – Sets Yankees Record with 39 Ks Through 1st 4 Starts of Season – 351
19
100 Enrique Hernandez – 2nd Player in Red Sox History with Lead-Off HR on Patriots' Day – 428
101 Paul DeJong – Solo HR, Grand Slam Lead Way for Cardinals Win – 490
102 Joe Musgrove – Sets New Career High with 13 Strikeouts – 480
Checklist #1-100 – 224
20
103 Julio Urias – Career-High 11 Ks Lead Dodgers 1-Hitter – 460
104 Mike Trout – Crushes Hardest Hit HR of Career at 115.5 MPH – 2,457
105 Oakland Athletics – Doubleheader Sweep Results in 10th Straight Win – 386
106 Corbin Burnes – 40 Ks, 0 BBs Through 1st 4 Starts of 2021 Makes MLB History – 553
21
107 Mickey Moniak – Former No. 1 Overall Pick Launches 1st MLB HR – 1,717
108 Andrew Knapp – Smokes Walk-Off Single to Cement Phillies Win – 308
109 Max Scherzer – 2,814th Career K Moves Ace Past Mike Mussina for 21st All-Time – 457
110 Oakland Athletics – Throwing Error Leads to Walk-Off for 11th Straight Win – 296
111 Salvador Perez – Comes Up Clutch with Walk-Off Single – 348
Autographs:
107A Mickey Moniak – Base /99, Blue /49, Purple /25, Red /10, Orange /5, Gold 1/1
22
112 Jonathan India – Reds No. 5 Prospect Crushes 1st Career HR – 1,334
113 David Peralta – 5-Hit, 7-RBI Game Paves Way for Diamondbacks Win – 290
114 Cristian Javier – 8 Ks to Open Game Marks Astros 1st Since '86 – 597
115 Jason Heyward – Pinch-Hit Single Leads Cubs to Walk-Off Win – 342
116 Fernando Tatis Jr. / Jake Cronenworth – Incredible 4-6-3 Double Play Preserves Padres Victory – 746
23
117 Jacob deGrom – MLB-Record 50 Ks Through 4 Starts After Career-Best 15-K Shutout – 2,428
118 Giancarlo Stanton – 1st Ever in the Statcast Era with 2 HRs of 115+ MPH in the Same Game – 404
119 J.A. Happ – Takes No-Hit Bid Into the 8th in 2-0 Win – 289
120 Nick Castellanos – Home Run Marks 1,000th Career Hit – 374
121 Robel Garcia – Plays Hero with Pinch-Hit, Walk-Off Single – 256
122 Raimel Tapia – Walk-Off Home Run Fuels 5-4 Win – 304
123 Fernando Tatis Jr. – 2 HRs Off Kershaw Power Win on Anniversary of Father's Historic Game – 2,068
Relics:
117A Jacob deGrom – Base – /15, Red /10, Orange /5, Gold 1/1
24
124 Nick Madrigal – "Nicky Two Strikes" Delivers First Career Walk-Off Hit – 1,435
125 Gerrit Cole – 7 IP, 11 SO Effort Makes Yankees History – 590
126 Fernando Tatis Jr. – Don't Blink! Back-to-Back 2-HR Nights for Padres Shortstop – 4,651
25
127 Michael Kopech – Career-High 10 Strikeouts Lead Way for White Sox – 544
128 Shohei Ohtani – Launches 440-Ft. Go-Ahead HR in Angels Win – 1,334
129 Fernando Tatis Jr. – 5 HRs, 3 SB in Dodgers Series Makes MLB History – 2,924
130 Arizona Diamondbacks – 1st Team in MLB History to Allow 1 Hit or Less in a Doubleheader – 409
131 San Diego Padres – Overcome 7-1 Deficit to Rally for Extra-Innings Win – 631
26
132 Salvador Perez – 13th Royals Player to Reach 1,000 Career Games – 434
133 Akil Baddoo – Makes MLB History at the Plate Through 1st 17 Career Games – 1,914
134 Jordan Luplow – Crushes Walk-Off HR to Cement Extra-Innings Win – 288
135 Rhys Hoskins – Grabs MLB Lead with 6th HR in Last 6 Games – 444
136 Anthony DeSclafani – Tosses 9-K, CG Shutout to Lead Giants Win – 264
137 Shohei Ohtani – 1st Pitcher Since Ruth to Start as Leader in HRs – 8,513
27
138 Vladimir Guerrero Jr. – Explodes for 1st Career 3-HR, 7-RBI Game – 3,086
139 Nolan Arenado – Covered 91-Feet to Make Spectacular Snag – 457
140 Cristian Javier – Tosses Gem to Extend Scoreless Streak to 17 Innings – 531
141 Ronald Acuna Jr. – Launches 481-Ft HR to Match MLB Lead with 8 HRs – 1,103
142 C.J. Cron / Ryan McMahon – Back-to-Back Blasts Pave Way for Extra-Innings Win – 298
Autographs:
138A Vladimir Guerrero Jr. – Base /99, Blue /49, Purple /25 (GU Ball), Red /10 (GU Ball), Orange /5 (GU Ball), Gold 1/1 (GU Ball)
28
143 Byron Buxton – 5-for-5, 3 XBHs Mark 7th Time in Twins History – 564
144 Jacob deGrom – 59 Ks Through 1st 5 Appearances of Season Ties Nolan Ryan's MLB Record – 753
145 Freddie Freeman / Anthony Rizzo – Rizzo Cools Off the Reigning NL MVP with Late-Inning Strikeout – 1,222
146 Josh Rojas – Leaping Grab Robs Fernando Tatis Jr. of a HR – 312
29
147 Yusei Kikuchi – Flirts with No-Hitter in 7-Inning Gem – 329
148 Carlos Rodon / Dylan Cease – Pitching Duo Leads Way for White Sox in Doubleheader Sweep – 424
30
149 Joey Votto – Launches 300th Career HR, Third in Reds History – 927
150 Aaron Judge – Explodes for 2 HRs, 5 RBI to Power Yankees Victory – 600
151 Gerrit Cole – Ties MLB Record of 3 Consecutive Starts with 10+ Ks and 0 BBs – 462
152 J.D. Martinez – Takes a Hold of MLB Lead with 2-HR Night – 344
153 Alex Kirilloff – Leads Way for Twins with Career HRs No. 1 and 2 – 1,685
154 Alejandro Kirk – 2-HR Night Highlights Blue Jays Big Win – 714
155 Kyle Schwarber – Crushes Extra-Innings HR for 2nd Walk-Off in April – 364
156 Shane Bieber – 68 Ks Through April Sets New MLB Record – 445
157 Yu Darvish – 12 Ks, 6.1 IP Paves Way for Padres Victory – 360
Autographs:
149A Joey Votto – Base /99, Blue /49, Purple /25, Red /10, Orange /5, Gold 1/1
153A Alex Kirilloff – Base /99, Blue /49, Purple /25, Red /10, Orange /5, Gold 1/1
Checklist Top
May
2021 Topps Now Baseball Checklist – May
Parallels:
Blue – /49
Purple – /25
Red – /10
Orange – /5
Gold – 1/1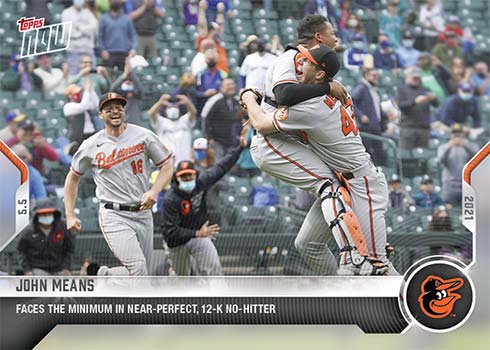 1
158 Cristian Pache – 1st Career Regular-Season HR Is a Grand Slam – 2,224
159 George Springer – Connects for 1st HR with the Toronto Blue Jays – 439
160 Randal Grichuk – Cements Extra-Innings Win with Walk-Off Single – 302
161 Travis Shaw – 11th Inning Single Lifts Brewers to Walk-Off Win – 213
Autographs:
158A Cristian Pache – Base /99, Blue /49, Purple /25, Red /10, Orange /5, Gold 1/1
2
162 Corey Kluber – Tosses 8 Shutout Innings Pitched with 10 Ks for 100th Career Win – 390
163 Matt Beaty / A.J. Pollock – Grand Slams in Back-to-Back Innings, 15 Total RBI Lead Dodgers to Win – 437
164 Fernando Tatis Jr. – 40+ HRs & 30+ SBs in 1st 162 GP Marks MLB 1st – 3,002
165 Ramon Laureano – Game-Preserving Catch, Go-Ahead HR Lead 7-5 Win – 399
3
166 Gerrit Cole / Jacob deGrom – AL and NL Pitchers of the Month – 682
167 Byron Buxton / Ronald Acuna Jr. – Named AL and NL Players of the Month – 644
168 Yermin Mercedes / Trevor Rogers – Named AL and NL Rookies of the Month – 847
4
169 Keibert Ruiz – Repeats History with HR in 1st At-Bat of 2021 – 1,028
170 San Francisco Giants – Explode for a 10-Run 1st Inning, Most in Franchise History Since 1967 – 272
171 Dylan Cease – 3-for-3 at the Plate, 6 IP and 11 Ks Lead Win – 436
172 David Bote – Walk-Off Hit Cements Cubs Doubleheader Sweep – 403
173 Charlie Blackmon – Caps Comeback with Walk-Off, 3-Run HR – 287
5
174 Jesse Winker – Delivers Walk-Off Hit to Cement Extra-Innings Win – 350
175 John Means – Faces the Minimum in Near-Perfect, 12-K No-Hitter – 8,761
176 Anthony Rizzo – Walk-Off Hit Completes Series Sweep of Dodgers – 579
6
177 Giancarlo Stanton – HR in 3rd Straight Game Extends Hit Streak to 12 Games
178 Jose Altuve – Launches Go-Ahead, 3-Run HR on 31st Birthday
179 Zack Wheeler – CG SHO, 8 Ks Cap 4-Game Sweep of Brewers
180 Nick Gordon – 1st Twins PLayer Ever with 2 SBs in MLB Debut