Cheap Wax Wednesday Box Breaks: 1994 Topps Stadium Club Draft Picks Baseball
This week's featured product combines two recent happenings, the release of 2021 Stadium Club Baseball and the 2021 MLB Draft. 
1994 Topps Stadium Club Draft Picks Baseball consists of just 90 base cards highlighting 1994 MLB Draft Picks. Not all of the top selections appeared in the set. Some notable first round selections missing from the checklist include Todd Walker, Jaret Wright and Jason Varitek.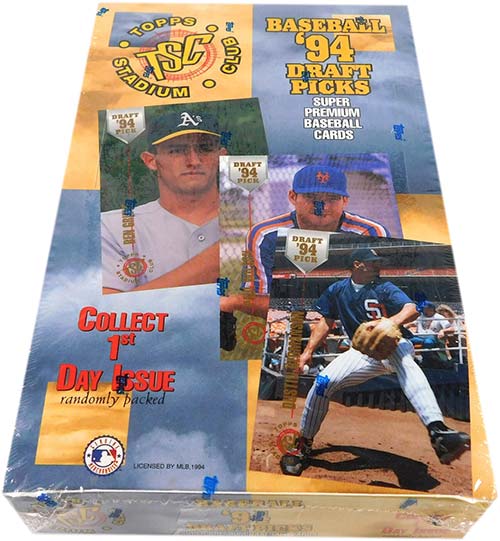 Players appear in mostly posed photos in their major league uniforms. There are no inserts in the set outside of First Day Issue parallels. 
1994 Topps Stadium Club Draft Picks Baseball Box Break
Cards per pack: 12
Packs per box: 24
Price paid: $9

Pack 1 highlights:
No notable names to see here. 

Pack 2:
Mike Hampton. No, not left-handed pitcher Mike Hampton, but Clemson third baseman Mike Hampton.
The other Mike Hampton won 148 games over a 16-year major league career. This Mike Hampton, drafted in the fourth round, never played above A-ball.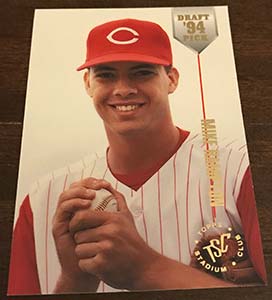 Pack 3:
Matt Beaumont First Day Issue (1:6 packs). First Day Issue parallels were supposedly the cards printed only on the first day of manufacturing.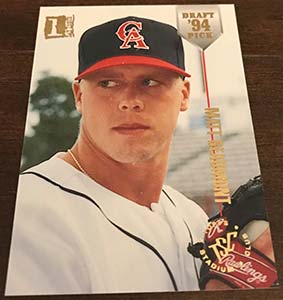 Pack 4:
Brian Rose & Paul Wilson
Paul Wilson was selected by the Pirates in the 57th round of the 1991 draft. He opted to attend Florida State instead, and was the first overall selection in 1994. He didn't have as much success as the Mets hoped, pitching to a career 4.86 ERA.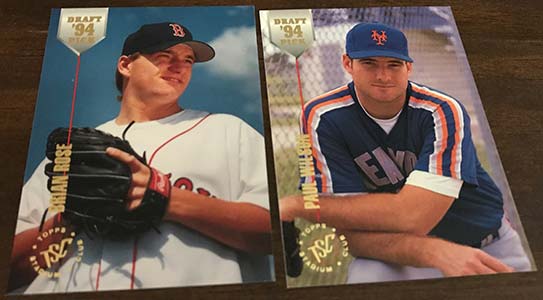 Pack 5:
Aaron Boone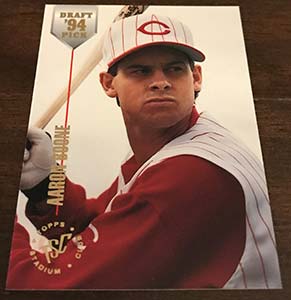 Pack 6:
George Lombard
Lombard was selected by the Braves in the second round in 1994. He rose as high as #26 in the prospect rankings before the 1999 season. Lombard didn't quite pan out, though, and played in just 144 major league games.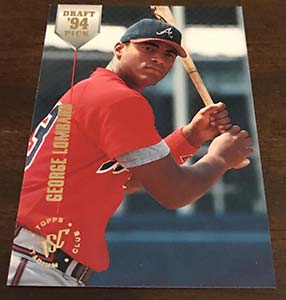 Pack 7:
Nomar Garciaparra x2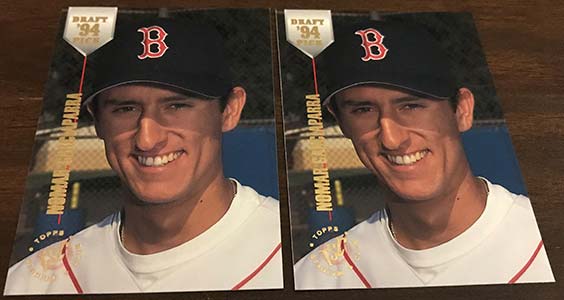 Pack 8:
Brian Meadows First Day Issue (1:6 packs)
Matthew Brian Meadows was a 3rd round selection of the Marlins in 1994. He pitched in 336 games over nine seasons, posting a 5.05 ERA.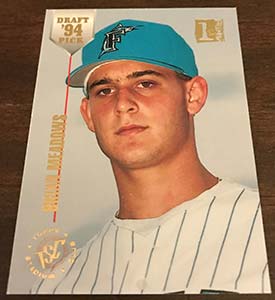 Pack 9:
Another dud pack.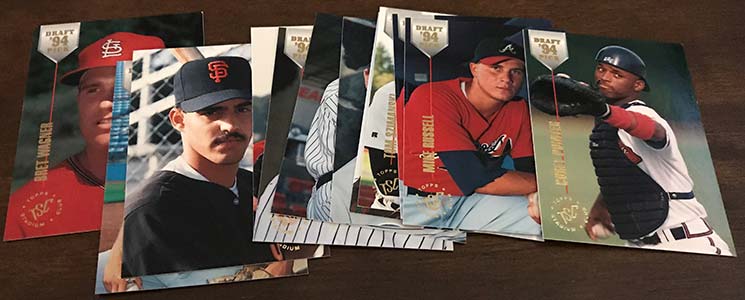 Pack 10:
Ramon Castro & Geoff Blum
Geoff Blum was a seventh round selection of the Expos. He would play mostly a backup role over 14 major league seasons, finishing just shy of two milestones. He finished his career with 990 hits and 99 home runs.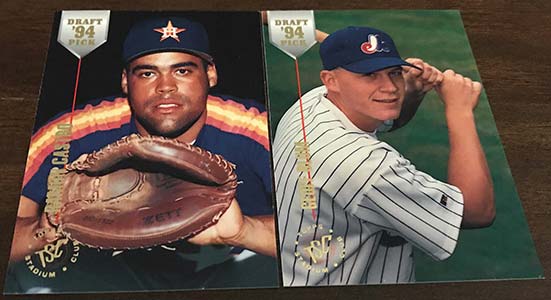 Pack 11:
A couple of Paul Konerko cards.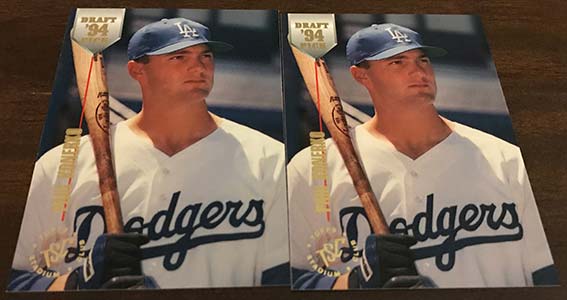 Pack 12:
Aaron Boone & Ramon Castro
A first round selection, Castro wouldn't appear in the majors for the Astros. He was traded to the Marlins during the 1998 season. He was a backup catcher for 13 major league seasons.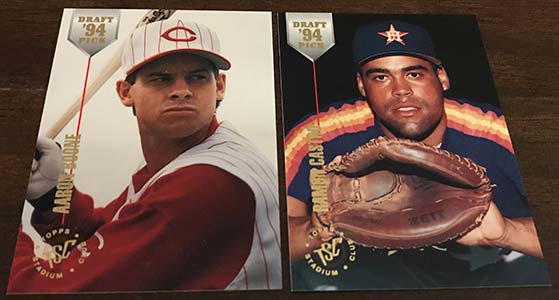 Pack 13:
C.J. Nitkowski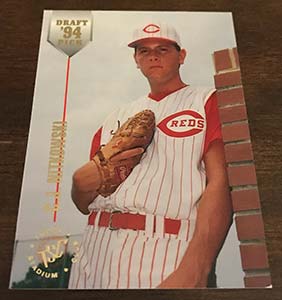 Pack 14:
Eddie Brooks First Day Issue (1:6 packs)
Eddie "Boo" Brooks was a fifth round draft pick out of the University of Kentucky. He never played above High-A, playing in a total of 290 minor league games.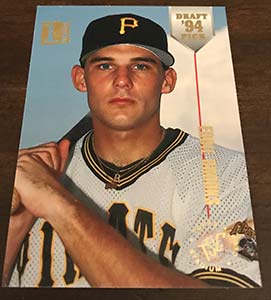 Pack 15:
Dustin Hermanson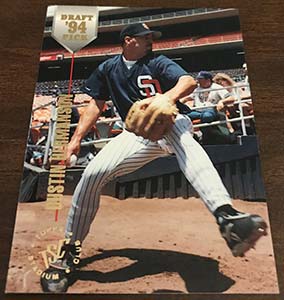 Pack 16:
Aaron Boone dupes
Coming from a family of major leaguers, Aaron was selected in the third round in 1994. He would be traded to the Yankees at the trading deadline in 2003, and wound up hitting a pretty big home run during the ALCS. He would be released by the Yankees the following spring.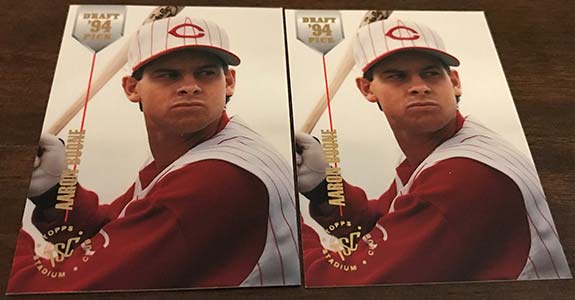 Pack 17:
Ramon Castro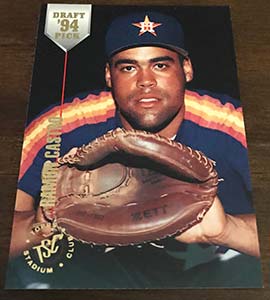 Pack 18:
Geoff Blum
Blum won the 2005 World Series as a member of the Chicago White Sox. He recorded just one at bat in that series, hitting a home run.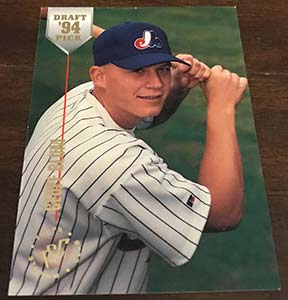 Pack 19:
#1 draft pick Paul Wilson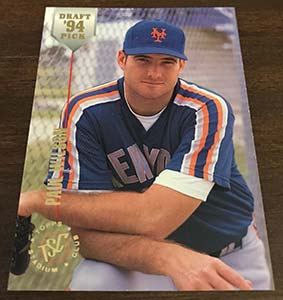 Pack 20:
Ben Grieve
Grieve was selected second overall in 1994 out of high school. He won the 1998 AL Rookie of the Year Award, batting .288 with 18 home runs and 89 RBI.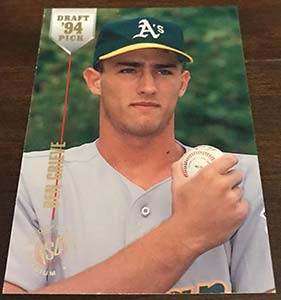 Pack 21:
Nomar Garciaparra & Terrence Long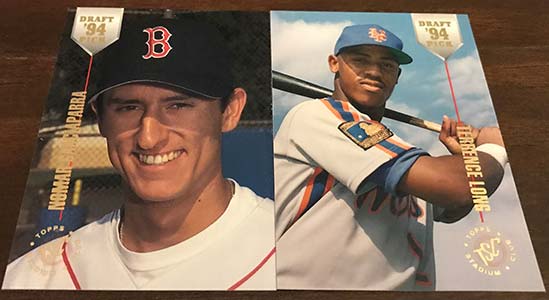 Pack 22:
Ben Grieve
Grieve made his only All-Star appearance during his rookie season in 1998. He somehow missed the cut in 2000 when he hit 27 home runs and racked up 104 RBI.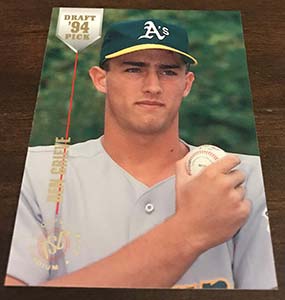 Pack 23:
Wes Helms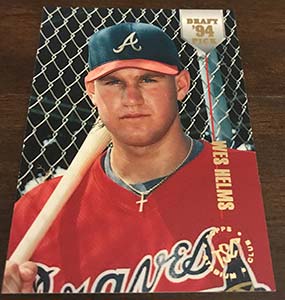 Pack 24:
Two Jay Paytons
Payton joined Georgia Tech teammates Nomar Garciaparra and Jason Varitek as first round selections in the 1994 draft.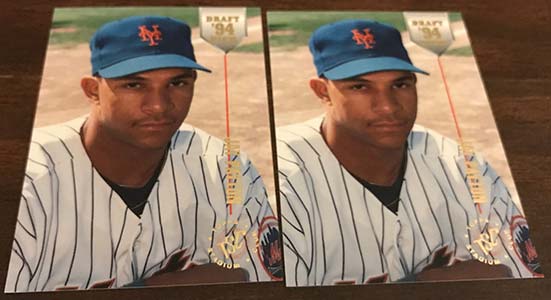 Lastly, the Nomar card back. It's interesting to look at the team's previous first round selections and the progression (or lack thereof) of their careers.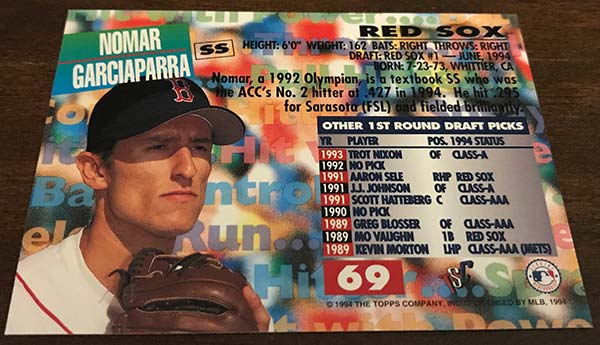 The MLB draft is much different than the other leagues. Many of the players selected will never appear in the major leagues. Only four of the players selected in the first round in 1994 would appear in an All-Star game during their career. 
This product doesn't have a lot going for it. Yes, there are a few notable names included on the checklist, but that's about it. There are no inserts to chase and the product doesn't really fit in with the Stadium Club brand. That is probably why this was a one-and-done product for Topps in this format. 
Shop for 1994 Topps Stadium Club Draft Picks Baseball on:
Want more installments of Shane Salmonson's Cheap Wax Wednesday? Check out his other breaks in the archives.