2022 Donruss Football Puts a Super Bowl Twist on Downtown
2022 Donruss Football is one of the season's perennial releases that invites a wide spectrum of collectors. A large base set brings in set builders. Rated Rookies offer popular but affordable RCs of first-year players. Inserts come with big designs and some offer long chase odds. Yes, there are autographs and memorabilia cards as well with one of each landing in every hobby box.
2022 Donruss Football Checklist Overview
With 400 total cards, the Donruss base set is one of the bigger ones of the year. This is up from 350 in 2021. The first 300 are a mix of veterans and retired stars. A total of 100 Rated Rookies round out the checklist.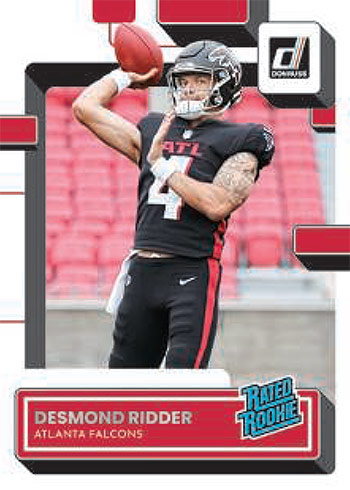 Parallels available in hobby packs include:
Aqueous Test
Canvas
No Name
Stat Line – /500 or less
Jersey Number – /99 or less
Silver Press Proof – /100
Silver Press Proof Die-Cut – /75
Gold Press Proof – /50
Gold Press Proof Die-Cut – /25
Black Press Proof – /10
Black Press Proof Die-Cut – 1/1
Although not numbered, Canvas are tough with two in each 18-box hobby case.
Select Rated Rookies have Premium versions as well done on opti-chrome stock. For hobby, these are four per case.
Short print variations are also available for select players. These include things like different photos and full names on the front. These are much tougher than in previous years, landing just two per hobby case.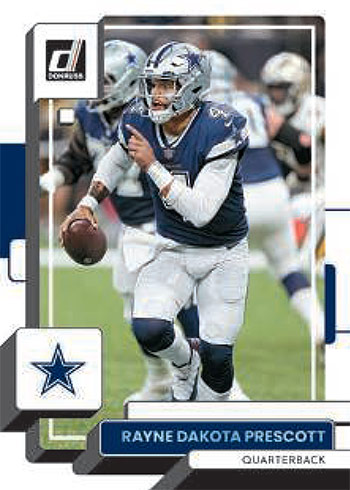 Autographs and Other Inserts
Among the signatures in 2022 Donruss Football are Rookie Phenom Jersey Autographs. Base versions have no more than 99 copies each. Additional parallels include Prime (/49 or less), Brand Logo Laundry Tag (1/1), NFL Shield Laundry Tag (1/1) and Player's Logo Laundry Tag (1/1).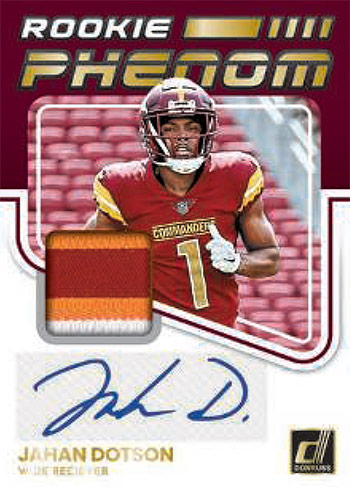 Hobby boxes have several memorabilia cards exclusives like All-Pro Kings, Canton Kings, Jersey Kings and Leather Kings. All of these have autograph versions as well for select cards.
Rated Rookie Portraits offer a more personal look at the season's draft picks. Studio Series (/100) parallels are only in hobby packs. It's the same for the autograph versions, which have no more than 49 copies each.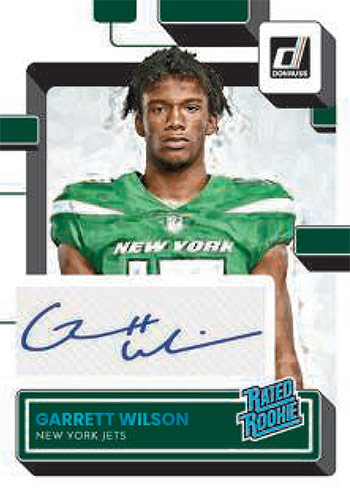 The popular Downtown line continues but with a new twist. Now they're Super Bowl Downtown. Instead of having a cartoon background highlighting the player's home city, they're now centered on where players starred during a Super Bowl appearance.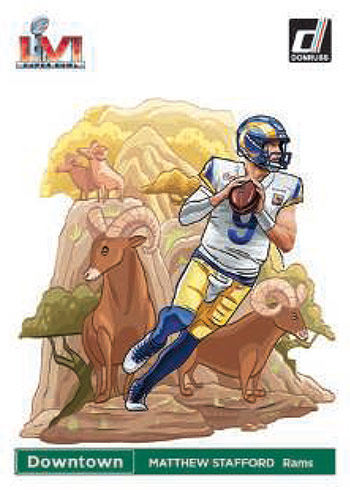 These are among a handful of SSP inserts, which combine to fall two per hobby case. Gridiron Marvels and Night Moves also fall under this category of rare chase sets.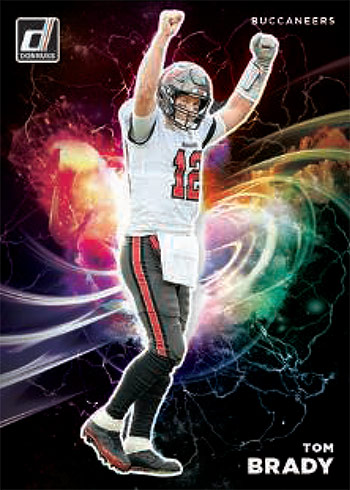 Other insert sets on the 2022 Donruss Football checklist include The Champ Is Here, Fans of the Game, Gridiron Kings, Power Plus, Road to the Super Bowl, and The Rookies.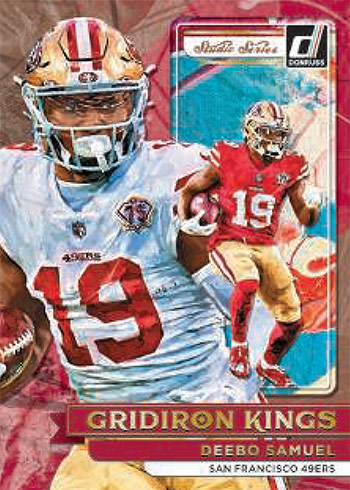 2022 Donruss Football cards at a glance:
Cards per pack: Hobby – 10
Packs per box: Hobby – 18
Boxes per case: Hobby – 18
Set size: 400 cards
Release date (subject to change): February 8, 2022
What to expect in a hobby box:
Autographs – 1
Memorabilia Cards – 1
Inserts – 42
Parallels – 16
Rated Rookies – 18
Recent Donruss Football releases:
The full 2022 Donruss Football checklist and team set lists will be up as soon as they're available, likely shortly before the product's release.