2020 Donruss Football Checklist, Team Set Lists and Details
Variety is the theme once again in 2020 Donruss Football. The flagship-style release brings back a deep checklist that has a large base set (with Rated Rookies) and a wide mix of inserts, parallels and more. Among those inserts are autographs and memorabilia cards, both of which fall one per hobby box.

2020 Donruss Football Base Set Basics
With 3500 cards, the base set is one of the biggest of the season. It's not quite 2020 Score big, but it's close. The checklist breaks down into four distinct sections. Veterans total 250 cards. The 100 total Rookie Cards include 50 Rated Rookies. There are also 50 variations that come with different photos. For rookies, there's one per hobby packs. Rated Rookies, which highlight top first-year players heading into the season, are a little tougher with six per hobby box versus the dozen regular rookies.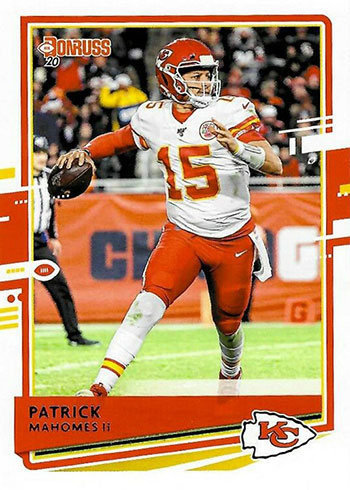 Base parallels are numerous. The ones available in hobby packs include:
Aqueous Test
Season Stat Line – /500 or less
Jersey Number – /99 or less
Silver Press Proof Die-Cut – /75
Gold Press Proof – /50
Gold Press Proof Die-Cut – /25
Black Press Proof – /10
Black Press Proof Die-Cut – 1/1
Autographs, Memorabilia Cards and Other Inserts
Inserts are a mix of Donruss past and new. Highlights look back on some of the biggest moments of the 2019 season. The Champ Is Here returns, this time spotlighting 20 members of the Super Bowl LIV winning Kansas City Chiefs. Hall of Fame players and coaches make up the Inducted checklist. Select cards for each of these come with autograph versions as well as other parallels.
Retro 2000 Autographs take it back two decades with its design. These are only in hobby packs.
"Kings" is the theme of multiple memorabilia inserts in 2020 Donruss Football: All Pro Kings, Canton Kings, Jersey Kings and Leather Kings.
Panini is bringing a couple of tough short print insert sets to the product. Marvels cards are designed to resemble the cover of a comic book. New Night Moves cards are all about color and lots of it.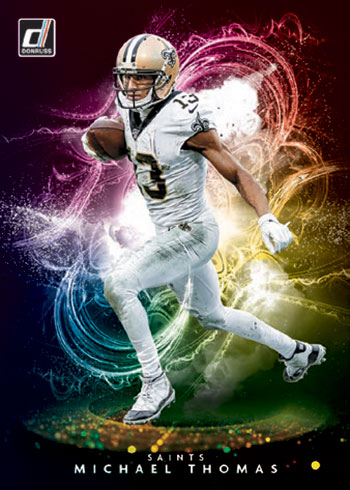 Taking a page from Hoops Basketball are Road to the Super Bowl, Champions and Super Bowl MVP inserts. These take a deep dive into the postseason.
Rated Rookies aren't exclusive to the base set. Optic Rated Rookie Previews add some chromium to the 2020 Donruss Football checklist.
2020 Donruss Football cards at a glance:
Cards per pack: Hobby – 10
Packs per box: Hobby – 18
Boxes per case: Hobby – 18
Set size: 350 cards
Release date: September 2, 2020
Shop for 2020 Donruss Football boxes on eBay:
What to expect in a hobby box:
Autographs – 1
Memorabilia Cards – 1
Parallels – 12
2020 Donruss Football Checklist
You can also download a customizable spreadsheet copy of the checklist:
Base
Variations
Autographs
Memorabilia
Inserts
Team Sets