2021 Donruss Football Checklist, Team Set Lists and Details
When you click on links to various merchants on this site, like eBay, and make a purchase, this can result in this site earning a commission.
2021 Donruss Football is intended to be a lot of things. First and foremost is that it's one of the more comprehensive sets of the year. That means a deep checklist that is big on base and complimented by lots of inserts. There's also the nostalgic tint that comes with any flagship-style Donruss product. This comes through with both throwback designs and some longstanding inserts and subsets that date back decades.
At the hobby level, 2021 Donruss Football boxes include both an autograph and a memorabilia card. There's also more than 40 inserts and a dozen parallels. Keeping with the variety theme, rookies average one per pack as well.
2021 Donruss Football Checklist Overview
The main 2021 Donruss Football base set has 350 total cards. Of those, 250 are veterans. One hundred first-year players get the Rated Rookie treatment.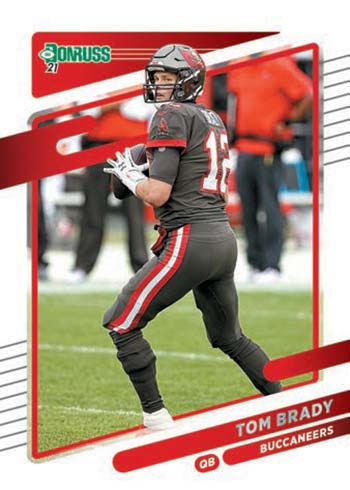 Parallels available in hobby packs include:
Aqueous Test
No Name
Press Proof Red
Stat Line – /500 or less
Silver Press Proof – /100
Jersey Number – /99 or less
Silver Press Proof Die-Cut – /75
Gold Press Proof – /50
Gold Press Proof Die-Cut – /25
Black Press Proof – /10
Black Press Proof Die-Cut – 1/1
Typically, retail configurations have their own additional parallels.
Fifty Photo Variations compliment the base set. These have the same general design but use a different image on the front. Variations have the same mix of hobby parallels.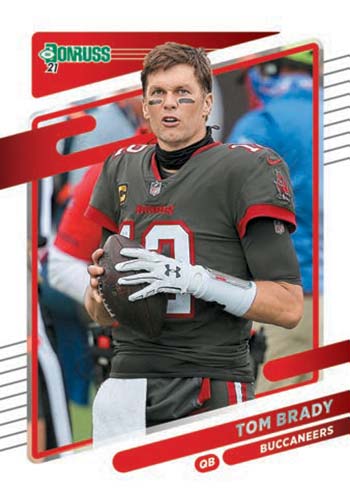 Autographs, Memorabilia Cards and Other Inserts
The Super Bowl Champion Tampa Bay Buccaneers get the spotlight in The Champ Is Here. Sticking with the postseason, Road to the Super Bowl breaks down the postseason from the Wild Card round to the big game.
The Elite Series and The Rookies are two of the oldest names connected to the Donruss brand. They're both back as inserts in 2021 Donruss Football. There's also an Elite Series Rookies set.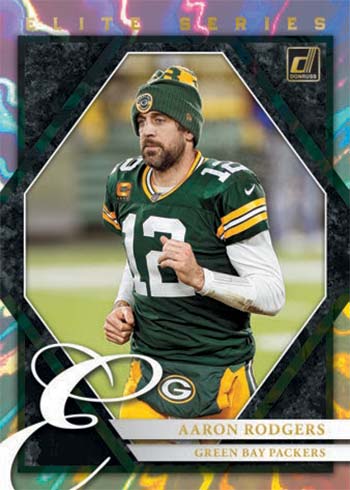 Retro 2001 goes back two decades. These use the design of 2001 Donruss Baseball. Select cards also have autograph versions.
Power Formulas is among the other inserts in 2021 Donruss Football.
The checklist also has some tough short print insert sets. Marvels, Night Moves and Rated Rookie Premium are all exclusive to hobby packs. Downtown is also back with a new crop of illustrated cards.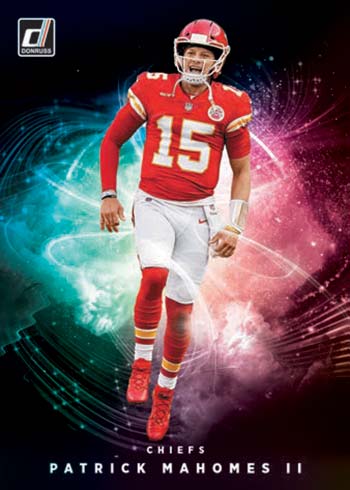 Among the autograph and memorabilia offerings in 2021 Donruss Football are All Pro Kings, Jersey Kings, Leather Kings, and Rookie Phenom Jersey Autographs.
2021 Donruss Football cards at a glance:
Cards per pack: Hobby – 10
Packs per box: Hobby – 18
Boxes per case: Hobby – 18
Set size: 350 cards
Release date: September 8, 2021
Shop for 2021 Donruss Football boxes on eBay:
What to expect in a 2021 Donruss Footballhobby box:
Autographs – 1
Memorabilia Cards – 1
Inserts – 42
Parallels – 12
Rated Rookies – 18
2021 Donruss Football Checklist
You can also download a customizable spreadsheet copy of the checklist:
Please note that print runs for cards without serial numbers have not been announced.
Recent Donruss Football releases: