2021-22 Upper Deck Synergy Hockey Details
Base is the chase once again with 2021-22 Upper Deck Synergy Hockey cards. But it's not the only one. With a checklist that has several inserts, tough autographs and a challenging Bounty program, there's no shortage of things going on.
Since the brand's beginning, Synergy hasn't been a place to promise autographs in every box. While they're certainly in the product, they're more of a bonus than an expectation. Every hobby box has more than a dozen inserts and lots of parallels.
2021-22 Upper Deck Synergy Hockey Checklist Overview
With just 125 total cards, the base set might not be big. Despite this, it's still one of the most challenging sets to put together this year. Simply put, base cards are tough. Sixty veterans and and 15 legends are all numbered to just 12. The remaining 50 cards are rookies, which have print runs of just 22 copies per card. Obviously, standard base cards are not in every pack.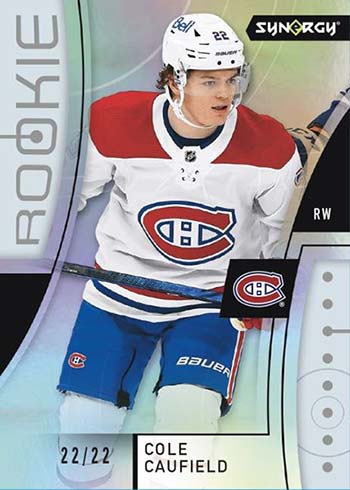 Synergy is different than most products in the sense that most parallels are more common than the cards they're based on. These start with Red (1:2 packs, Legends 1:8 packs, Rookies 1:3 packs, Rookies SP 1:43). Adding another layer to the Red cards are Bounty codes, which are on about half of the parallels.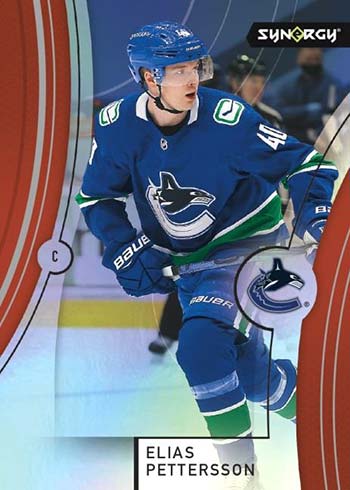 Purple parallels come numbered to 65 or less for vets and legends, and 99 for rookies. Some of these have autographs as well.
Autographs and Inserts
2021-22 Upper Deck Synergy Hockey has several insert sets to fill out its checklist. Like the base set, parallels are a feature in many of these as well.
Exceptional has three different sub-themes, Stars, Phenoms (players who aren't rookies but are 25 and under) and Rookies. These all come on acetate stock and combine to land four per box. Base versions are numbered to 899 with additional Red (/499), Blue (/299), Purple (/199), Green (/99), Pink (/25), Black (/10) and Gold Spectrum (1/1) parallels.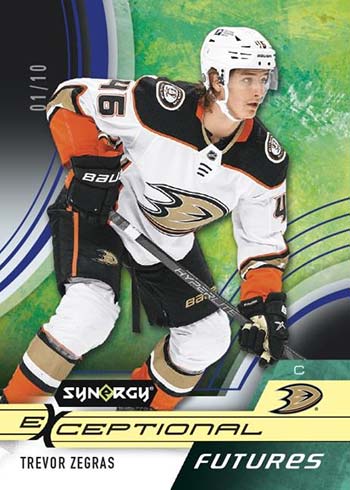 Hobby boxes also have three total Synergy FX and Synergy FX Rookies. These start out with print runs of 749 copies that drop with their Orange (/449), Purple (/249), Green (/199) and Gold (1/1) parallels. Some cards also have Green Autographs (/99 or less) and Gold Autographs (1/1).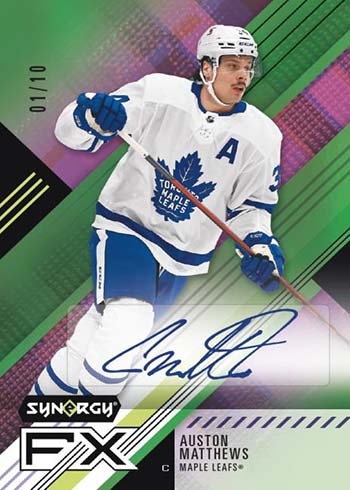 New Synergistic Duos inserts have two different players from the franchise. However, these have three different combo themes: Current Stars (/999), Star and Legend (/899), and Star and Rookie (/799). Red (Current Stars /499, Star and Legend /399, Star and Rookie /299) and Gold (Current Stars /249, Star and Legend /149, Star and Rookie /99) parallels are also randomly inserted.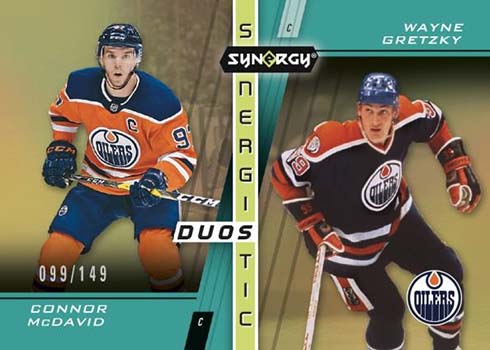 Rookie Journey is back for another year. Each player in this set has separate Draft (/999), Away (/899) and Home (/799) cards. These also have Red (Draft /499, Away /399, Home /299) and Gold (Draft /249, Away /149, Home /99) parallels.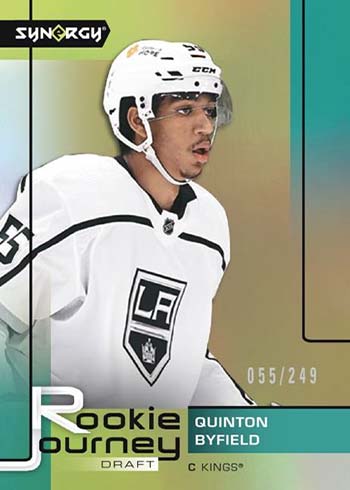 Also returning is Cast for Greatness (1:60 packs). These cards are done on metal. Cast for Greatness Signatures have just 25 copies each.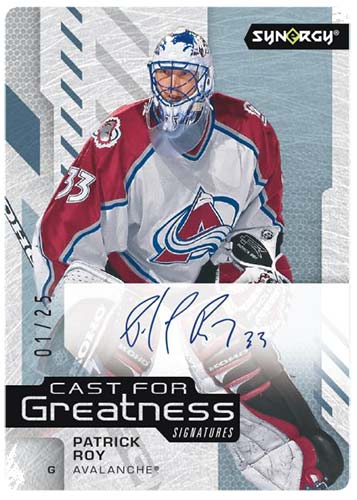 Other inserts on the 2021-22 Upper Deck Synergy Hockey checklist include StarQuest (1:64 packs), Postseason Brilliance (1:7 packs), Roaring 20's (1:5 packs) and Star of the Show (1:4 packs). Some StarQuest cards have autographs, but they're extremely scarce with just five copies each.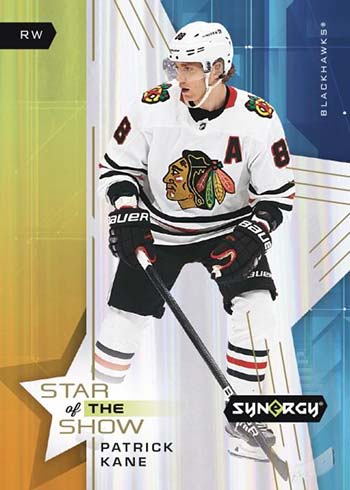 Synergy Autographs and Synergy Rookie Autographs are standalone signature sets. For both, they're 1:80 packs with Red versions coming with varied print runs.
Bounty Mission and Achievements
The 2021-22 Upper Deck Synergy Hockey Bounty program revolves around the Red parallels. More specifically, the Red parallels that have Bounty codes on the back (approximately four per hobby box).
Those that collect all 125 cards and enter the code into Upper Deck's special website will receive an exclusive Cast for Greatness Cole Caufield card that isn't in packs.
The first five to do so also get a Purple version of the Caufield card. The first 10 people to complete the bounty mission receive a full 36-card Cast for Greatness Gold parallel set.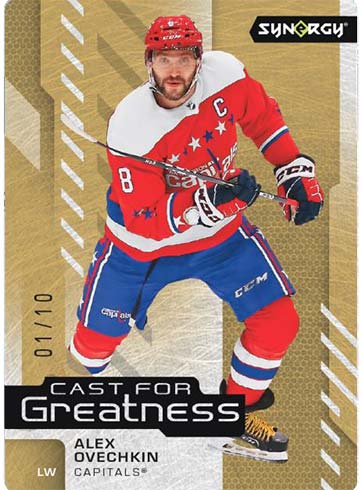 2021-22 Upper Deck Synergy Hockey cards at a glance:
Cards per pack: Hobby – 8
Packs per box: Hobby – 6
Boxes per case: Hobby – 16
Set size: 125 cards
Release date (subject to change): TBA
What to expect in a hobby box:
Exceptional Futures, Phenoms or Stars – 4 Total
Postseason Brilliance, Roaring 20's or Star of the Show – 5 Total
Rookie Journey or Synergistic Duos – 3 Total
Synergy FX – 3
Red Parallels – 8
Recent Upper Deck Synergy Hockey releases:
The full 2021-22 Upper Deck Synergy Hockey checklist and team set lists will be up as soon as they're available, likely shortly before the product's release.