Cheap Wax Wednesday Box Breaks: 1991 Pro Set Series 1 Football
1991 Pro Set Football is split into two series. Series 1 had a lot going on. The number of subsets included in this release has to be some of the most ever. Are you ready? All of the following are part of the base set: 1990 Replay (RP), Award Winners (AW), Hall of Fame art cards (HOF), Heisman Hero (HH), League Leaders (LL), Milestones (MS), NFL Newsreel (NR), Pro Bowl art cards (PB), Public Service Announcement cards (PSA) & World League (WL). You got all of that?
If those weren't enough to keep track of, there is one big Rookie Card to chase in Series 1: head coach Bill Belichick.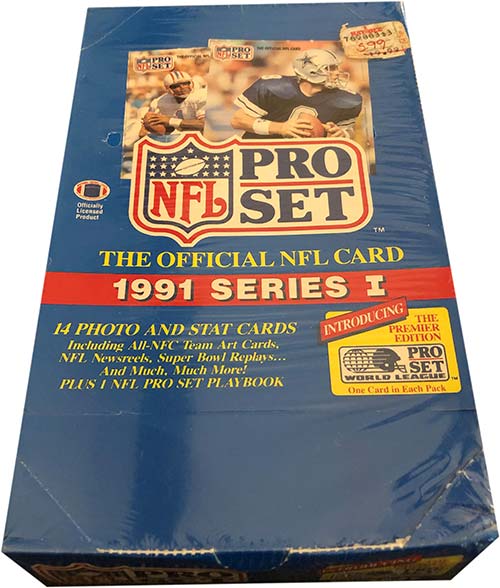 You want more? There are autographs! They are long shots to pull, but there are three different autograph cards to find in 1991 Pro Set Football two Lawrence Taylor cards and an Ozzie Newsome. All are limited to 500 copies each.
1991 Pro Set Series 1 Football Box Break
Cards per pack: 14
Packs per box: 36
Price paid: $25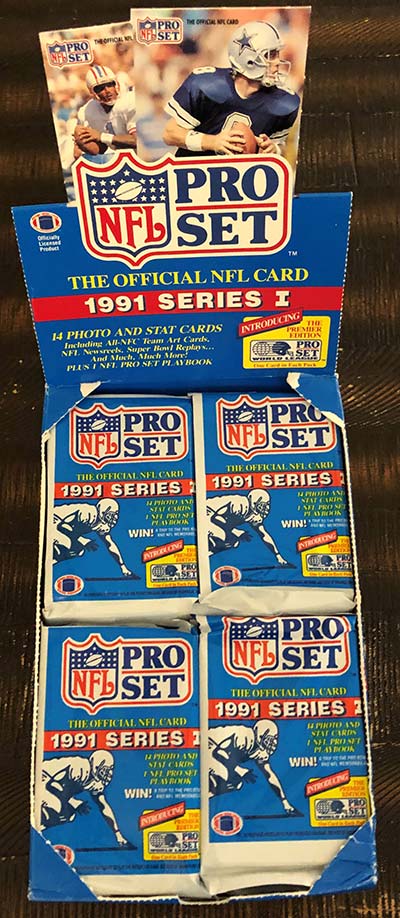 Pack 1 highlights:
Boomer Esiason, Joe Gibbs, Craig Heyward & Warren Moon PSA
This Moon PSA card just brings me right back to LT's appearance on The Waterboy, "Don't. Smoke. Crack."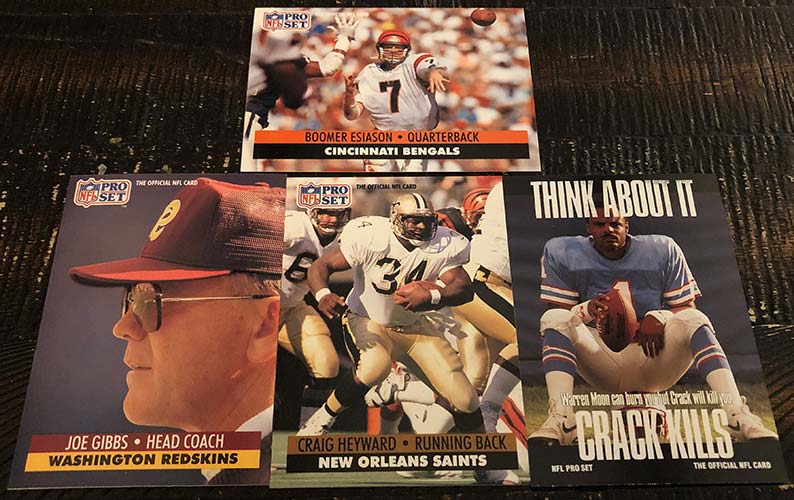 Pack 2:
Bernie Kosar, Clay Matthews, Jim Kelly RP, Art Shell, Ken Norton, John Elway NR, Deion Sanders & Jerry Rice PB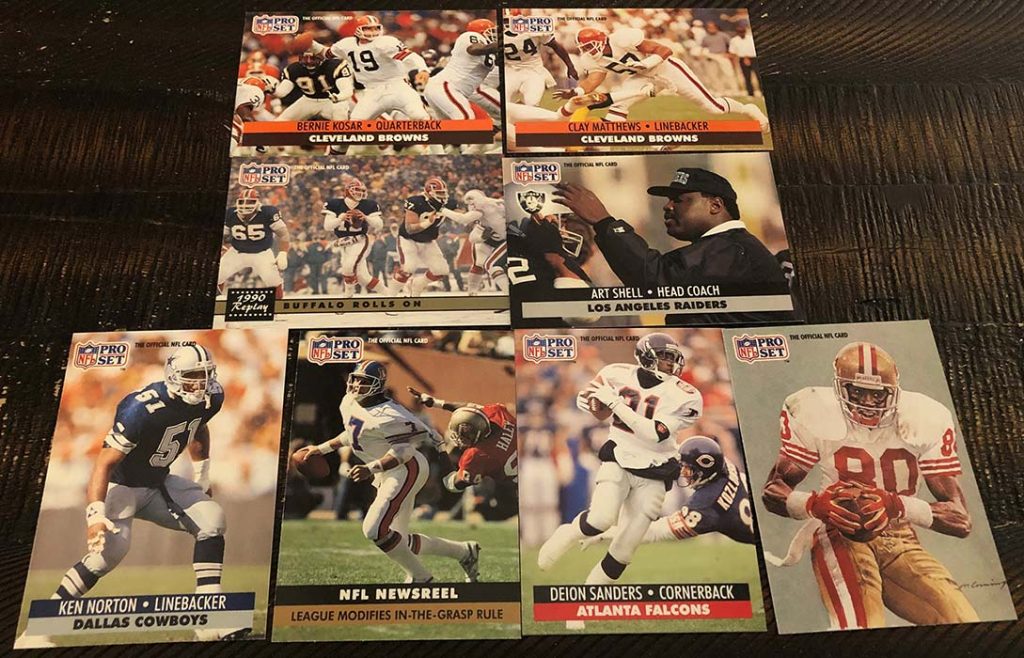 Pack 3:
Art Monk MS, Barry Sanders LL, Jackie Slater PSA, Kerwin Bell WL & Joe Montana PB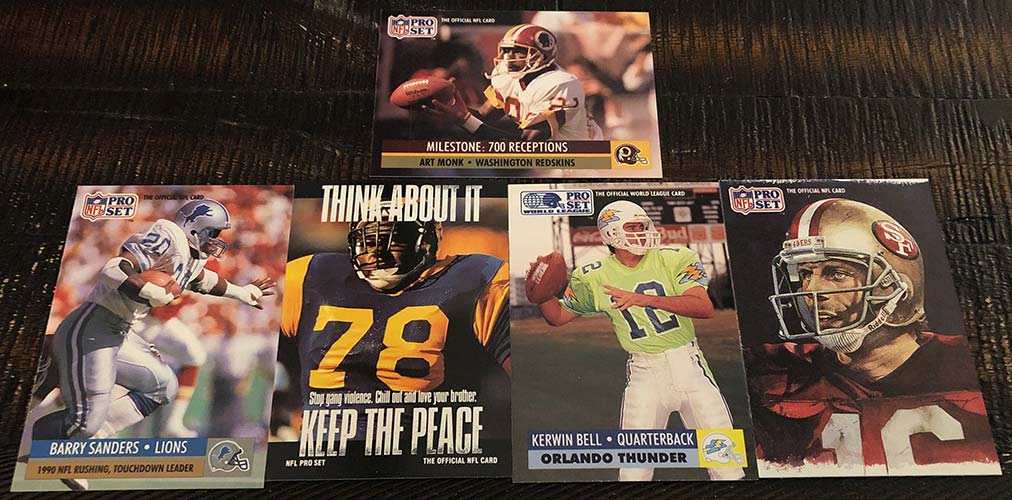 Pack 4:
Marty Schottenheimer, Bruce Smith AW, Warren Moon, Steve Atwater, Steve Young, Jan Stenerud HOF & Darrell Green PB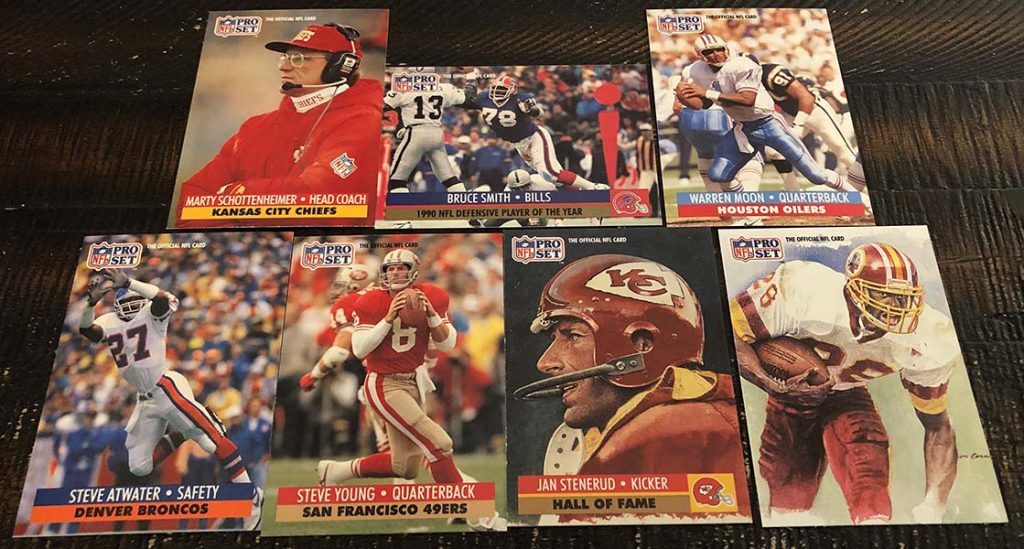 Pack 5:
Warren Moon LL, Jim Mora, Orlando Thunder WL, Ray Childress PSA & Charles Haley PB
The Pro Bowl and Hall of Fame art cards are definitely my favorites from this set.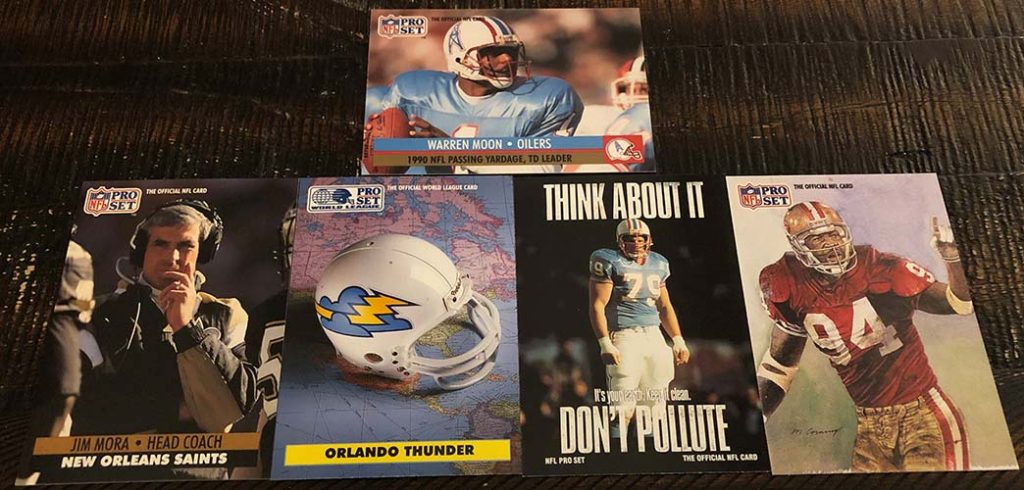 Pack 6:
Cornelius Bennett, Anthony Miller, Dan Marino MS & Jimmy Johnson PB

Pack 7:
Thurman Thomas, Jim Everett PSA, John Hannah HOF & Joey Browner PB

Pack 8:
Christian Okoye, Tim Brown HH, Bill Belichick RC & Jay Novacek LL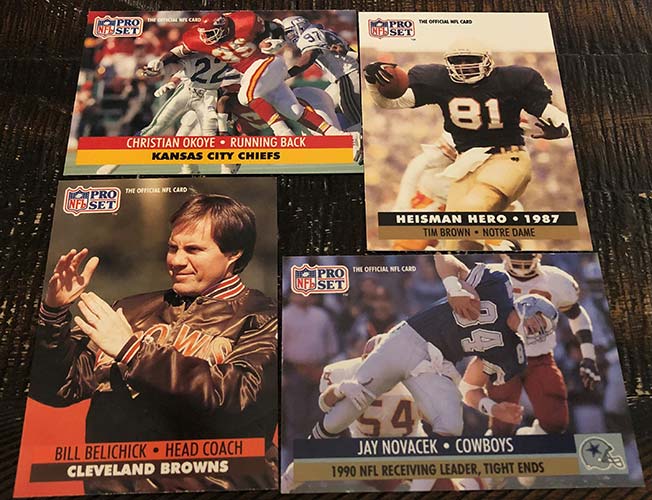 Pack 9:
Joe Montana/Jerry Rice RP, Emmitt Smith AW, Don Shula, Randall Cunningham MS, Boomer Esiason PSA & Carl Lee PB
Carl Lee made the Pro Bowl three straight seasons 1988-1990.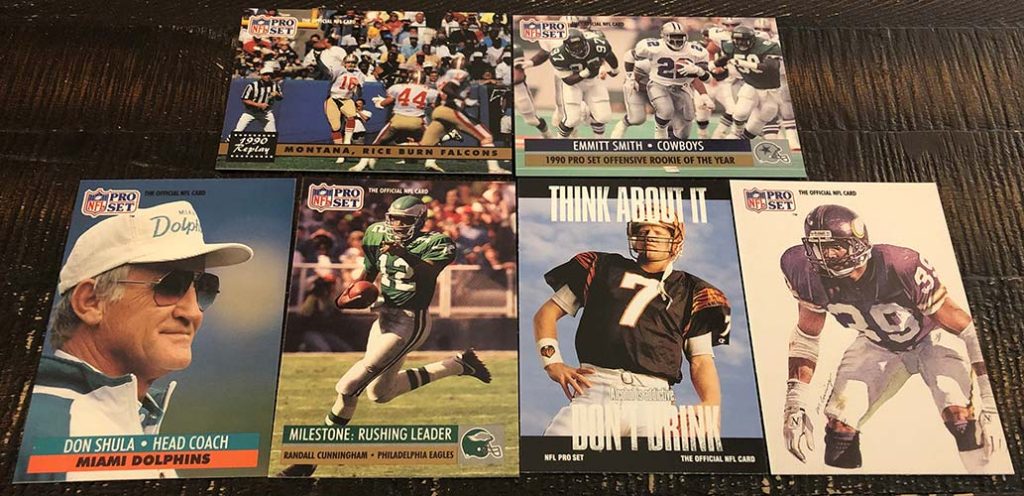 Pack 10:
Jack Del Rio, Gary Anderson, Roger Craig MS & Mike Singletary PB

Pack 11:
Jim Everett, Russell Maryland AW RC & Morten Anderson PB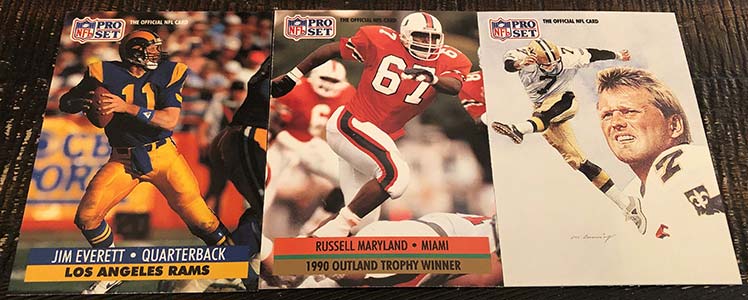 Pack 12:
Marcus Allen HH, Mark Bortz PB, Randall Cunningham & Bruce Smith RP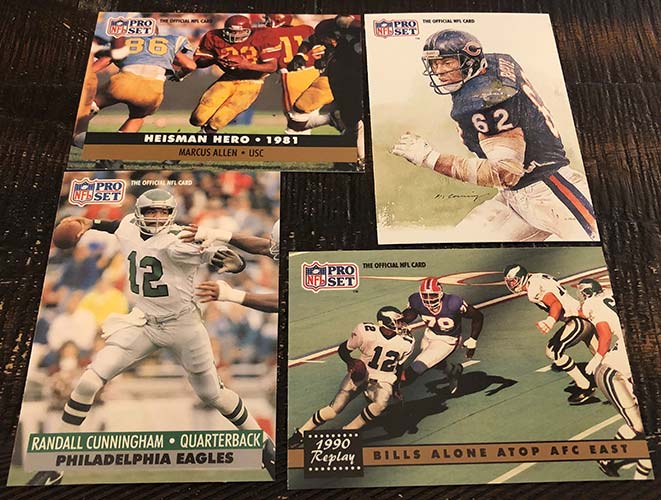 Pack 13:
Kevin Greene, Jim Harbaugh, Jackie Slater PB & Montreal Machine WL
The World League team helmet cards are technically inserts because they have a separate checklist.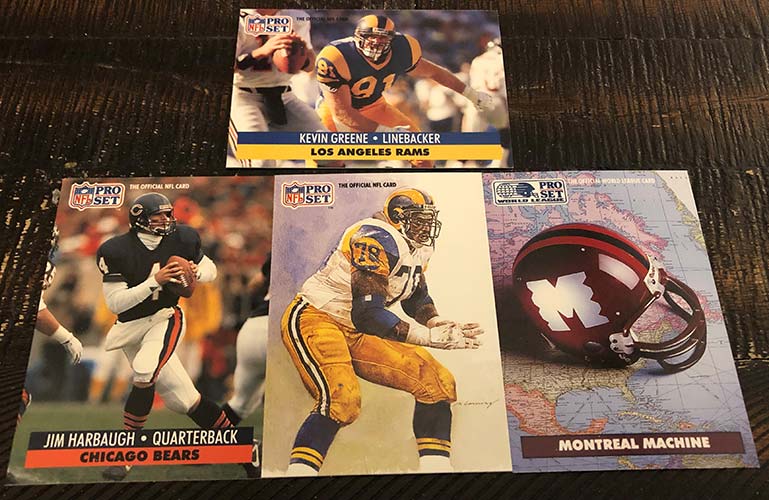 Pack 14:
Marv Levy, Eric Metcalf, Jim Kelly, Anthony Munoz PSA, Moon/Thomas/Wilson NR & Troy Aikman PSA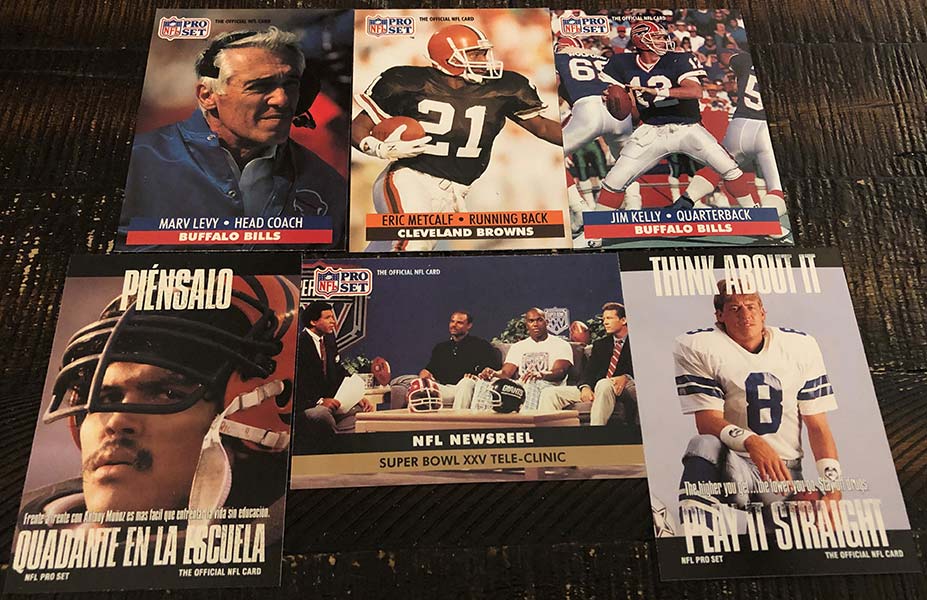 Pack 15:
Boomer Esiason RP, Stan Jones HOF, Pepper Johnson PB & Raleigh-Durham Skyhawks WL

Pack 16:
Thurman Thomas RP, Troy Aikman & Jim Lachey PB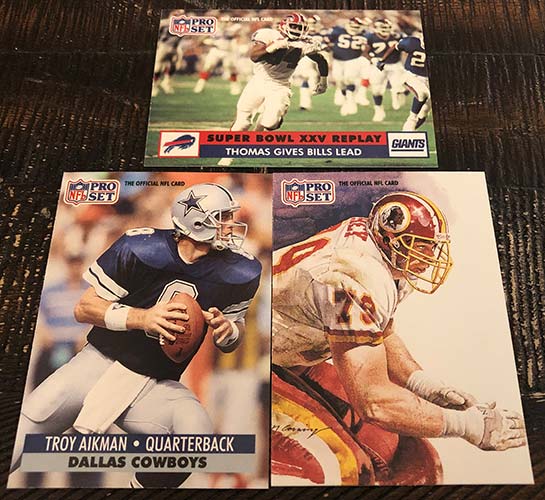 Pack 17:
Bill Parcells, George Seifert, Sterling Sharpe, Jason Garrett WL, Raghib Ismail AW RC & Andre Rison PB
You may recognize Garrett from his time playing for, and later coaching, the Cowboys. He got his start in the World League. During the 1991 WLAF season, Garrett threw for 606 yards, three touchdowns and three interceptions.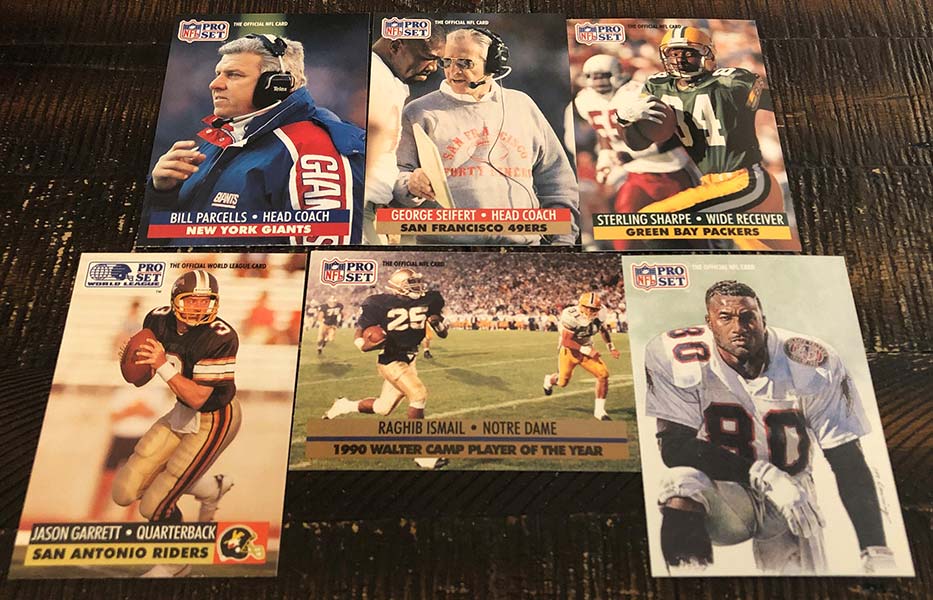 Pack 18:
Barry Sanders HH, Bills RP, Cortez Kennedy, Vinny Testaverde, Thurman Thomas LL & Barry Sanders PB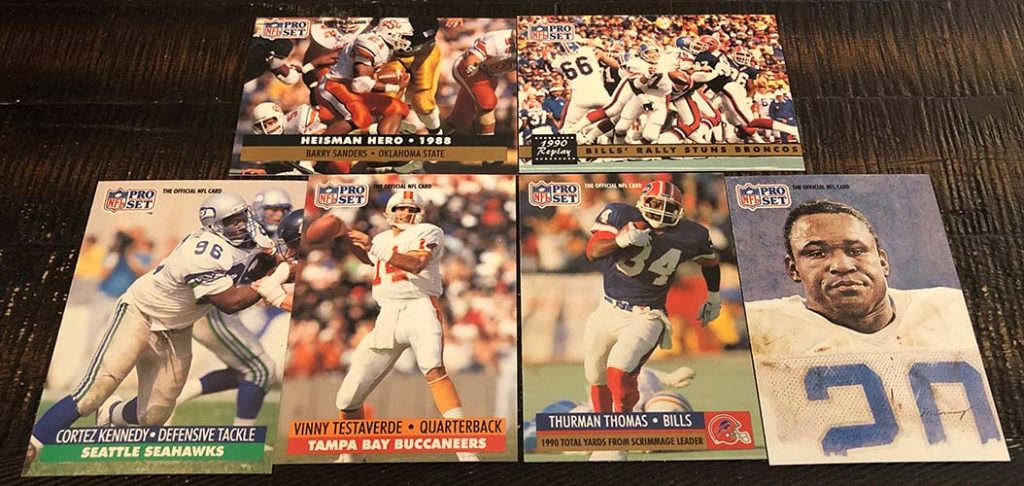 Pack 19:
Howie Long, Jerry Rice LL, Chris Doleman PB & New York-New Jersey Knights WL

Pack 20:
Jim Kelly LL, Eric Dickerson, Eric Allen, Whitney Houston & Ronnie Lott PB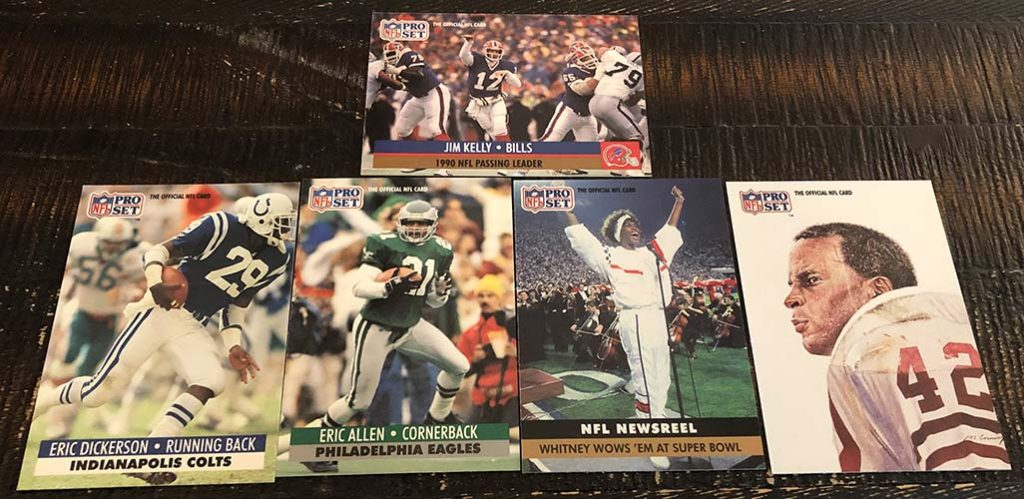 Pack 21:
Dan Marino, Vinny Testaverde HH, Carl Banks PSA & Mel Gray PB
Mel Gray was a return specialist. Over his career he scored three punt return touchdowns as well as six kick return TDs.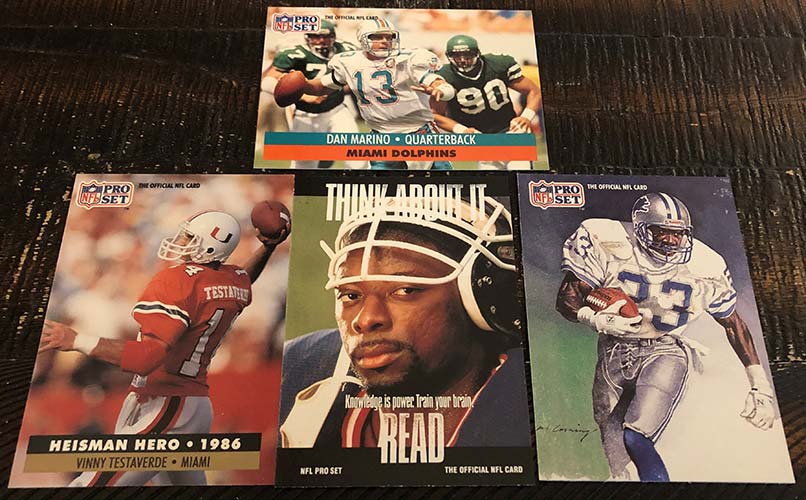 Pack 22:
Chuck Noll MS, Warren Moon RP, Derrick Thomas, Thomas LL, Jimmy Johnson & Herschel Walker HH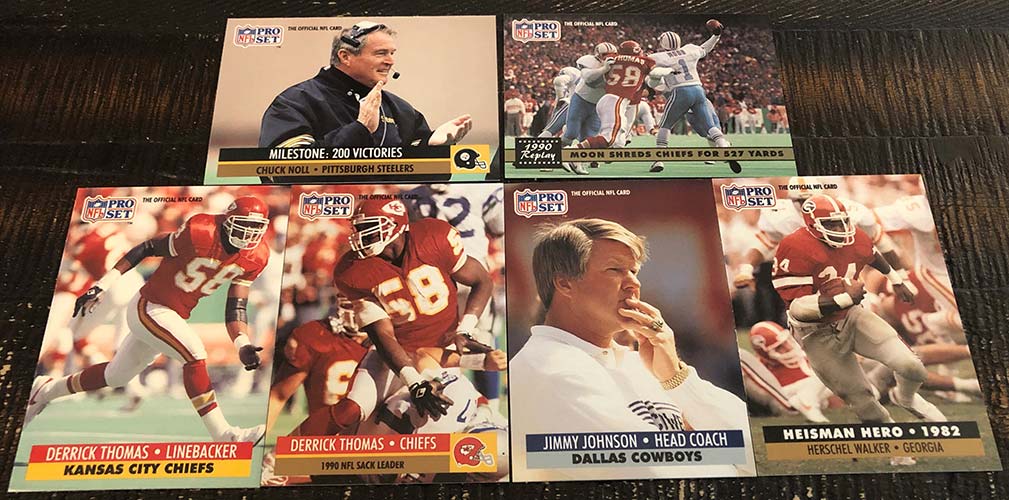 Pack 23:
Bo Jackson RP, Ottis Anderson MS & Keith Jackson PB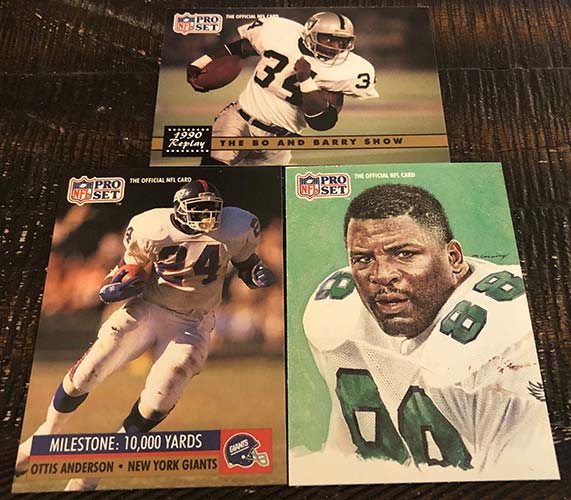 Pack 24:
Roman Gabriel WL, Ronnie Lott NR, Michael Irvin, Earl Campbell HOF & Randall McDaniel PB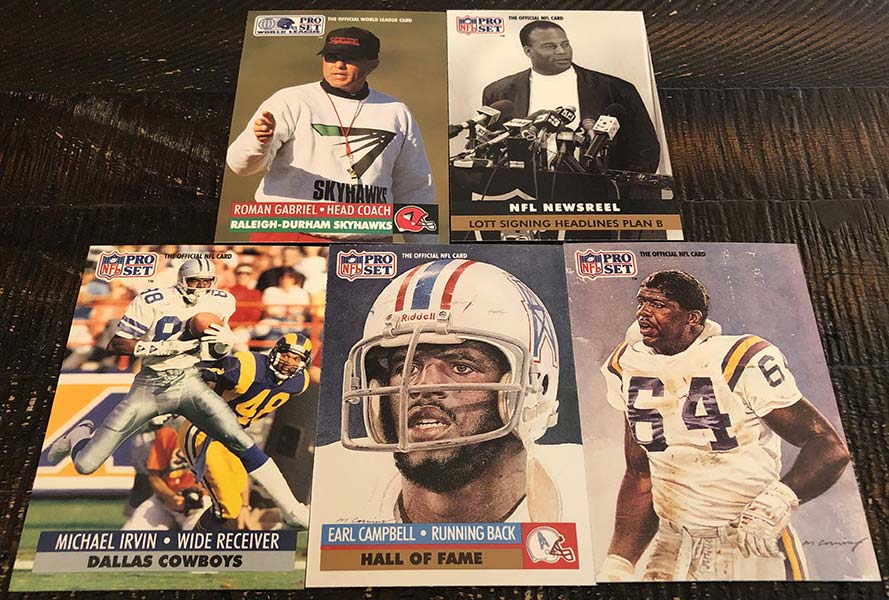 Pack 25:
Bo Jackson NR, Rodney Hampton, Mike Ditka, Lawrence Taylor RP & LT PB
How amazing would it have been to pull one of the LT Pro Bowl autographed cards?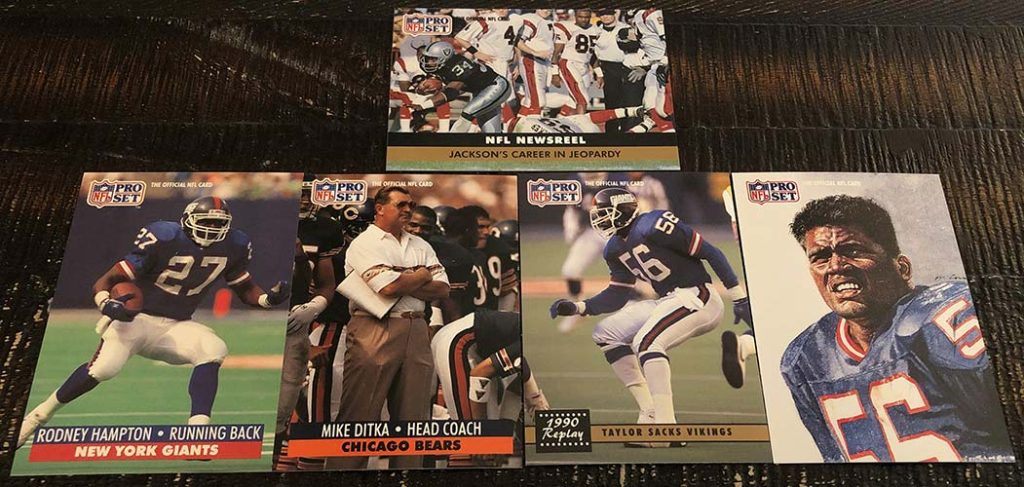 Pack 26:
Jeff George, Rod Woodson, Bo Jackson HH, Tex Schramm HOF, Andre Reed & Reyna Thompson PB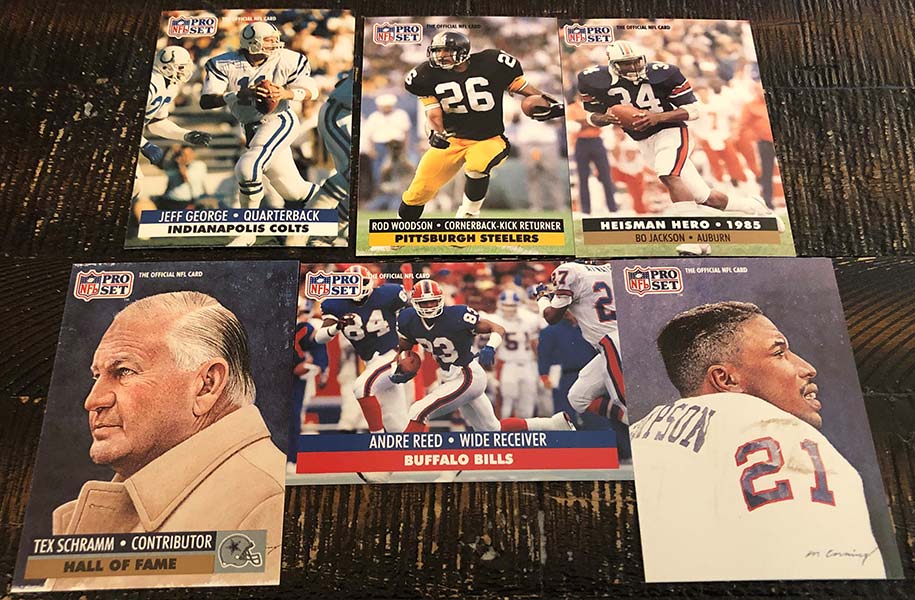 Pack 27:
Bruce Smith, Gary Anderson, Sacramento Surge WL, Chan Gailey WL & Sean Landeta PB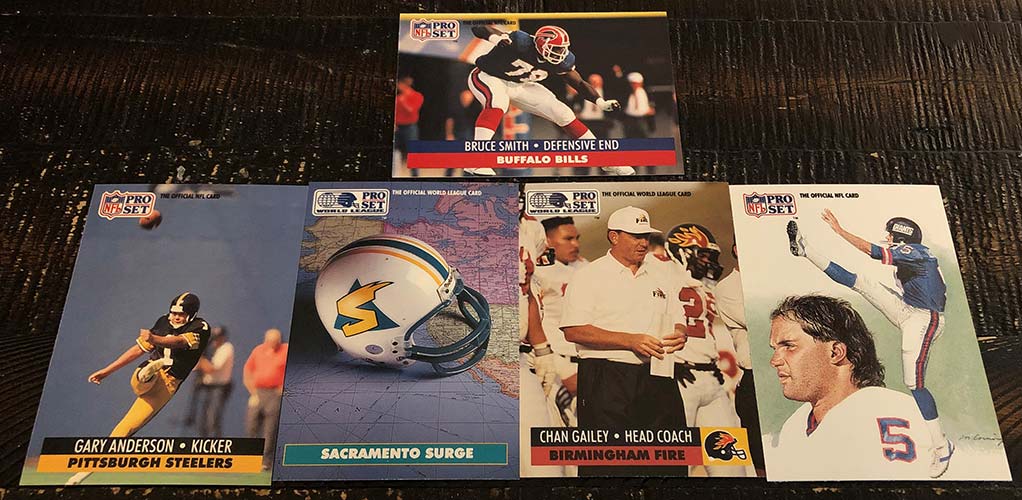 Pack 28:
Jim Kelly LL, Brian Blades & Ronnie Lott PB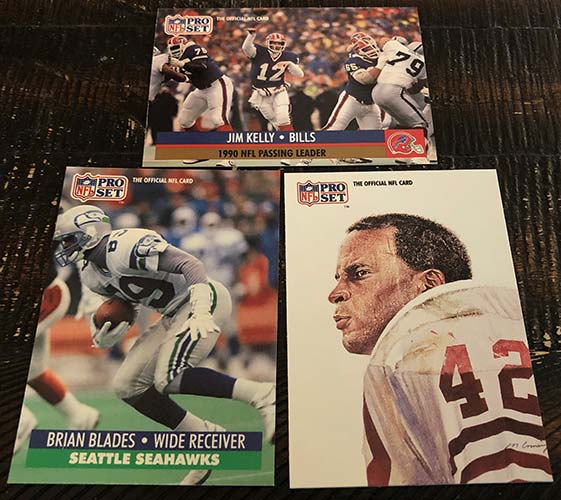 Pack 29:
Chuck Noll, Eric Dickerson, Joe Montana AW & Neal Anderson PB
Montana won back-to-back MVP honors in 1989 and 1990. He then would miss the entire 1991 season due to an elbow injury.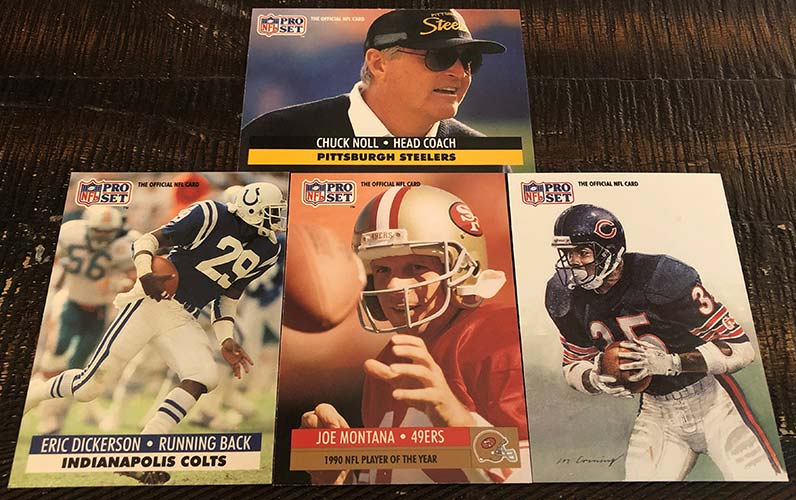 Pack 30:
Art Shell AW & Reggie White PB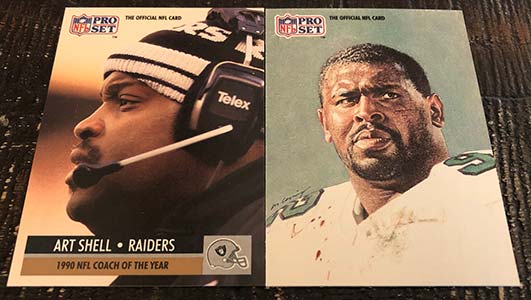 Pack 31:
Dan Reeves, Stan Jones HOF, Boomer Esiason RP & Mike Singletary AW

Pack 32:
Ottis Anderson MS & Keith Jackson PB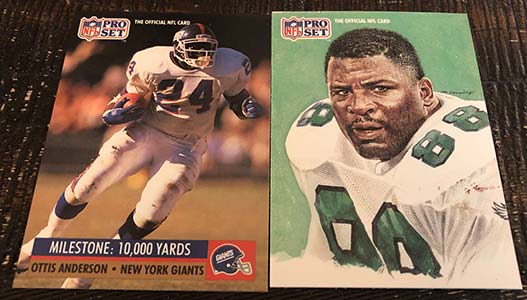 Pack 33:
Bo Jackson RP, Michael Irvin, Earl Campbell HOF, Ronnie Lott NR & Randall McDaniel PB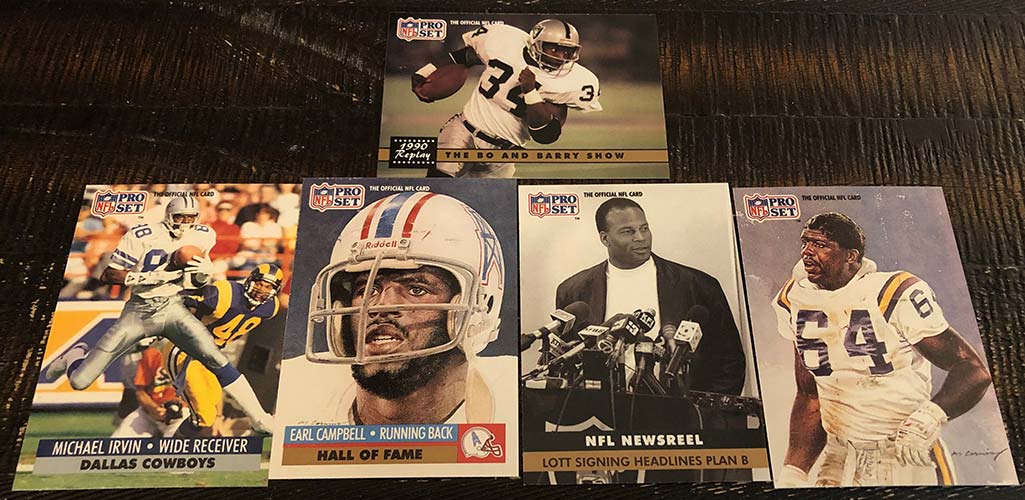 Pack 34:
Bo Jackson NR, Mike Ditka & Lawrence Taylor PB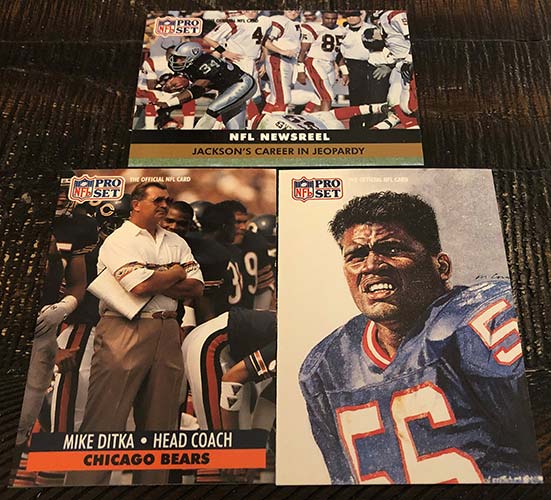 Pack 35:
Jeff George, Rod Woodson, Lawrence Taylor RP, Bo Jackson HH, Tex Schramm HOF, Reyna Thompson PB & London Monarchs WL
The original World League of American Football consisted of ten teams, seven in North America and three in Europe. That setup lasted only two seasons. When the league returned in 1995 it consisted of just six European teams. It was later renamed NFL Europe.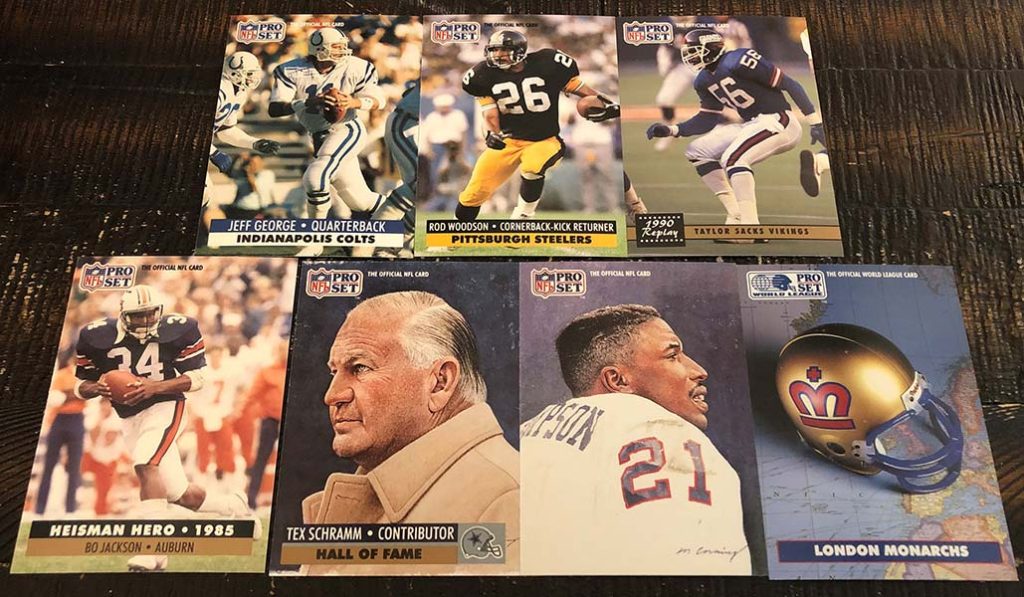 Pack 36:
Andre Reed, Sean Landeta PB, Rodney Hampton & Bruce Smith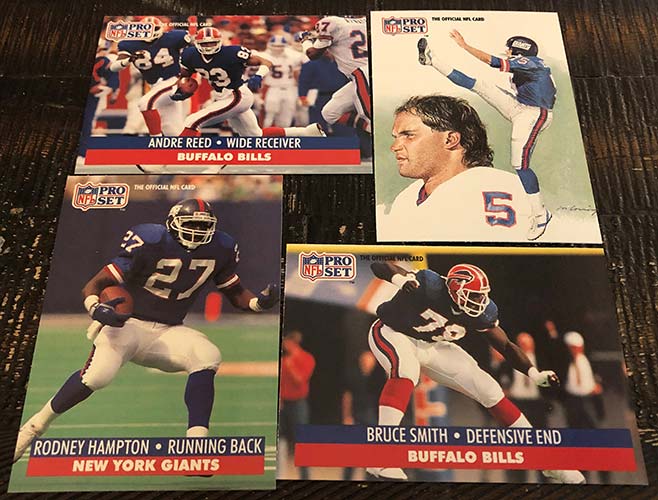 Lastly, the Bruce Smith card back. These cards had great backs with full stat lines, bio information and a player photo.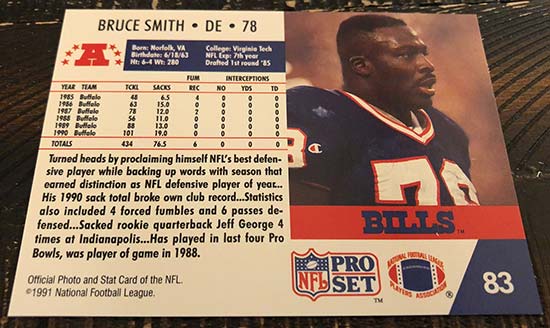 So I didn't find a long-shot autograph. But Pro Set really did a nice job with this one. Was it extremely overprinted? Sure. Is there a ton of value to be found in these boxes? Nope. However, it is a fun rip, especially for under $1 per pack. Sure, you can go buy your own Belichick rookie card very inexpensively. But, it is way more fun finding it for yourself. Not to mention, those Pro Bowl art cards are awesome binder additions.
Football breaks will continue for two more weeks, through the end of the NFL postseason. After that, I look forward to spring and start ripping baseball boxes again.
Shop for 1991 Pro Set Football on:
Want more installments of Shane Salmonson's Cheap Wax Wednesday? Check out his other breaks in the archives.