2018-19 Upper Deck Synergy Hockey Checklist, Team Set Lists and Details
2018-19 Upper Deck Synergy Hockey is a product that straddles both modern and traditional collecting sensibilities. The cards themselves are definitely on the modern side of things. The tight configuration is also something that nods to more recent times.
But Synergy's overall focus on the challenge that comes with building a set or chasing specific cards dabbles in tradition.
2018-19 Upper Deck Synergy Hockey Base Set Basics
Going against the set's overall set-building notions, it's going to be near impossible to put together the actual 2018-19 Upper Deck Synergy Hockey base set. This may be in conflict with with other elements of the release, but it's part of that modern-traditional complexity that runs throughout.
The main set has 100 total cards. It's a mix of veterans, rookies and retired stars. The thing is, they're all available in extremely low numbers. No base card in the set has more than 19 copies.
Like many Upper Deck sets, it takes a tiered approach. Veterans are numbered to 18 while Legends have just eight copies. Rookies are as folows: Tier 1 – /19, Tier 2 – /19, Tier 3 – /9.
2018-19 Upper Deck Synergy Hockey is similar to recent SP Game Used releases in that parallels are much more plentiful. Here, these parallels come in four colors: Red, Blue, Green and Purple. Like the base set, all take a tiered approach.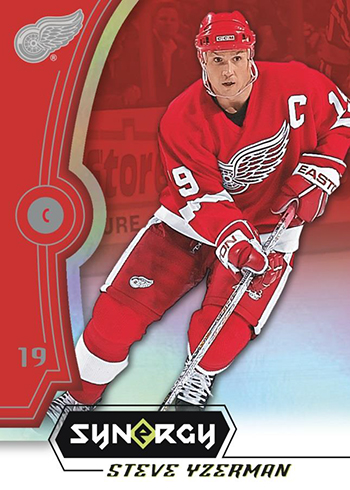 2018-19 Upper Deck Synergy Parallels
Odds are based on how many packs.
Red
Veterans – 1:2
Legends – 1:10
Rookies – Tier 1 1:2, Tier 2 1:8, Tier 3 1:80
Blue
Veterans – 1:8
Legends – 1:48
Rookies – Tier 1 /999, Tier 2 /699, Tier 3 /399
Green
Veterans – 1:16
Legends – 1:96
Rookies – Tier 1 /399, Tier 2 /199, Tier 3 /99
Purple
Veterans – #'ed to varying amounts
Legends – #'ed to varying amounts
Rookies (all Tiers) – #'ed to player's uniform number
Inserts
Inserts combine to land approximately one per pack in 2018-19 Upper Deck Synergy Hockey.
Exceptional Talent fall two per box. These have both regular (/999) and Black (/35) versions.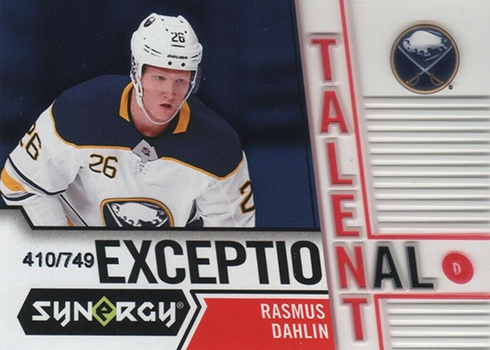 Other somewhat common inserts include PostSeason Perfection (1:4), Last Line of Defense (1:5) and Significant Selections (1:5).
All three of these have Green (/149) and Purple (/49) parallels.
Cast for Greatness cards bypass traditional card stock. Instead, they're on metal. At 1:67 packs, these are some of the toughest pulls in the release.
Autographs
If you collect primarily for hits like autographs and memorabilia cards, Synergy is probably not going to be a product you'll want to rip. Signatures can be found, but this is a product where they're not in every box, or even every other box. The exist, they're just somewhat tough to pull.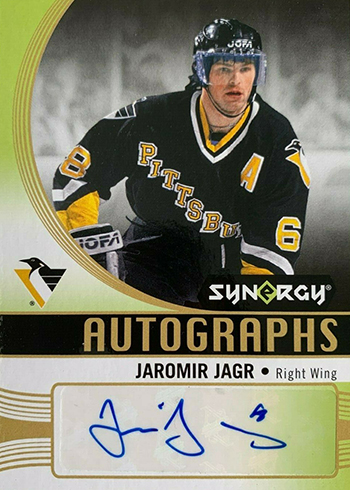 Synergy Autographs are 1:24 packs, which works out to about every third box.
2018-19 Upper Deck Synergy Hockey Bounty Program
Like last year, there's a Bounty program that's a part of Synergy. Some, but not all, of the Red parallels have Bounty codes on the back. The race is to put together a full set of 100 of the Red cards that do have them.
All of those who complete it get an exclusive card #36 in the metal Cast for Greatness set. As an added incentive to do it quickly, the first 50 to do so also get a full set of 36 Cast for Greatness Gold parallels that aren't in packs.
2018-19 Upper Deck Synergy Hockey at a glance:
Cards per pack: 3
Packs per box: 8
Boxes per case: 20 (two 10-box inner cases)
Set size: 100 cards
Release date: February 27, 2019
What to expect in a hobby box:
Inserts – 8
Red Parallels – 8
Additional Parallels – 5
2018-19 Upper Deck Synergy Hockey Checklist
Base
Autographs
Inserts
Team Sets