2019-20 Topps Chrome UEFA Champions League Checklist, Team Set Lists and Details
When you click on links to various merchants on this site, like eBay, and make a purchase, this can result in this site earning a commission.
2019-20 Topps Chrome UEFA Champions League Soccer is what you'd expect. It's shiny, colorful and autographs figure into things as well.
Hobby boxes promise one signature plus several parallels and inserts.
2020 Topps Chrome UEFA Champions League Checklist Overview
The base set is a modest 100 cards with top Champions League players making the cut.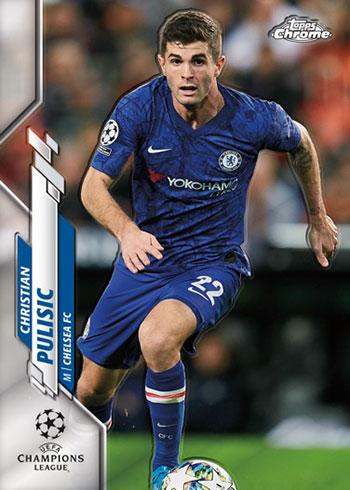 Typical for everything Topps Chrome, parallels are plentiful. Regular Refractors are 1:3 packs, or approximately six per hobby box. Additional numbered Refractors include:
Purple -/250
Blue – /150
Green – /99
Blue Wave – /75
Gold – /50
Orange – /25
Red – /10
Red Wave – /10
Superfractors – 1/1
On top of these are several pattern-based Refractors:
Speckle
Blue Bubbles
Purple Carbon Fiber
Green Bubbles
Gold Bubbles
Orange Carbon Fiber
Red Carbon Fiber
Select cards also come with Image Variations. These look essentially like the base card only with a different photo on the front. Variations have Superfractors (1/1) of their own.
Chrome Autographs offer a slight adaptation to the base design with signatures appearing to come on stickers. These have additional Refractors: Blue (/150), Green (/99), Blue Wave (/75), Gold (/50), Orange (/25), Red (/10), Red Wave (/5), and Superfractors (1/1).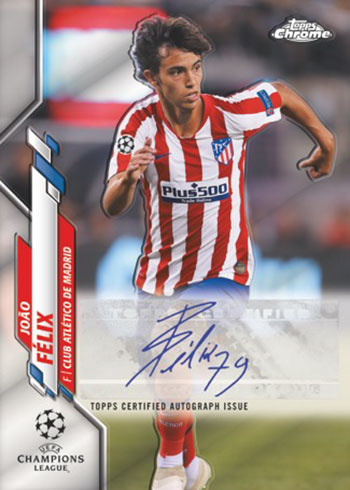 The product has three additional insert sets.
Future Stars (1:6 packs) returns for another year. These put a spotlight on the league's young and emerging talent.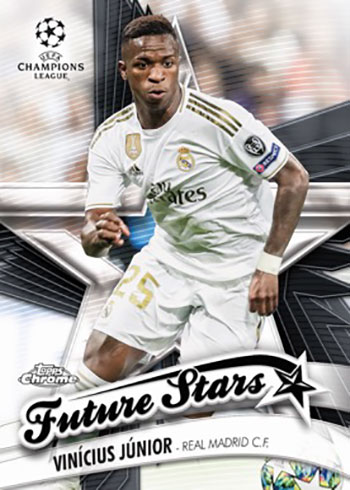 New Footballer Flash inserts feature players who draw a lot of attention with their skill on the field.
Finally, there's Teammate Sensations, which have two top players from the same team.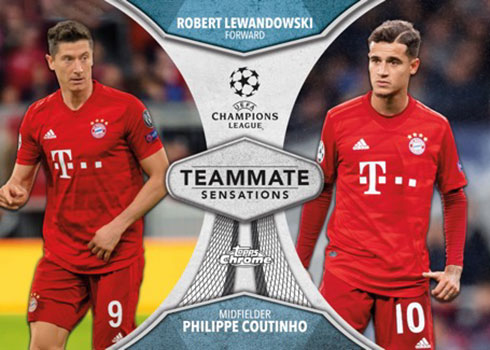 All three inserts sets have Gold Refractor (/50), Orange Refractor (/25), Red Refractor (/10) and Superfractor (1/1) parallels. Select Footballer Flash and Future Stars cards also have autograph versions.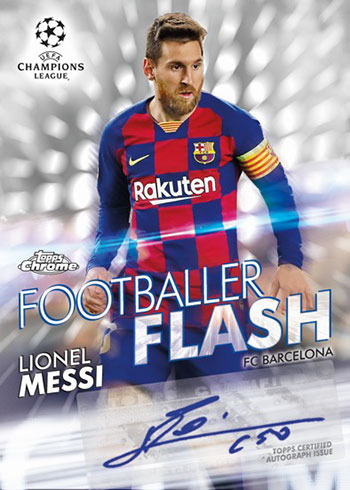 2019-20 Topps Chrome UEFA Champions League soccer cards at a glance:
Cards per pack: 4
Packs per box: 18
Boxes per case: 12
Set size: 100 cards
Release date: December 9, 2020
Shop for 2019-20 Topps Chrome UEFA Soccer boxes on eBay:
What to expect in a hobby box:
Autographs – 1
Future Stars – 3
Refractors – 6
2019-20 Topps Chrome UEFA Champions League Checklist
Please note that print runs have not been released for cards without serial numbers.
You can also download a customizable spreadsheet copy of the checklist:
Base
Autographs
Inserts
Team Sets
Odds