2020-21 Upper Deck Team Canada Juniors Hockey Details
2020-21 Upper Deck Team Canada Juniors Hockey cards highlight top national team players. The annual release returns with a mix of base and premium elements. Hobby boxes come with four total hits, at least one of which is a Premium Swatch Autographs.
2020-21 Upper Deck Team Canada Juniors Hockey Overview
The main set has 100 cards, drawing from both the men's and women's squads. Parallels draw inspiration from the main Upper Deck Hockey line with each card getting both a Exclusives (/250) and High Gloss (/25) version. Parallels combine to land five per hobby box (1:3 packs).
Draft Class Variants are available for players taken in the 2018 and 2019 drafts. High Gloss (/25) versions are here, too.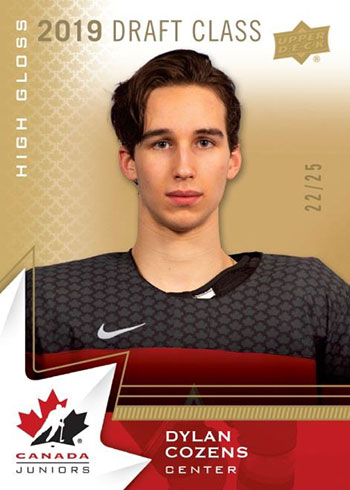 Base cards are where a lot of the product's autographs and memorabilia cards are found as well.
No autograph patch card has more than 199 copies. Members of the U20 team come in two tiers, which are numbered to either 199 or 125. Women's team players have 199 copies. Other versions include short prints (/25) and Draft Class Variants (/10).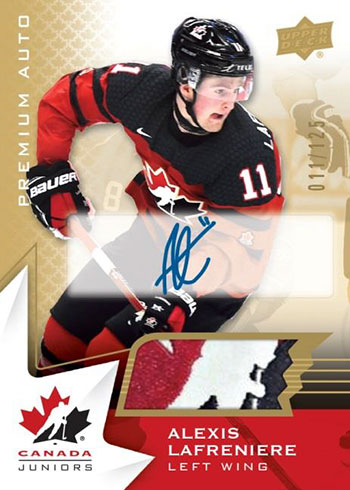 Jersey parallels come with game-used swatches. U20 and Women's Team are each 1:20 packs. Meanwhile, short prints are 1:150 and Draft Class Variants are 1:200.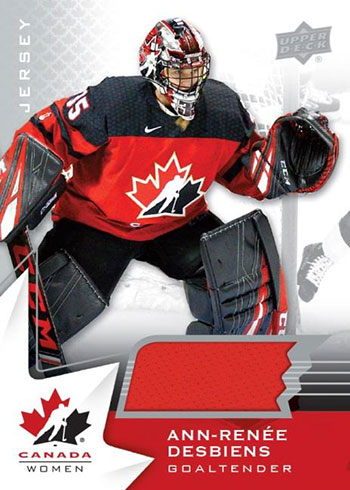 Black Autographs are the toughest parallels in the 2020-21 Team Canada Juniors. These max out at five copies each. SPs and Draft Class cards are one-of-ones.
Inserts
The product has a couple of insert sets that combine for fall six per hobby box.
Program of Excellence (1:4 packs) return for another year. These have Exclusives (/165), High Gloss (/15) and new Finite (1/1) parallels. Select cards also have autographs, which are 1:50 packs.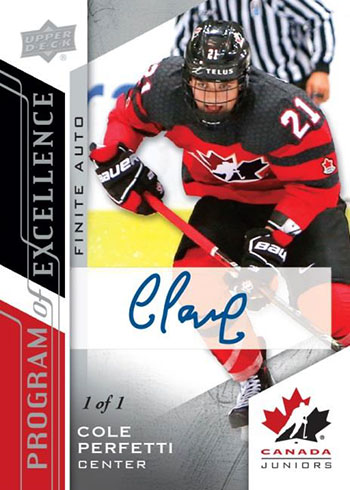 The very best national players are the focus of Golden Futures (1:10 packs). Regular parallels for these are limited to Rose Gold (/99) and White Gold (/10). Autographs here are 1:150 packs.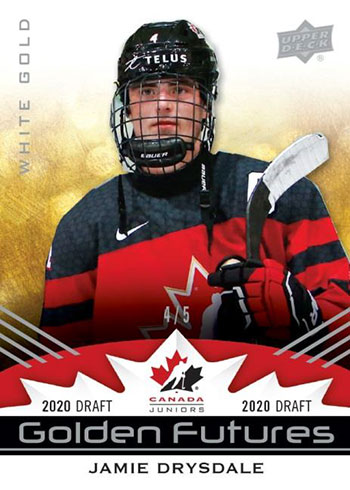 2020-21 Upper Deck Team Canada Juniors Hockey cards at a glance:
Cards per pack: 5
Packs per box: 15
Boxes per case: 16 (two 8-box inner cases)
Set size: 100 cards + TBA autograph patch cards
Release date: August 19, 2020
What to expect in a hobby box:
Autograph Patch Cards – 1
Additional Autographs or Memorabilia Cards – 3 Total
Inserts – 6
Parallels – 5
The full 2020-21 Upper Deck Team Canada Juniors Hockey checklist will be added as soon as it's available, likely shortly before the set comes out.