2020-21 SPx Hockey Is Back with Black
2020-21 SPx Hockey cards continue with the brand's longstanding tradition of incorporating a "tech" aesthetic throughout its designs. The end result is something that might not be totally futuristic but it's definitely not driven by nostalgia. That said, the set is bringing back one of the line's earliest cornerstones.
A high-end release once again, SPx hobby boxes have one pack of four cards, at least two of which are have autographs or memorabilia.
Keeping with recent years, the product also incorporates the UD Black brand in several spots.
2020-21 SPx Hockey Checklist Overview
The checklist kicks off with a 100-card shell set. Each card comes numbered to 299 copies. Parallels take a hits approach with Jersey (1:8 packs) and Autograph (1:10) versions. Serial numbered Autograph Patch and Autograph Premium Patch cards can also be found.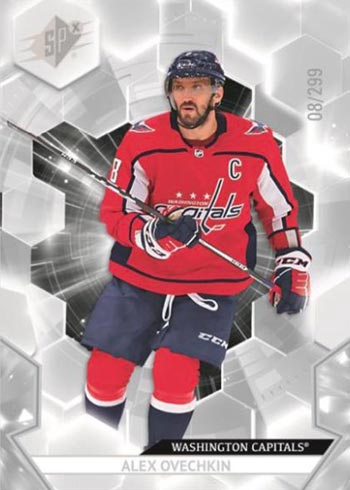 Rookie Auto Jersey cards return. In the earlier days of post-hologram SPx, the brand was one of the earliest to have such cards. Here, they're numbered to 375 or 165 depending on the player. Spectrum parallels have 49 copies each. Rookie Jersey cards have also been added this year. Base versions are 1:8 packs while Gold Spectrum cards have 99 copies.
Autographs from veterans and retired players is found in Superscripts (1:20). First-year players have similar Rookie Superscripts (1:100). In both instances, there are Gold parallels (/25).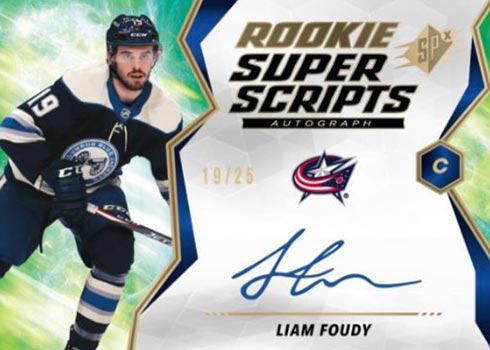 Shadow Box inserts return with new layered cards that combine foil, acetate and a similar design to past years. Rookies land 1:18 packs while veterans are 1:48. Rookie autographs have two levels of rarity, coming in with either 175 or 75 copies. Select players also have Photo Variant Autographs (/25). Shadow Box Veteran Autograph are /125 or /25.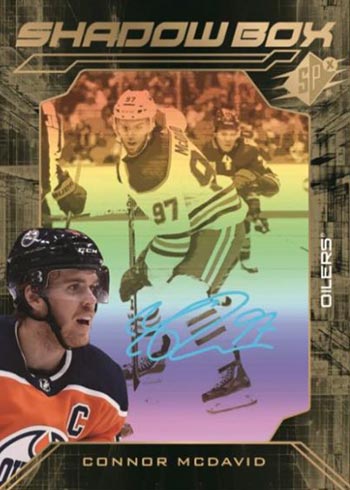 On the memorabilia side, there's Extravagant Materials (1:18) and their numbered Premium Material parallels. Also available are Double XL Duos (/99 or less) that have oversized swatches from two players. Premium Material parallels (/10 or less) include things like patches.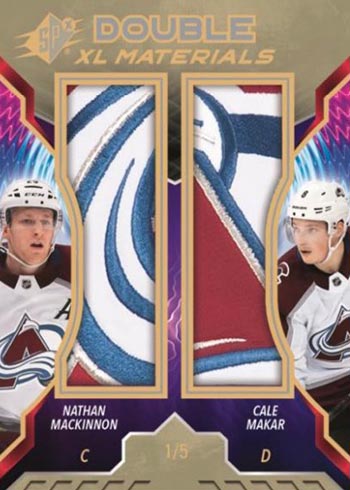 Finite Rookies add more freshman faces. Base versions have 265 copies each while Spectrum parallels come in at 35 copies.
UD Black Highlights
2020-21 SPx Hockey incorporates the UD Black line into its checklist. It's been a standalone product many times over the years in several sports, but the card styles fit in here.
Obsidian Rookies (/349) are premium inserts that have Purple parallels (/99). Other rookie-themed Obsidian cards come as hits:
Jersey – /399
Purple Patch – /35
Rookie Scripts – 1:50 packs
Rookie Scripts Purple /49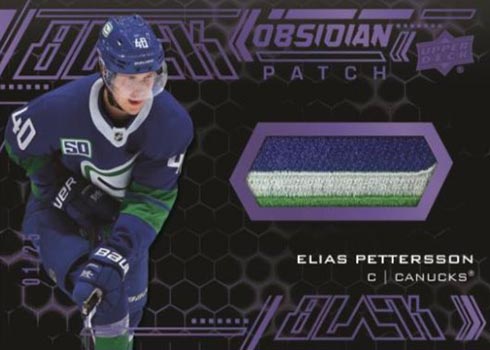 Vets also have Obsidian Scripts cards, which are 1:40 packs. Purple parallels also exist here.
Sticking with UD Black are Lustrous Rookie Signatures (/299 or less), which also have Spectrum versions (/25). Lustrous Rookie Patch Autographs are on the tough side with no more than 125 copies each. Spectrum parallels are one-of-ones. These use acetate card stock and on-card signatures.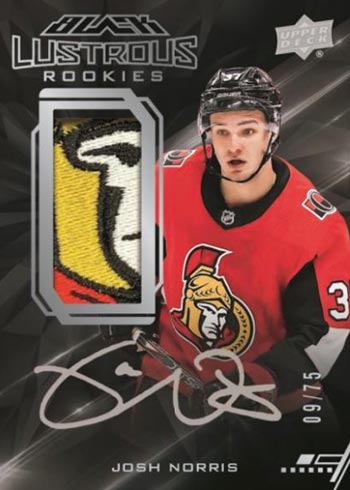 Lustrous Rookie Patch Auto Clarity Variants make a simple but switch from a dark backdrop to a more traditional white.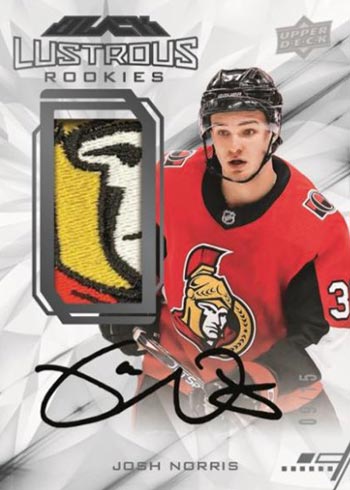 Pride of a Nation (/99) have a manufactured patch showcasing the flag from the player's home country. Autographs can also be found, all numbered to 99 and less.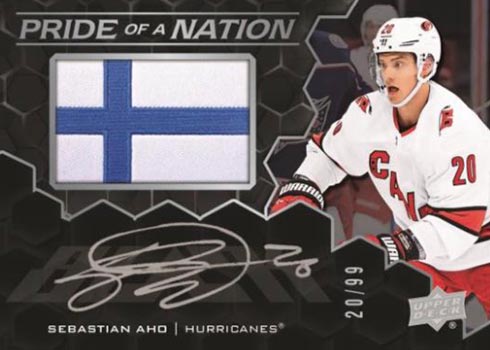 2020-21 SPx Hockey cards at a glance:
Cards per pack: 4
Packs per box: 1
Boxes per case: TBA
Set size: 100 cards
Release date: May 12, 2021
What to expect in a hobby box:
Autographs or Memorabilia Cards – 2-3 Total
The full 2020-21 SPx Hockey checklist and team set lists will be up as soon as they're available, likely shortly before the set comes out.