2019-20 SPx Hockey cards look to take a more high-tech approach to design. No, we're not talking the return on video cards, but there is a definite vibe that runs throughout the designs. Sticking with the same premium configuration it has had for a few years, packs come with just one card that's either an autograph, memorabilia card or something Upper Deck dubs a "tech card," which is a fancy way of describing a premium insert.
2019-20 SPx Hockey Base Set Basics
2019-20 SPx has a base set totalling 100 cards. Whether it's a veteran or a rookie, all come serial numbered to 349 copies.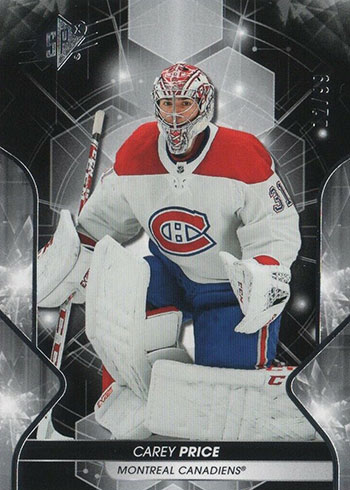 Parallels take a hits-based approach with autographs and memorabilia. Veterans Materials versions have 299 copies. For rookies, it's 399, which makes them more common than the base.
Base Autograph parallels start at 1:20 packs for vets. Rookies Autographs come in three tiers with numbering to 299, 149 and 49 depending on the player.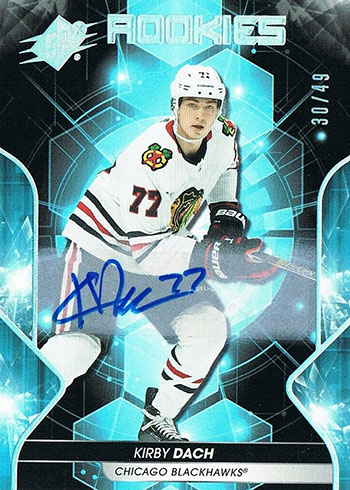 There are also Base Premium Materials Autographs (veterans – /49 or less, rookies – /35) and one-of-one Logo Premium Materials Autographs.
Autographs, Memorabilia Cards and Other Inserts
Shadow Box Rookies (1:20) rank among the notable inserts in 2019-20 SPx Hockey. These present first-year players with a distinct layered look that mixes foil and acetate. Autograph versions can be found in two levels with Tier 1 cards numbered to 150 and Tier 2 to 75.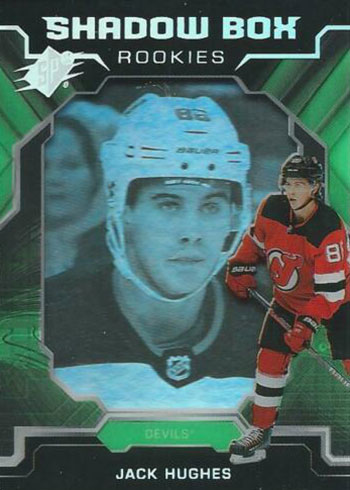 Vets also get the Shadow Box treatment, albeit at longer odds (1:60). Autographs here are /99 or less.
Superscripts (1:16) and Rookie Superscripts (1:120) rank among the product's autograph-only inserts. On the rookie side, the checklist features ten players as well as tough Gold parallels (/25 or /10). Veteran Superscripts also have Gold versions with varied print runs.
09-10 Retro Rookies Auto Jersey cards (/99 or /35) take things back a decade. Patch parallels have 25 copies or less.
Double XL Duos (/149 or /99) return with oversized swatches from a pair of players. Premium Materials versions also exist, although in small numbers. None of these have more than ten copies.
Extravagant Materials (1:30) round out the memorabilia cards on the SPx side of things.
UD Black
2019-20 SPx Hockey also has cards under the UD Black banner.
These start with Obsidian Rookies inserts (/299) and their Purple (/99) parallels.
Pride of a Nation cards (/99) use manufactured flag patches from the player's home country. The 25-card checklist is a mix of veterans, rookies and legends. Base versions are a launching pad for Auto Patch (/99 or less) and Auto Patch Spectrum (1/1) parallels.
Lustrous Rookies Auto Patch (/125 or /75) bring more premium content for first-year players. Clarity versions, which are numbered to 25, lighten up the look. Gold Spectrum parallels are available for both the regular (1/1) and Clarity variants (/5).
Other UD Black inserts include Obsidian Scripts (1:50), Obsidian Scripts Rookies (1:60), Obsidian Jersey (1:30) and Obsidian Jersey Rookies (1:24).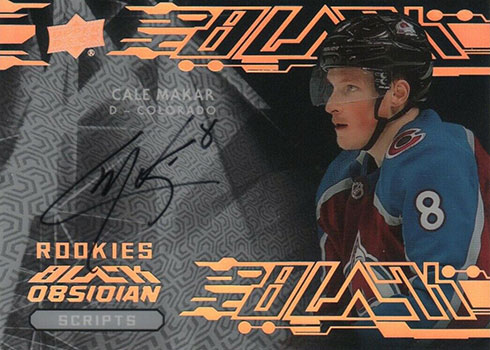 2019-20 SPx Hockey cards at a glance:
Cards per pack: 1
Packs per box: 4
Boxes per case: 20 (two 10-box inner cases)
Set size: 100 cards
Release date: March 18, 2020
What to expect in a hobby box:
Autographs – 1
Memorabilia Cards – 1
Inserts or Base Cards – 1
Additional Autograph, Memorabilia Cards, Inserts or Base Cards – 1 Total
2019-20 SPx Hockey Checklist
Base
Autographs
Memorabilia
Inserts
Updates
Team Sets