2021-22 SPx Hockey: Hits and Tech
2021-22 SPx Hockey is kind of like imagining what cards might look like in the future. Of course, it's the present so there's no reason to imagine things. Like the past several years for the brand, there's a focus on technology-driven builds and designs. Autographs and memorabilia cards continue to have a major presence on the checklist as well.
Hobby boxes stick with a four-pack format. That said, each pack delivers a single card. Across a box, there are two total autographs or memorabilia cards and two premium base cards or inserts.

2021-22 SPx Hockey Checklist Overview
The main shell set consists of 100 cards, each numbered to 299. Parallels do exist, but they're in the form of traditional hits including Jersey (1:25 packs), Autographs (1:32), Patch Autographs, and one-of-one Premium Patch Autographs.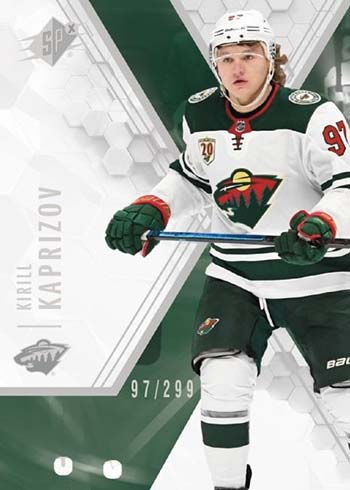 Autographs
Rookie Jersey Auto cards come in three tiers based on their print runs. Tier 1 are the most common with 375 copies each. These are followed by Tier 2 (/175) and Tier 3 (/75). Spectrum (/65 or less) and Patch (/35 or less) parallels are also in the mix.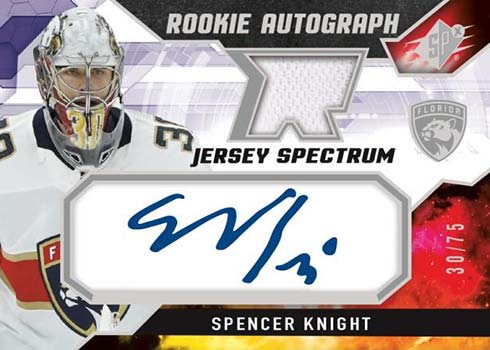 Another autograph memorabilia set with multiple levels of production numbers is SPx Signature Fabrics. Base versions for these have no more than 49 copies while Spectrum parallels top out at 25. There are also Patch (/10) and Patch Spectrum (1/1) cards.
Shadow Box inserts return with their layered design approach. Spectrum Light FX is used for the main part of the card. On top is acetate with an additional image. Rookie are 1:25 packs while vets fall 1:70. Select cards have autographs as well. First-year players have a maximum of 175 copies while it's 99 for veterans.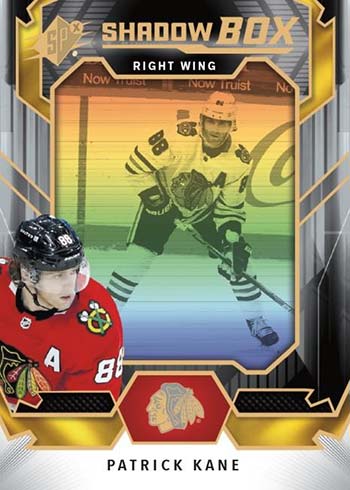 Other autograph inserts include Superscripts (1:30), Rookie Superscripts (1:60), SPx Signatures (1:60), and SPx Rookie Signatures (1:150). All four have Gold parallels as well.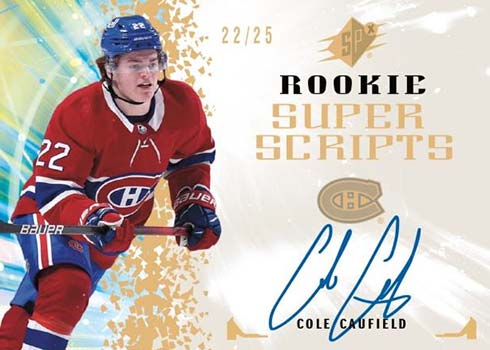 Memorabilia Cards
Double XL Duos Materials (/99 or less) return in 2021-22 SPx Hockey. Look around the hobby as a whole and there's no shortage of dual-player memorabilia cards. These standout, though, thanks to their oversized swatches and distinct layout. Premium parallels are numbered to 10 or less.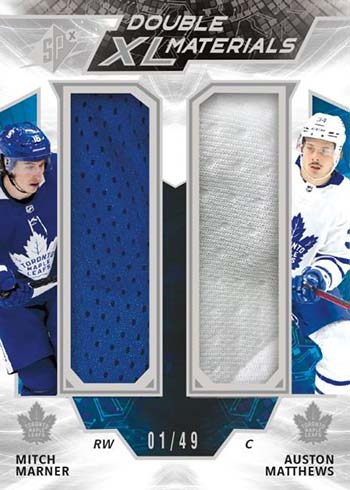 Other relic-driven parts of the set include Rookie Jersey (1:14), Winning Materials (1:33), SPx Jersey (1:48), Extravagant Materials (1:65) and Winning Combos (1:115). Besides either Gold Spectrum or Premium parallels, autographs are available for some Winning Materials, Winning Combos and Extravagant Materials cards.
Additional Inserts
The 2021-22 SPx Hockey checklist has a lot of parts. This includes some inserts that don't have swatches or signatures.
Finite Rookies (/399) spotlight key first-year players. These have several parallels including Gold (/299), Green (/199), Platinum (/99), Silver Spectrum (/75), Gold Spectrum (/35), Green Spectrum (/15), and Platinum Spectrum (1/1).
Radiance F/X is a new insert. Base versions are 1:8.5 packs while additional parallels can be found in Red (/150), Gold (/50), Green (/25) and Purple (1/1). Some cards also have autographs.
UD Black
Upper Deck's UD Black brand finds a home once again in 2021-22 SPx Hockey. It's been a standalone line several times in the past but its worked into the larger checklist here.
These start with Obsidian Rookies (/349). Standard parallels include Gold (/99), and Purple (/25). Jersey versions have 399 copies as well as Gold Patch (/35) and Purple Patch (1/1).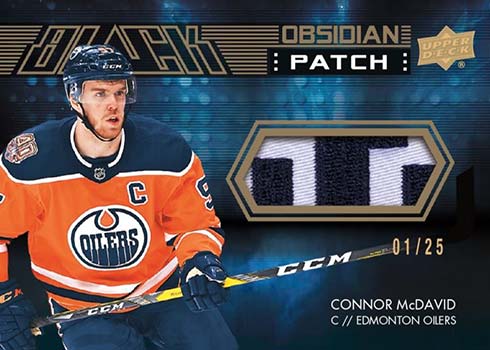 The Obsidian theme continues in Scripts (1:100), Rookie Scripts (1:200) and Jersey (/249).
Lustrous Rookie Signatures (/299 or less) and Lustrous Rookie Patch Autographs (/125 or less) come with on-card ink. Signatures have Gold (/25) and Purple (1/1) parallels. Patch Autographs have Spectrum (1/1) versions as well as Clarity Variants (/15) that switch up the backdrop from black to something much lighter.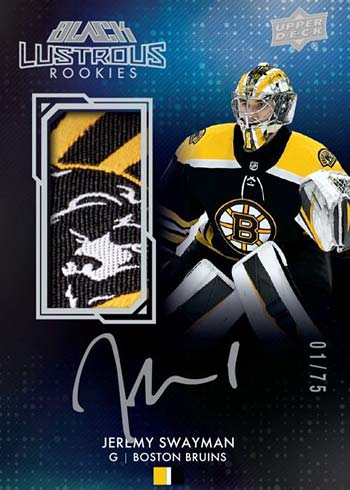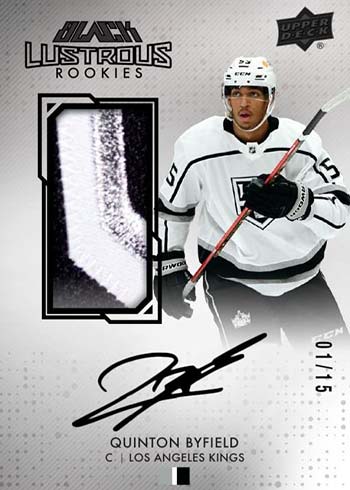 Pride of a Nation Patch cards return. Rookies and veterans are limited to 99 copies or less. and have one-of-one Spectrum parallels. Some cards come with autographs. Signed or not, the idea behind these is to showcase a manufactured patch of where the player comes from.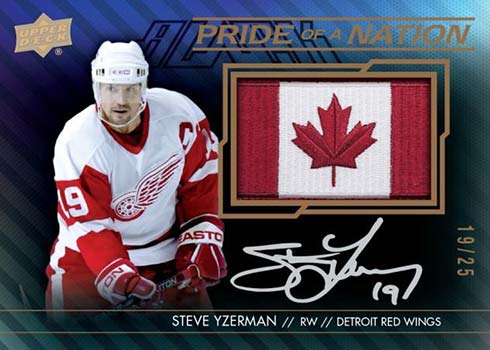 2021-22 SPx Hockey cards at a glance:
Cards per pack: 1
Packs per box: 4
Boxes per case: 20
Set size: 100 cards
Release date (subject to change): TBA
What to expect in a hobby box:
Autographs or Memorabilia Cards – 2 Total
Base Cards or Inserts – 2 Total
Recent SPx Hockey releases:
The full 2021-22 SPx Hockey checklist and team set lists will be up as soon as they're available, likely shortly before the product comes out.