2019 Upper Deck Alien 3 trading cards mean more xenomorphs, Ripley and more. The manufacturer continues to work its way through the classic sci-fi franchise with the fourth Alien set in just the past few years.
This is another modern take that promises either an autograph or sketch card per box. There's also some different card styles that haven't been used in previous Alien sets.
2019 Upper Deck Alien 3 Trading Cards Overview
The film is summarized over the course of 100 cards. Some time has passed, more monsters are afoot and more corporate secrets are at play with Ellen Ripley at the center of it all.
The base set has a pair of parallels with one included in every pack. Among the versions is a series of puzzle backs that go together to form a movie poster.
Signatures come in a couple of forms. The main series is Mug Shots, which are available with one and two signers.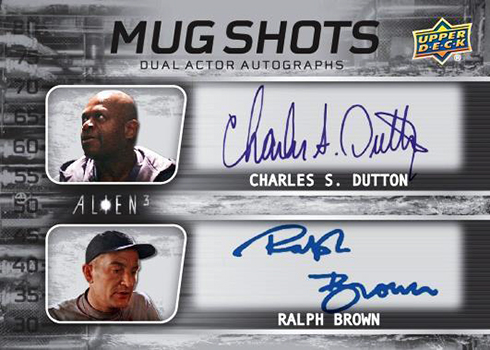 As usual, sketch cards have original art done on them. Characters, creatures and key moments are used as the inspiration.
Chest Burster inserts are rip cards. These take from one of the franchise's signature moments. The cards open up to reveal a smaller inner card. Some highlight different aliens from the film. Others bring additional autographs.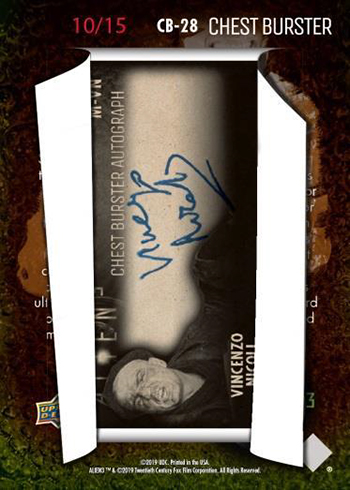 Lead Works, which join Chest Burster cards as premium box hits, use metal rather than traditional card stock. Select Lead Works cards also have autograph versions that have 25 copies each.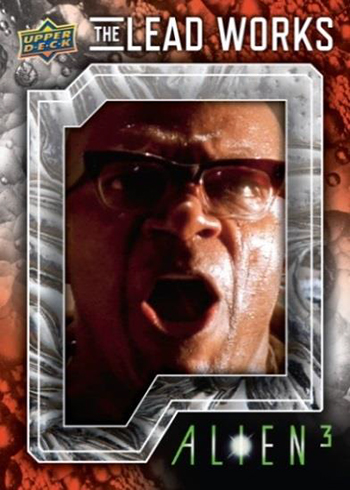 2019 Upper Deck Alien 3 has six additional inserts that delve into specific themes surrounding the movie and its production: Behind the Scenes, Bishop Takes Queen, Dillon's Dogma, The Dragon and Harmonious Brotherhood.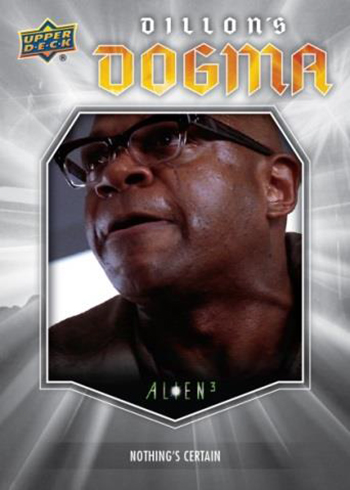 Choose Your Cut shows differences between particular versions of the movie.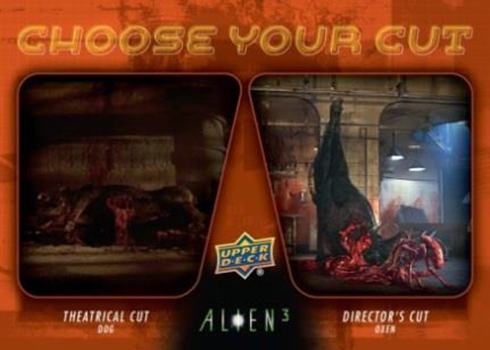 This isn't the first time Alien 3 has had a standalone trading card set. In 1992 Star Pics released a basic set.
2019 Upper Deck Alien 3 trading cards at a glance:
Cards per pack: 8
Packs per box: 15
Boxes per case: 16 (two 8-box inner cases)
Set size: 100 cards
Release date: April, 2019
What to expect in a hobby box:
• Autographs or Sketch Cards – 1 Total
• Chest Burster Rip Cards – 1
• Lead Works – 1
• Inserts – 15
• Parallels – 15