Ripley lives with 2016 Upper Deck Alien Anthology trading cards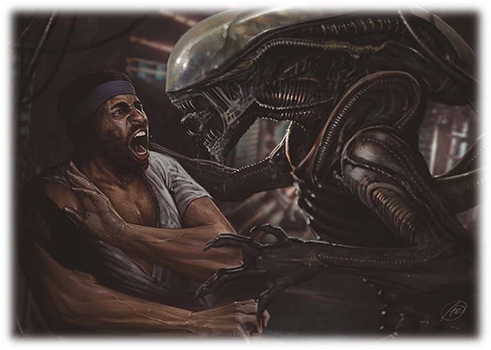 By Ryan Cracknell | Hobby Editor
Forget the discussion over whether we'll see another Alien movie. While it certainly sounds that way, there's still plenty of classic mythology to continue to digest. 2016 Upper Deck Alien Anthology trading cards tackle it all, delving into all four films and beyond with an art-based approach.
Autographs and sketch cards are both among the headlining inserts.
The base set has 100 cards. Covering all four films, it centers on key scenes recreated through artistic interpretations. Among the parallels are Artist Autographs and Printing Plates. Foregoing photos is similar to how the card maker approached 2015 Upper Deck Firefly: The Verse.
Further variety in the artwork comes in the form of Sketch Cards. Both characters and movie moments can be expected from these inserts that all come with original art done directly on the card. They're not easy to pull, though, landing about 1:4 hobby boxes.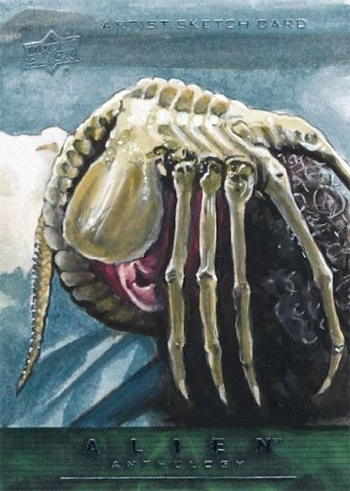 Actor Autographs span all four films. About every other box has an Actor Autograph. Most 12-box cases have a Dual Actor Autograph. Upper Deck has yet to release a checklist or confirmed signers (images below are mock-up images, including the placeholder Ken Griffey Jr. digital signatures).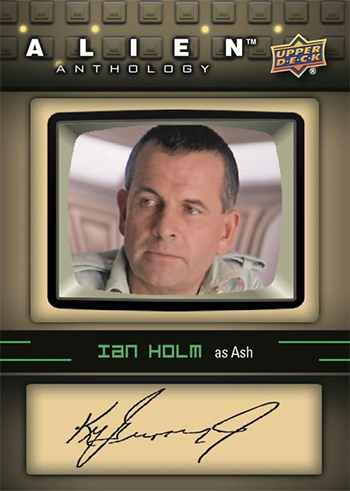 Dog tags are an important wardrobe choice in the Alien movies. Replica Space Marines Dog Tags are included here as well at a rate of one per box. Making the dog tags set a little tougher is the fact that some are short printed. Besides basic versions, there are also tags signed by actors. These are numbered to 5 and fall approximately 1:4 cases.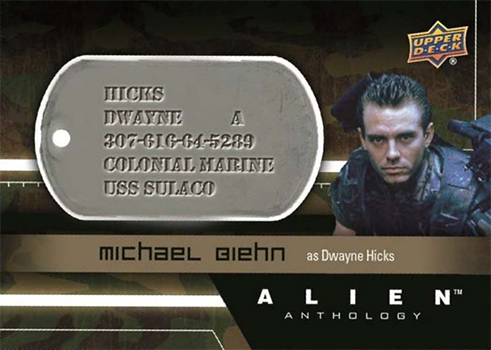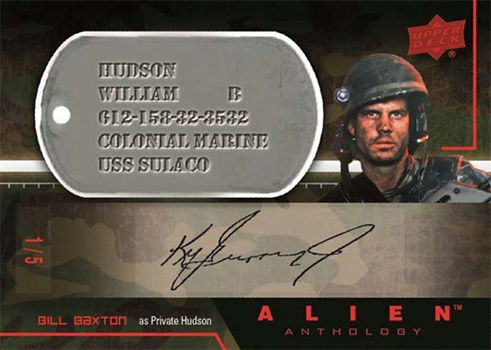 2016 Upper Deck Alien Anthology has some additional basic inserts including Character Bios, Weyland Yutani Propaganda Posters and cards with artwork from Upper Deck's Legendary Encounters deck-building game that's based on the franchise. Each pack has either an insert or a Foil parallel from the base set.
Not including anything tied to the Alien vs. Predator spin-offs, 2016 Upper Deck Alien Anthology is the fourth set of trading cards based on the franchise. The first and third movies both have their own releases. In 1998, Inkworks released Alien Legacy. Like this product, it covered all four films. However, it just missed out on the hobby's premium era of autographs.
2016 Upper Deck Alien Anthology at a glance:
Packs per box: 20
Cards per pack: 5
Boxes per case: 12
Set size: 100 cards
Release date: March, 2016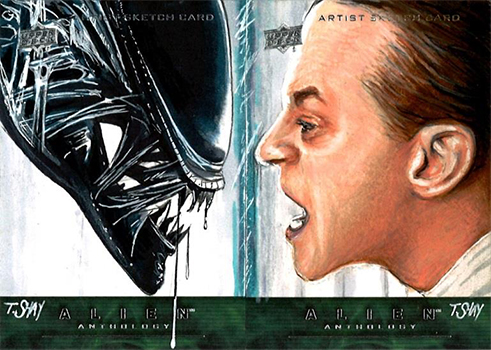 What to expect in a hobby box:
Autographs and Sketch Cards – 1 Total
Space Marines Dog Tags – 1
Inserts – 8
Foil Parallels or Additional Inserts – 12
Comments? Questions? Contact Ryan Cracknell on Twitter @tradercracks.