2019 Topps Now Spring Training Baseball Checklist and Details
Spring is finally here. Maybe not officially, but baseball is back so for many, that's close enough. 2019 Topps Now Spring Training Baseball highlights many of the key pre-season moments. And the checklist kicked off with a big contract signing and a unique memorabilia card.
Manny Machado got his first San Diego Padres card in 2019 Topps Spring Training Baseball. It features an image from the February 22 press conference that made his signing, and the corresponding record contract, official.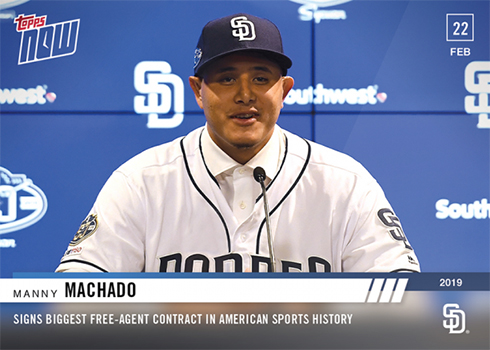 In addition to the regular card, there's also a relic version. It's not a piece of the jersey or cap the third baseman wore at the announcement. Rather, it's got pieces of the press conference tablecloth. The memorabilia card has a base version /99 as well as five parallels that range from 49 copies down to a one-of-one with a $799.99 price tag.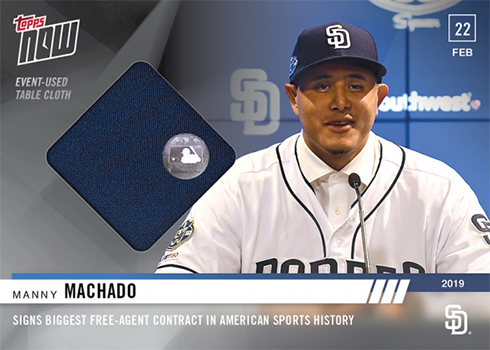 While this is a likely first for a baseball card, a tablecloth card does exist. 2005 Artbox Charlie and the Chocolate Factory has one in a Prop Card.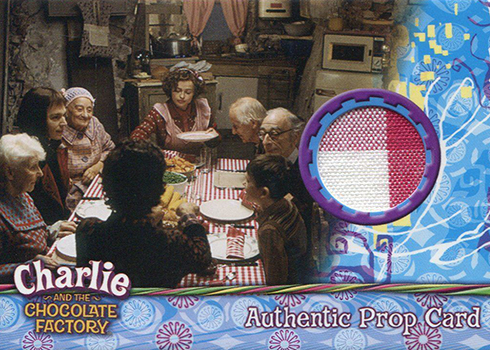 2019 Topps Now Spring Training Baseball also featured the first card of Bryce Harper as a member of the Philadelphia Phillies. Like Machado, his card comes from his introductory press conference. No memorabilia cards here, though.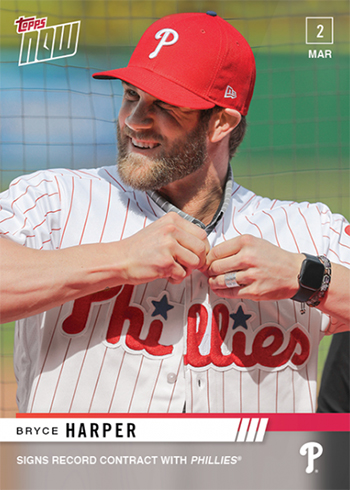 2019 Topps Now Spring Training Baseball followed a similar pattern as other Topps Now sets. Cards were available for 24 hours a piece. Print runs are limited to what's ordered. Base versions cost $9.99 each on the company's website with discounts available for bulk orders. Cards are also frequently available on eBay during the ordering window for less than the singles rate.
2019 Topps Now Spring Training Baseball Checklist
Print runs for individual cards are noted. If you're looking for a specific card, click on the links to see what's available on eBay.
ST-1 Manny Machado, San Diego Padres – Signs Biggest Free-Agent Contract in American Sports History (Feb 22) – 1,285
ST-2 Nolan Arenado, Colorado Rockies – Signs Record-Breaking Contract Extension (Feb 26) – 320
ST-3 Bryce Harper, Philadelphia Phillies – Signs Record Contract with Phillies (Mar 2) – 12,387
ST-4 Bryce Harper, Philadelphia Phillies – Spring Training Debut with Phillies (Mar 9) – 2,868
Relics Checklist
ST-1A Manny Machado, San Diego Padres – Press Conference Tablecloth /99 (Blue /49, Purple /25, Red /10, Orange /5, Gold 1/1)