The Daily: 2002 Dart FlipCards Crocodile Hunter Steve Irwin Autograph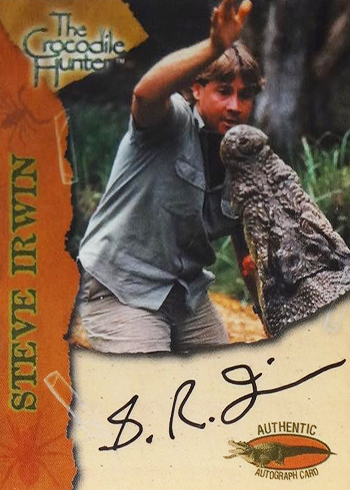 Today would have been Steve Irwin's, perhaps better known as The Crocodile Hunter, birthday. On TV, he took viewers to exotic places and got up real close to some of the planets most dangerous creatures. He was curious. He was loving. Irwin had lots of jokes, many of which were strange. In a nutshell, Steve Irwin's Crocodile Hunter was like an uncle to viewers.
In 2002, the TV show gave way to a feature film, Crocodile Hunter: Collision Course. I still haven't figured out exactly what that movie was. Even in the Crocodile Hunter realm, it's strange.
And then there were the trading cards. In 2002, Dart FlipCards put out a Crocodile Hunter set. Included on the checklist is a Steve Irwin autograph. His wife, Terri Irwin, is the only other signature in the set. Autographs combined with "Danger Ware" memorabilia cards to land one per box.
Today, the 2002 Dart Flipcards Crocodile Hunter Steve Irwin autograph card is extremely tough to find as most copies likely sit in personal collections.
The Daily highlights a key player or personality in the world of sports or collecting from the past 24 hours along with one of their key cards.