2019 Bowman Platinum Baseball variations come in a couple of forms. Most are your standard short print variations that come with different photos and tough odds. However, there's a handful of rookies that one could view as separate. These change the players up and appear to be much easier to come by.
SSP Variations
The SSP cards make up the bulk of what to look for as far as variations go in 2019 Bowman Platinum Baseball. These are not easy pulls, landing 1:275 jumbo, 1:660 monster and 1:825 blaster packs. While print runs haven't been announced, it's safe to say that not many of each card exists.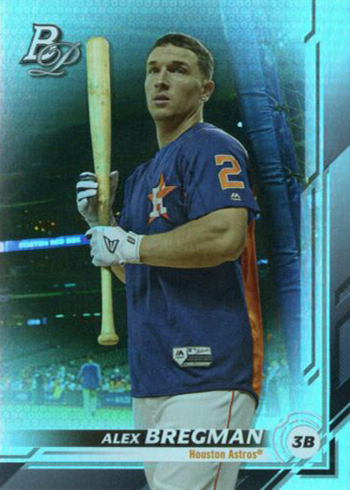 Rookie Variations
2019 Bowman Platinum Baseball has four additional variations, all of which rank among the year's best first-year players: Pete Alonso, Vladimir Guerrero Jr., Eloy Jimenez and Fernando Tatis Jr.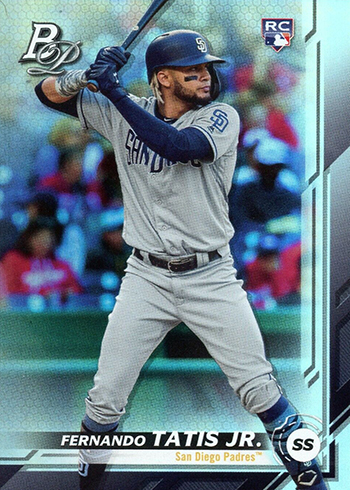 On the company checklist put out by Topps, these are listed as "Short Printed Base Cards." There are a couple of things to consider here. First, print runs for these haven't been released. And while they might be harder to come by than other base cards, there's no indication that they're rare.
Also, all four players share a checklist spot with a second "common" card. So even though these cards are different from the SSPs as far as how frequently they appear to fall, they're still variations.
Codes on the Back = Quick Confirmation
Hoping the codes on the back work to confirm variations? You're in luck — at least for the ten SSP cards. In the fine print at the bottom on the back, the code endings differ between base cards and variations. Here are the ones to look for when it comes to 2019 Bowman Platinum variation hunting:
Base – 674
Rookie SP Variations – 674
Variations – 722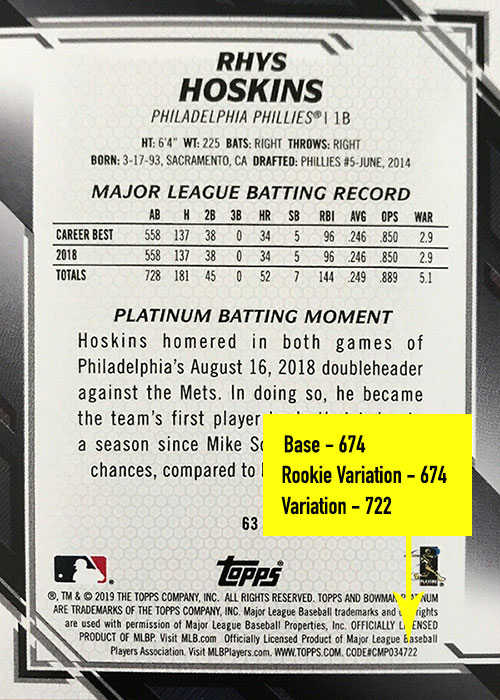 This is another instance that shows the four Rookie Variations are different from the main variants on the checklist. The code being the same on the back shouldn't be too complicated for these, though, seeing as how they're all different players and not just images.
2019 Bowman Platinum Baseball Variations Checklist
Here's a quick checklist of all the 2019 Bowman Platinum variations. If you're looking for a specific card, click on the links to see what's currently listed on eBay.
SSP Variations
1 Mike Trout
2 Shohei Ohtani
9 Alex Bregman
18 Ronald Acuna Jr.
22 Christian Yelich
48 Yusei Kikuchi
56 Juan Soto
63 Rhys Hoskins
74 Mookie Betts
97 Gleyber Torres
Rookie Short Prints
20 Pete Alonso
23 Fernando Tatis Jr.
27 Vladimir Guerrero Jr.
74 Eloy Jimenez
2019 Bowman Platinum Baseball Variations Gallery
1 Mike Trout, Los Angeles Angels
2 Shohei Ohtani, Los Angeles Angels
9 Alex Bregman, Houston Astros
18 Ronald Acuna Jr., Atlanta Braves
20 Pete Alonso, New York Mets
22 Christian Yelich, Milwaukee Brewers
23 Fernando Tatis Jr., San Diego Padres
27 Vladimir Guerrero Jr., Toronto Blue Jays
48 Yusei Kikuchi, Seattle Mariners
56 Juan Soto, Washington Nationals
63 Rhys Hoskins, Philadelphia Phillies
74 Mookie Betts, Boston Red Sox
74 Eloy Jimenez, Chicago White Sox
97 Gleyber Torres, New York Yankees