2019 Topps Baseball All-Star Exclusives and Wrapper Redemption Cards
MLB's All-Star FanFest has evolved into Play Ball Park. No matter the name, there will still be baseball cards for those in attendance that aren't available elsewhere. The 2019 Topps All-Star exclusives come in a couple of forms.
2019 Topps All-Star Wrapper Redemption
Topps has six cards available for a wrapper redemption. To get one, collectors have to bring three sealed packs of the following 2019 baseball products to the Topps booth:
Once they open the packs with a Topps employee, collectors get one of the six cards.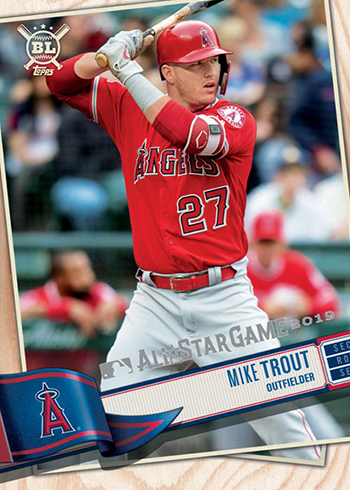 2019 Topps All-Star Wrapper Redemption Checklist
Jose Altuve, Houston Astros
Bryce Harper, Philadelphia Phillies
Rhys Hoskins, Philadelphia Phillies
Aaron Judge, New York Yankees
Francisco Lindor, Cleveland Indians
Mike Trout, Los Angeles Angels
There's a limit of one wrapper redemption set per collector per day. It's also first come, first served as supplies are limited.
2019 Topps All-Star Patch Cards
Topps will be selling 2019 Topps Baseball factory sets at Play Ball Park. Those who purchase a set at the event also receive a special patch card made specifically for the event.
Six different cards make up the set.
2019 Topps All-Star Patch Cards Checklist
Ronald Acuna Jr., Atlanta Braves
Mookie Betts, Boston Red Sox
Larry Doby, Cleveland Indians
Bob Feller, Cleveland Indians
Francisco Lindor, Cleveland Indians
Shohei Ohtani, Los Angeles Angels
Topps has lots of other things happening at their booth throughout the duration of Play Ball Park. These include an autograph signing with DAZN's Scott Rogowsky (a former Topps employee), pack wars and special Topps BUNT items.
Play Ball Park runs from July 5-9 at Cleveland's Huntington Convention Center.