The bobbleheads are coming! And lots of them. The lineup of 2019 bobblehead MLB stadium giveaways features more than 200 different figures. From current stars and local fan favorites to Hall of Famers and Hello Kitty, the variety is definitely there.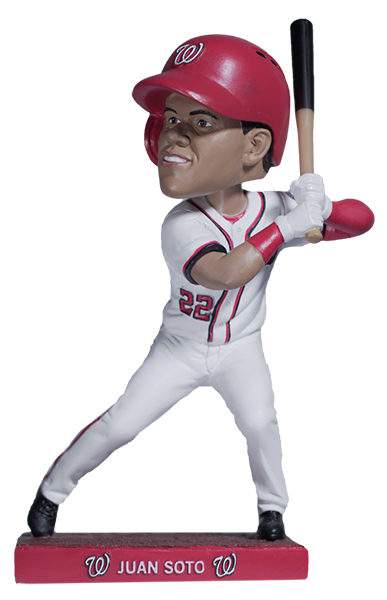 Things kick off just a couple of days into the new season with the Dodgers, Padres and Rays all offering up their first bobblehead stadium giveaways on Saturday, March 30. Things carry on throughout the season, all the way up until the end of September.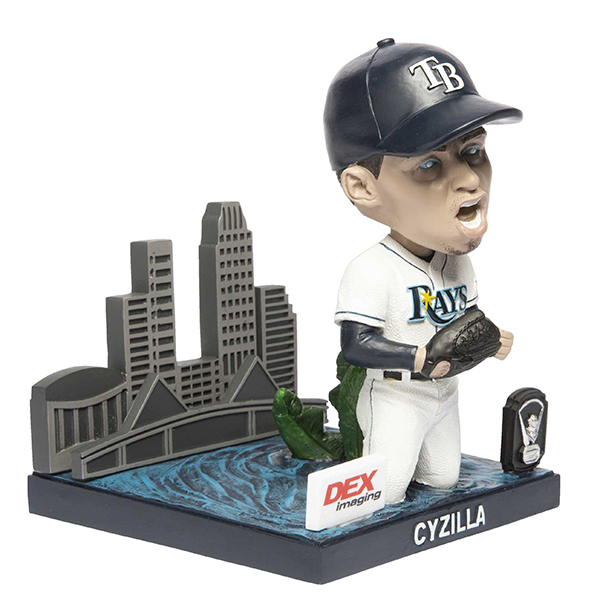 Outside of regular player bobbleheads, many teams dip their toes into the waters of pop culture. Star Wars and Game of Thrones are both popular giveaway themes, often integrating players into the final piece. This has been a growing trend in recent years, including 2018.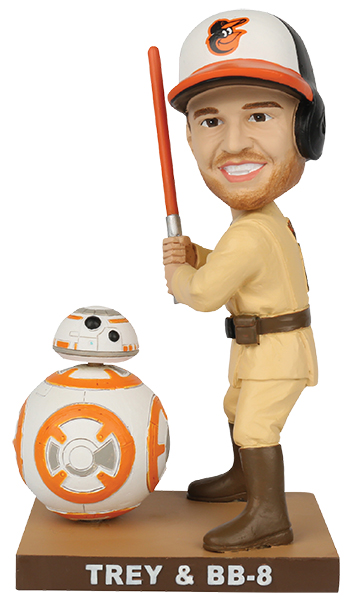 While most of the 2019 bobblehead MLB stadium giveaways are handed out as fans walk in the gates, some are reserved for special theme day events and require separate tickets.
Here's a massive list of giveaways heading to MLB ballparks this season. This will help you keep track of what's out there and what to expect, not only for your local team but others around the league.
2019 Bobblehead MLB Stadium Giveaways Schedule
Where applicable, quantities and special conditions are noted.
March
30
Walker Buehler – Los Angeles Dodgers (40,000)
Swinging Friar – San Diego Padres
Blake Snell "Cyzilla" – Tampa Bay Rays
31
Jesus Aguilar – Milwaukee Brewers
April
5
Mike Trout "Silver Slugger" – Los Angeles Angels (30,000)
6
Todd Frazier "WWE Belt" – New York Mets (25,000)
Evan Longoria – San Francisco Giants (30,000)
Whitey Herzog "HOF Opening Day Parade" – St. Louis Cardinals (30,000 total between Herzog, Smith and Sutter; one per fan)
Ozzie Smith "HOF Opening Day Parade" – St. Louis Cardinals (30,000 total between Herzog, Smith and Sutter; one per fan)
Bruce Sutter "HOF Opening Day Parade" – St. Louis Cardinals (30,000 total between Herzog, Smith and Sutter; one per fan)
7
Jacob deGrom "Cy Young" – New York Mets (25,000)
8
Year of the Pig – San Francisco Giants (special ticket package)
12
Bernie Williams – New York Yankees (18,000)
Juan Soto – Washington Nationals (25,000)
13
Archie Bradley Bobble Gnome – Arizona Diamondbacks (20,000)
Cody Bellinger – Los Angeles Dodgers(40,000)
14
Phil the Bucket – Atlanta Braves (5,000, 14 and under)
Royals Game of Thrones Ice Dragon – Kansas City Royals (special ticket package)
15
Chewbacca – Chicago White Sox (special ticket package)
17
Ron Gardenhire "Game of Thrones" – Detroit Tigers (special ticket package)
20
Matt Chapman "Gold Glove" – Oakland Athletics
Michael Young "Batting Champs" – Texas Rangers (15,000)
23
Fernando Tatis – St. Louis Cardinals (special ticket package)
24
Lourdes Gurriel "#PinaPower" – Toronto Blue Jays (15,000)
25
Millennium Falcon Flying Over Fenway Park – Boston Red Sox (special ticket package)
Mystery Bobblehead – Philadelphia Phillies (special ticket package)
26
Ronald Acuna Jr. – Atlanta Braves (15,000)
Alex Bregman "Stare" – Houston Astros (10,000)
27
Jose Abreu "Silver Slugger" – Chicago White Sox (20,000)
Don Newcombe – Los Angeles Dodgers (40,000)
Noah Syndergaard "Game of Thrones" – New York Mets (25,000)
Willie Mays – San Francisco Giants (35,000)
Mitch Haniger "Five Tool" – Seattle Mariners (20,000)
May
4
Trey Manini "Star Wars" – Baltimore Orioles (special ticket package)
R2-D2 – Chicago White Sox (15,000)
Mr. Redlegs "150th Anniversary" – Cincinnati Reds (20,000)
Orlando Arcia "Orlando Carissian" – Milwaukee Brewers (special ticket package)
CC Sabathia "Jedi" – New York Yankees (40,000)
Jameson Taillon "Star Wars" – Pittsburgh Pirates (20,000)
Gary Matthews Jr. – Texas Rangers (15,000)
5
Jeremy Jeffress – Milwaukee Brewers
6
Jose Altuve "Hugs for Homers" – Houston Astros (10,000)
7
Jake Marisnick "vs. the Night King" Game of Thrones Bobblehead – Houston Astros (special ticket package)
9
Corey Seager – Los Angeles Dodgers (40,000)
10
Cole Hamels "Hang Loose" – Chicago Cubs (10,000)
Yadier Molina/Roberto Clemente – St. Louis Cardinals (30,000)
11
Adalberto Mondesi – Kansas City Royals (15,000)
Pablo Sandoval "Let Pablo Pitch" – San Francisco Giants (30,000)
13
Seranthony Dominguez "Game of Thrones" – Philadelphia Phillies (3,000, special ticket package)
14
J.D. Martinez Home Run Counter – Boston Red Sox (7,500)
15
Rosie Reds "Queen Rosie" Game of Thrones – Cincinnati Reds (special ticket package)
Trea Turner – Washington Nationals (25,000)
16
Josh Donaldson – Atlanta Braves (15,000)
17
Zack Godley "Game of Thrones" – Arizona Diamondbacks (special ticket package)
18
Carlos Rodon – Chicago White Sox (20,000)
Ernie Lombardi – Cincinnati Reds (20,000)
Ken Griffey Jr. "Rookie Year" – Seattle Mariners (20,000)
19
B-Brush – Atlanta Braves (5,000, 14 and under)
Woodstock – Cincinnati Reds (special ticket package)
20
Bruce Bochy "House Bochy" – San Francisco Giants (special ticket package)
Brandon Crawford "Dragon" – San Francisco Giants (special ticket package)
21
TBA Game of Thrones – Baltimore Orioles (special ticket package)
Rex Hudler – St. Louis Cardinals (special ticket package)
22
Yuli Gurriel "Swing" – Houston Astros (10,000)
Giants Spider-Man – San Francisco Giants (special ticket package)
Stan Lee – San Francisco Giants (special ticket package)
23
Marcell Ozuna (four different jerseys) – St. Louis Cardinals (30,000 total, one per fan)
24
Joe Mauer "Cretin-Derham Hall High School" – Minnesota Twins (10,000)
25
Francisco Lindor – Cleveland Indians (15,000)
Robinson Cano "Obi-Wan Canobi" – New York Mets (25,000)
Ryan Zimmerman "Captain Zimmerman" – Washington Nationals (10,000)
27
Giancarlo Stanton – New York Yankees (18,000)
30
Night King Game of Thrones Bobblehead – Texas Rangers (special ticket package)
31
Darth Vader – Cincinnati Reds (special ticket package)
June
1
Joe Morgan – Cincinnati Reds (20,000)
Steve Garvey – Los Angeles Dodgers (40,000)
Chris Archer – Pittsburgh Pirates (20,000)
Tommy Pham – Tampa Bay Rays
Josh Hamilton "Batting Champs" – Texas Rangers (15,000)
5
Mike Clevinger – Cleveland Indians (12,500)
7
Max Stassi "X-Wing" – Houston Astros (special ticket package)
8
Adrian Beltre "3,000 Hits" – Texas Rangers (15,000)
9
Christian Yelich – Milwaukee Brewers
11
Dansby Swanson/Charlie Culberson "Swanberson" Combined Bobblehead – Atlanta Braves (15,000)
Giants Portuguese Chicken – San Francisco Giants (special ticket package)
12
George Springer "Thumbs Up" – Houston Astros
13
Joe Kelly – Los Angeles Dodgers (40,000)
14
Black Panther – Cincinnati Reds (special ticket package)
15
Barry Larkin – Cincinnati Reds (20,000)
Sean Doolittle "Obi Sean Kenobi" – Washington Nationals (10,000)
18
Sam the Bald Eagle – Cincinnati Reds (special ticket package)
Clayton Kershaw – Los Angeles Dodgers (40,000)
21
Anthony Rizzo "Out on the Water" – Chicago Cubs (10,000)
Chase Utley – Philadelphia Phillies
Max Scherzer – Washington Nationals (25,000)
22
David Peralta "#FreightTrain" – Arizona Diamondbacks (20,000)
Lorenzo Cain "Super Hero" – Milwaukee Brewers (special ticket package)
Matt Olson "Gold Glove" – Oakland Athletics
Ivan Rodriguez "1995 All-Star" – Texas Rangers (15,000)
25
Alex Cora "World Series" – Boston Red Sox (7,500)
Fernando Vina – St. Louis Cardinals (special ticket package)
26
Jose Altuve "Sliding" – Houston Astros
Max Kepler "Obi-Wan Kepleroni" – Minnesota Twins (special ticket package)
27
TC Bear "Mustang" – Minnesota Twins (special ticket package)
29
Sparky Anderson – Detroit Tigers (10,000)
Miguel Rojas – Miami Marlins (10,000)
Dereck Rodriguez – San Francisco Giants (30,000)
30
Trevor Story – Colorado Rockies (15,000)
Prince Fielder – Milwaukee Brewers
July
2
Adam Eaton – Washington Nationals (25,000)
5
Walter Banks – Atlanta Braves (15,000)
6
Miguel Cabrera Bobblehead Picture Frame – Detroit Tigers (10,000)
Gerrit Cole "Cole Train" – Houston Astros (15,000)
7
Spider-Man – New York Mets (25,000)
Buster Posey "Top Gun" – San Francisco Giants (special ticket package)
12
Mariano Rivera "Captain America" – New York Yankees (18,000)
Joey Gallo "GALiLEO" Moon Shot – Texas Rangers (special ticket package)
13
Danny Duffy Designed – Kansas City Royals (15,000)
Cerveceros Sugar Skull – Milwaukee Brewers (special ticket package)
Juan Gonzalez "1996 Clinch" – Texas Rangers (15,000)
14
Charlie Blackmon – Colorado Rockies (15,000)
Padres Charlie Brown – San Diego Padres (special ticket package)
15
Kris Bryant "Round of Golf" – Chicago Cubs (10,000)
Woodstock – St. Louis Cardinals (special ticket package)
16
Brooks Robinson – Baltimore Orioles (25,000)
Mookie Betts "Time to Party" with sound – Boston Red Sox (7,500)
Shohei Ohtani – Los Angeles Angels (30,000)
17
"Jedi" Jake Arrieta – Philadelphia Phillies (6,000, special ticket package)
18
Yasiel Puig – Cincinnati Reds (20,000)
David Cone – New York Yankees (18,000)
19
Jon Lester "On the Farm" – Chicago Cubs (10,000)
Joe Mauer "MLB Debut" – Minnesota Twins (10,000)
20
Nick Ahmed "Ahmed on the Moon" – Arizona Diamondbacks (20,000)
Fernando Valenzuela – Los Angeles Dodgers (40,000)
Vintage Pirates Bobblehead – Pittsburgh Pirates (20,000)
22
Carlos Correa – Houston Astros (10,000)
23-24
Ozzie Albies – Atlanta Braves (7,500 each night)
27
Spider-Man – Chicago White Sox (12,000)
Tony Perez – Cincinnati Reds (20,000)
Mr. Met "On the Moon" – New York Mets (25,000)
San Diego Chicken – San Diego Padres
28
Albert Pujols/Scott Rolen/Jim Edmonds "MV3" – St. Louis Cardinals (30,000)
30
Jason Motte – St. Louis Cardinals (special ticket package)
31
TBA Peanuts Phillies – Philadelphia Phillies (3,000, special ticket package)
August
3
Joe Nathan – Minnesota Twins (10,000)
Rusty Greer "Diving Catch/Perfect Game" – Texas Rangers (15,000)
4
Hank Aaron Mini Bobblehead – Atlanta Braves (5,000, 14 and under)
Clark – Chicago Cubs (5,000, 13 and under)
Kyle Freeland – Colorado Rockies (15,000)
5
TBA Player – Los Angeles Dodgers (40,000)
6
Brock Holt "ALDS Hitting for the Cycle" – Boston Red Sox (7,500)
8
Giants Hulkbuster – San Francisco Giants (special ticket package)
9
Edgar Martinez "Hall of Fame" – Seattle Mariners (40,000)
10
Jose Urena – Miami Marlins (10,000)
11
Josh Hader – Milwaukee Brewers
16
Grateful Dead Dancing Bear – Cincinnati Reds (special ticket package)
17
Johnny Bench – Cincinnati Reds (20,000)
Vintage Bobblehead – Kansas City Royals (15,000)
Willie Adames – Tampa Bay Rays
Kenny Rogers "Perfect Game" – Texas Rangers (15,000)
Patrick Corbin – Washington Nationals (25,000)
18
Aaron Nola – Philadelphia Phillies
19
Hercules from The Sandlot – St. Louis Cardinals (special ticket package, choice of Hercules or Smalls)
Smalls from The Sandlot – St. Louis Cardinals (special ticket package choice of Hercules or Smalls)
20
Will Clark – St. Louis Cardinals (special ticket package)
22
TBA Player – Los Angeles Dodgers (40,000)
TBA Player "Racecar" – St. Louis Cardinals (special ticket package)
24
Sandy Alomar – Cleveland Indians (12,500)
Billy the Marlin – Miami Marlins (10,000)
Joe Mauer "MVP, Gold Glove, Silver Slugger" – Minnesota Twins (10,000)
25
Yasmani Grandal – Milwaukee Brewers
26
Jean-Lou Picard – San Francisco Giants (special ticket package)
29
Hello Kitty – San Francisco Giants (special ticket package)
30
Gleyber Torres New York Yankees (18,000)
31
Woodstock – San Francisco Giants (20,000)
Snoopy and Woodstock – San Francisco Giants (special ticket package)
Rougned Odor "First Odor Stormtrooper" – Texas Rangers (special ticket package)
September
3
Andrew Benintendi "ALCS Catch" – Boston Red Sox (7,500)
Woody Williams – St. Louis Cardinals (special ticket package)
4
Woodstock – Boston Red Sox (special ticket package)
TBA Player – Los Angeles Dodgers (40,000)
6
Dia de Los Braves – Atlanta Braves (special ticket package)
7
Ken Griffey Jr. – Cincinnati Reds (20,000)
Justin Verlander – Houston Astros (10,000)
Brian Anderson – Miami Marlins (10,000)
Joe Mauer "Final Game" – Minnesota Twins (10,000)
Pirates Spider-Man – Pittsburgh Pirates (20,000)
8
Bert Campaneris – Oakland Athletics
Padres Hello Kitty – San Diego Padres (special ticket package)
12
Snoopy – Minnesota Twins (special ticket package)
13
Mike Trout "Anaheim Ducks" – Los Angeles Angels (30,000)
TBA Player "Cheering St. Louis Blues" – St. Louis Cardinals (special ticket package)
14
Dia de los Gigantes – San Francisco Giants (special ticket package)
TBA Bobblehead – Seattle Mariners
Stan Musial/Red Schoendienst – St. Louis Cardinals (30,000)
15
Pedro Strop "Karaoke Night" – Chicago Cubs (10,000)
TBA Star Wars Bobblehead – San Francisco Giants (20,000)
Polo Ascencio and Bengie Molina – St. Louis Cardinals (special ticket package)
17
Nathan Eovaldi "World Series" – Boston Red Sox (7,500)
TBA Player – Los Angeles Dodgers (40,000)
21
Pablo Lopez – Miami Marlins (10,000)
22
Two Bit the Drill – Atlanta Braves (5,000, 14 and under)
28
Steve Blass Player/Broadcaster Dual Bobblehead – Pittsburgh Pirates (20,000)