2019-20 Panini NBA Hoops Basketball cards follow a couple of draft products that have a large collegiate emphasis. Now it's time for a full-on pro approach. Hoops includes the first pack-based cards of Zion Williamson and the rest of the year's rookie class in their NBA threads.
Hobby boxes, which consist of 24 packs, have a pair of autographs as well as lots of inserts and parallels.
2019-20 Panini NBA Hoops Overview
Traditionally, Hoops is one of those products that casts a wide net with collectors, available at both the hobby and retail levels.
It also means one of the most comprehensive checklists of the season. The 2019-20 NBA Hoops base set totals 300 cards. Besides a deep roster of veterans, collectors will find lots of Rookie Cards. Besides Williamson, top names include R.J. Barrett, Ja Morant and Cam Reddish.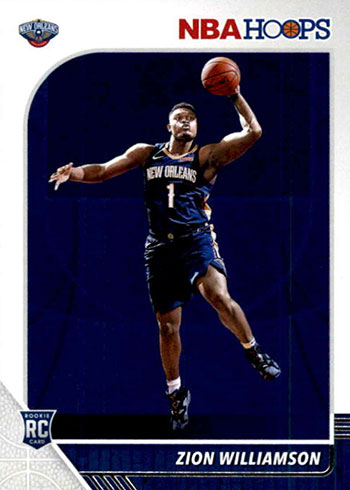 Being one of the oldest brands in basketball cards as far as existing brands go, there's a certain level of nostalgia built into Hoops. Hoops Tribute cards, some of which include past stars, evoke a retro vibe that's similar — but not exactly the same — to the 1991-92 set.
Parallels come in a variety of forms, some of which are exclusive to certain pack types. For example, hobby packs are the only place to find Artist Proof Gold cards, which have ten copies each. Retail-only parallels include Blue Explosion (/49) and Red Explosion (/15). Orange Explosion (/25) are in fat packs while blaster have randomly inserted Red (/49) parallels.
Autographs, Memorabilia Cards and Other Inserts
Hoops Art Signatures are a new addition for 2019-20. These bring on-card signatures. Dual versions pair up a rookie with a star.
Hot Signatures and Hot Signatures Rookies both return. Both of these have Red Hot versions that have 25 copies.
As far as first-year players go, Rookie Ink is another place to find them.
Those buying retail can find Great SIGnificance cards that aren't in hobby.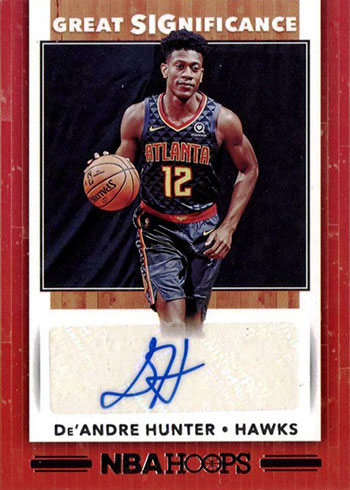 There aren't a lot of memorabilia cards in 2019-20 Panini NBA Hoops. And those that do exist are in retail blasters. Themes include Rookie Remembrance and Rise N Shine Memorabilia. Both have Prime parallels with premium swatches that are numbered to 25.
The big checklist isn't limited to just the base set. 2019-20 NBA Hoops has a lot of insert sets. Road to the Finals returns, charting every playoff game from the first round through to the NBA Championship. Once again, these take a tiered approach with early rounds having the highest print runs dropping all the way down to a short print Champions card picturing the Toronto Raptors.
High Voltage, Legends of the Ball and NBA City are among the hobby-only inserts.
Retail-exclusive themes include Arriving Now, Class of 2019, Frequent Flyers, Get Out of the Way, and Lights, Camera Action.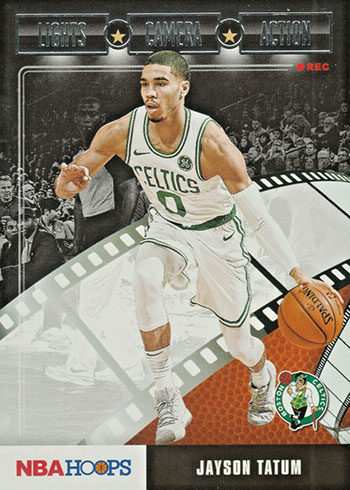 2019-20 Panini NBA Hoops Basketball cards at a glance:
Cards per pack: Hobby – 8, Retail – 8, Retail Blaster – 8, Retail Fat Packs – 30
Packs per box: Hobby – 24, Retail – 24, Retail Blaster – 11
Boxes per case: Hobby – 20
Set size: 300 cards
Release date: November 6, 2019
Shop for 2019-20 Panini NBA Hoops boxes on eBay:
What to expect in a hobby box:
Autographs – 2
Inserts or Parallels – 24 Total
What to expect in a blaster box:
Autographs or Memorabilia Cards – 1
Inserts or Parallels – 11 Total
2019-20 Panini NBA Hoops Basketball Checklist
Base
Autographs
Memorabilia
Inserts
Team Sets