2017 Topps Series 2 Baseball Checklist Focuses on Summer and Continuity
2017 Topps Series 2 Baseball has an air of continuation about it. And so it should. But there's also an added focus on mid-season events that just so happen to coincide with the product's release. For those carrying on from Series 1, there aren't any major surprises. That said, other than the base set starting at number 352, 2017 Topps Series 2 Baseball is the kind of product that can also stand on its own.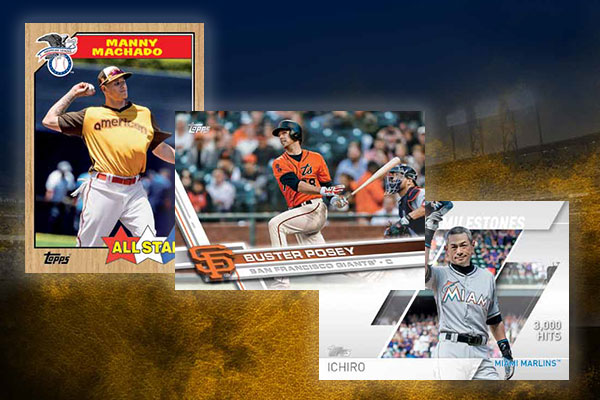 Base Set
Like Series 1, the main set is 350 cards. Rookies, veterans and other subsets connect directly with the first set, including the numbering.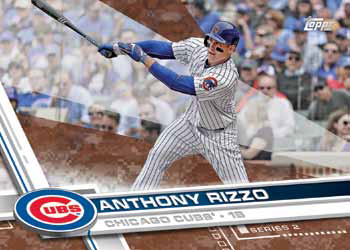 The number of parallels is vast. Not counting any potential retail exclusives, there are ten different parallels plus Printing Plates. On the relatively common side are Rainbow Foil, which land 1:10 hobby packs. Gold cards continue to be numbered to the year, which, in this case means 2017. Other parallels include Vintage Stock (/99), Black (/66), Mother's Day Hot Pink (/50), Father's Day Powder Blue (/50), Memorial Day (/25), hobby-only Clear (/10), and Platinum (1/1). Although not numbered, Negative parallels are considered limited by Topps. They're only available in hobby and hobby jumbo packs.
Inserts
Inserts are a mix of new elements and continuing ones.
Topps Salute continues. Relatively easy to pull at 1:4 packs, these use in-game images to highlight special events like commemorative games and ceremonies as well as milestone moments. Red versions are numbered to 5 while, like the base set, Platinum parallels are one-of-ones. Select cards have signed copies also.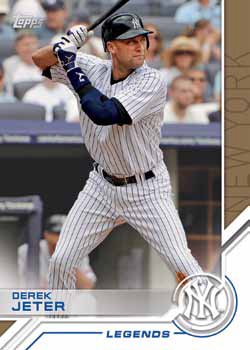 Thirty-years later, 1987 Topps baseball and its woodgrain borders continue to resonate with a lot of collectors. The 1987 Topps Baseball inserts are another point of continuation from Series 1. However, here they center on rookies and All-Stars (complete with the logo that was used for the All-Star subset three decades earlier). Regular versions are 1:4 packs while Red (/25) and Platinum (1/1) parallels are tough pulls. Select 1987 Topps Baseball cards have autographed versions as well. These are printed on wood-like Maple (/25 or less), Ash (/10 or less) and Birch (1/1) stock.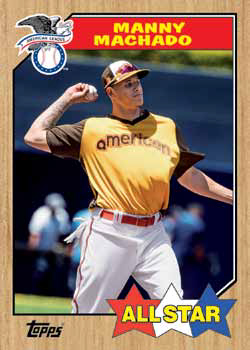 A couple of new insert sets look at highlights from the past. Major League Milestones (1:8 packs) looks at major events from 2016. And, no, they're not reprints of 2016 Topps Now cards. Memorable Moments (1:8) take a similar approach to key events, but reach back further into the past. Both of these have Autograph, Relic and Autographed Relic versions, which also have tough Red and Platinum parallels.
First Pitch is back with more famous and notable people who took to the mound for the pre-game ceremony.
A series of National Anthem inserts were originally announced for the 2017 Topps Series 2 Baseball checklist. However, they were removed prior to the set's release.
Autographs and Memorabilia Cards
2017 Topps Series 2 Baseball has some hits that reside outside of basic insert themes.
New Topps Reverence Autograph Patch cards are about as high-end as you get in the product. Signed on-card, they're numbered to 25 and only available in hobby and hobby jumbo packs.
Major League Material is more of a generic sort of memorabilia-driven insert. Basic versions have Red (/25) and Platinum (1/1) versions. Some also come with autographs. Parallels for these are the same but the Red cards max out at ten copies each.
In the Name Relic cards return with full letter patches. While each card is considered a one-of-one, players will likely have multiple cards to spell out their name.
Cut Signatures are also randomly inserted in 2017 Topps Series 2 Baseball packs.
Manufactured Relics
Two manu-relic inserts are included in the product, both centering on key mid-season events. MLB All-Star Game Logo Patch cards feature past and present players. Independence Day Team Logo patch cards use images from the 2016 Independence Day games. Parallels are the same for each: Gold (/99), Black (/50) and Platinum (1/1).
Both of these are hobby and hobby jumbo exclusives so they won't be showing up in retail blasters.
Silver Packs
Silver packs return for 2017 Topps Series 2. These are given as an incentive for buying hobby and hobby jumbo boxes. These cards are done with the 1987 design but with a patterned Chrome background. Another 50 cards have been added to the checklist, which began in Series 1.
Autographs are also randomly inserted.
Rediscover Topps Buybacks
If you pull what appears to be an old card with "Rediscover Topps" printed down the side, it's a buyback. These are original Topps cards that have been repurchased by the company and inserted in packs.
The color of the stamp gives an indication of rarity. Topps hasn't announced specifics as far as print runs go, but they did reveal which foil stamp colors are the most common and which are the rarest.
2017 Topps Series 2 Baseball at a glance:
Packs per box: 36 (hobby), 10 (hobby jumbo)
Cards per pack: 10 (hobby), 47 (hobby jumbo)
Boxes per case: 12 (hobby), 6 (hobby jumbo)
Set size: 350 cards
Release date: June 14, 2017
What to expect in a hobby box:
• Autographs or Memorabilia Cards – 1
• Rainbow Foil Parallels – 3
• First Pitch Inserts – 4
• Major League Milestones – 4
• National Anthem Inserts – 4
• Memorable Moments Inserts – 4
• 1987 Topps Inserts – 9
• Topps Salute Inserts – 9
What to expect in a hobby jumbo box:
• Autographs – 1
• Memorabilia Cards (Game-Used and Manufactured Relics) – 2
2017 Topps Series 2 Baseball Checklist
Base Set
Autographs
Memorabilia
Inserts
Team Sets
Comments? Questions? Contact Ryan Cracknell on Twitter @tradercracks.