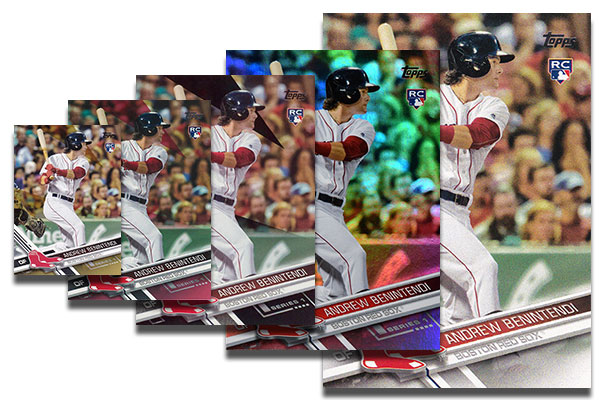 By Ryan Cracknell | Hobby Editor
If you're chasing a full 2017 Topps Baseball parallel rainbow of your favorite player, you've got your work cut out for you. Each card has more than a dozen different versions that factor in not only color but card stock as well.
Some are found only in certain packs sold at certain stores, others are available in all pack types. Some have serial numbers, others aren't.
This is standard for the flagship release and around the same as how it has been for several years. There may be a couple tweaks here and there, but nothing major.
Some of the 2017 Topps parallels are easier to spot than others. For example, the Rainbow Foil and Clear cards come with a totally different surface. The Negatives make images look like molten metal, so they're easy too. But the color-based cards may require a second look. The places to spot the color are two pennant-shaped triangles on the top half of the card and the space below the name plate. Of course, if they're serial numbered, that's another way. But sometimes these can be subtle enough that you may miss them if you blow quickly through packs.
While it may seem like a lot of parallels, most of them could prove to be fairly tough to track down with 50 copies or less in circulation.
To help you keep tabs on all of the 2017 Topps Baseball parallels, here's a gallery showing what they look like and, when applicable, notes one where they're exclusive to.
2017 Topps Baseball Parallels Gallery
More parallels may be released in the future. Here's what's out there now.
---
---
---
---
---
---
---
---
---
---
---
---
---
---
---
---
---
Comments? Questions? Contact Ryan Cracknell on Twitter @tradercracks.