2017 Topps Baseball Brings #7 Out of Retirement (And It's Not Mickey Mantle)
When you click on links to various merchants on this site, like eBay, and make a purchase, this can result in this site earning a commission.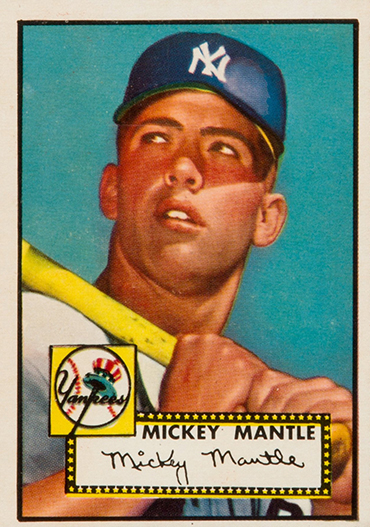 By Ryan Cracknell | Hobby Editor
The flagship Topps baseball set is one that's rooted in tradition. Even as hallmarks evolve, any bit of change in the set is met with scrutiny because it changes that tradition.
With that, 2017 Topps Baseball is changing course on something that has been in place for two decades. To honor Mickey Mantle following his passing, #7 on the base set checklist (Mantle's jersey number) has belonged to the Yankees legend — or nobody — since 1996.
Although Topps doesn't have a deal in place with Mantle's estate, the card maker has unretired the number. Gary Sanchez becomes the first player other than Mantle to be #7 since 1995 Topps Baseball.
In 1996, Topps honored Mantle with a memorial card and announced #7 was retired. It was similar to how a team retires a jersey number. Between 1997 and 2005, the flagship Topps set left #7 off the checklist. It was only the main release that this applied to, not inserts or other brands.
From 2006 to 2012, #7 came back but it was reserved for the Hall of Famer. Topps had reached an agreement with Mantle's family for their products. Mantle was included in the set using the current design.
However, that deal ran out in 2013 and there haven't been any Topps Mantle cards since.
With the return of #7, it means no more empty spots in nine-pocket pages or in boxes with sets. While the move was originally made out of respect to one of the most important figures in the hobby's history, it also created some confusion, particularly in more recent years. Newer collectors may not have known about the missing spot or the reason why.
But now it's back, albeit with a different face.
"This is such an exciting time for baseball fans with such a strong and impressive young group of players as the face of MLB right now. After more than 20 years, we wanted to offer the spot of Card No. 7 to a young, emerging star, but we also wanted it to still be a New York Yankee. Gary Sanchez is part of a re-emergence for the Yankees. He is bringing that magic and mystique back to the team, and was a natural fit for Card No. 7," said Kevin Eger, Topps Brand Manager.
What do you think of Topps bringing back #7? Let us know in the comments below or tag us on Twitter.
Comments? Questions? Contact Ryan Cracknell on Twitter @tradercracks.