Thanksgiving is a time for coming together. With that in mind, 2017 Topps GPK/Wacky Packages mixes up both of the card maker's satirical brands to bring a little levity to the holiday season.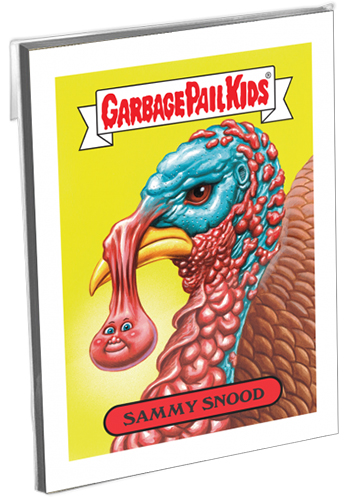 Keeping with several other mini sets released over the last year or so, it's available for a limited time through the Topps website.
Sold only as a set and not as singles, the 2017 Topps GPK/Wacky Packages Thanksgiving checklist has 15 total cards. The first 10 are the Garbage Pail Kids, five pairs of name variations. Wackys fill things out, poking fun at products found in the kitchen while the feast is being prepared.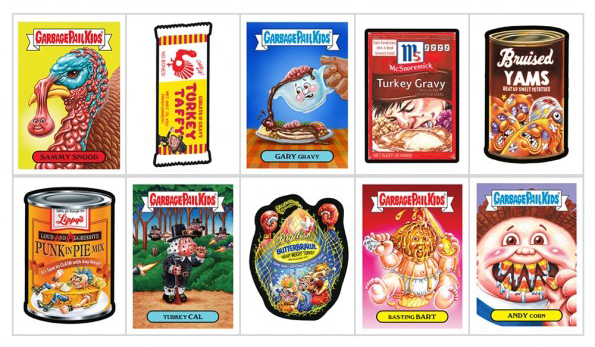 Available for seven days, sets will only be printed after the sales window closes. The production run of 188 sets is based on what's ordered.
2017 Topps GPK/Wacky Packages Thanksgiving at a glance:
Set size: 15 cards
Release date: November 22, 2017
Print Run: 188 sets
2017 Topps GPK/Wacky Packages Thanksgiving Checklist
Garbage Pail Kids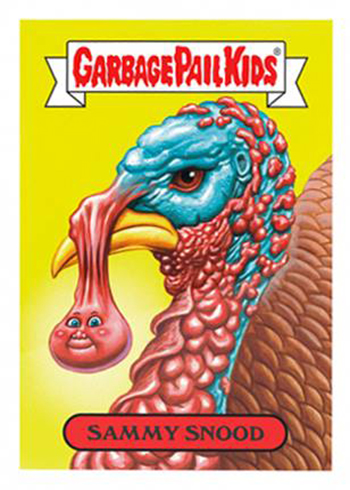 1a SAMMY Snood
1b DIRK Dangler
2a ANDY Corn
2b Corny CANDICE
3a Turkey CAL
3b Hapless HUNTER
4a Basting BART
4b Leggy LENNY
5a GARY Gravy
5b Poured POLLY
Wacky Packages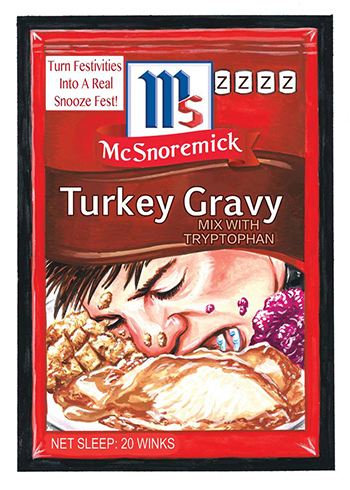 6 Butterbrawl
7 McSnoremick Turky Gravy
8 Bruised Yams
9 Lippy's Punk In Pie Mix
10 Turkey Taffy
Comments? Questions? Contact Ryan Cracknell on Twitter @tradercracks or by email.