Bryzzo Gets a Baseball Card
The Kris Bryant-Anthony Rizzo bromance has been a thing for a couple of years. Dubbed Bryzzo, something the Cubs have themselves embraced, the Chicago pair have appeared on more than 200 baseball cards together already. But none have used the Bryzzo name. Until now.
2017 Panini Chronicles Baseball features not only a card with Rizzo and Bryant together, but it uses the Bryzzo moniker.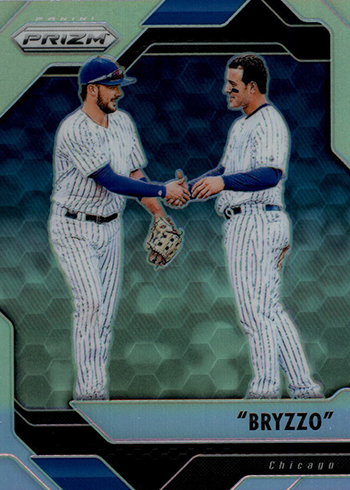 It's in the Prizm portion of the multi-brand release and shows the teammates hanging out together, shaking hands. Done with a chromium design, it's #24 in the Prizm set. Besides the basic version, there are 11 parallels that add a variety of colors, background patterns and rarity.
The Bryzzo Souvenir Co. has been used in a variety of fun MLB marketing spots that took two of the league's most popular teammates and made them even more fun and personable. It's one of baseball most memorable ad campaigns in recent history.
The 2017 Panini Chronicles Bryzzo cards likely won't be worth a ton in their basic form, but true to Bryzzo fashion, it's a fun card.
As for other cards featuring both Bryant and Rizzo, here are a few highlights:
2015 Bowman Chrome Dual Autographs Kris Bryant/Anthony Rizzo #BDABR /25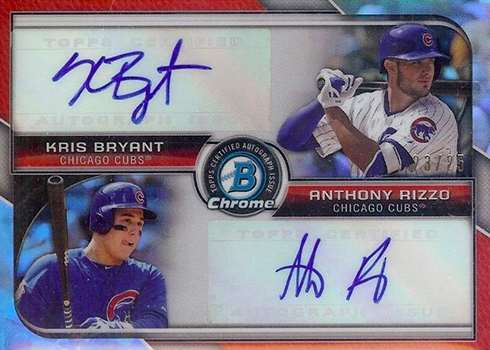 2016 Topps "Young Cubs Buds" #453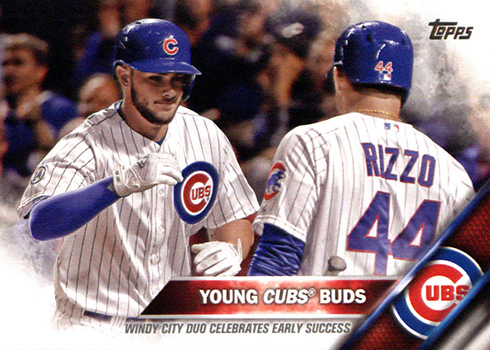 2016 Topps Heritage Real One Dual Autographs Anthony Rizzo/Kris Bryant #RODA-RB /25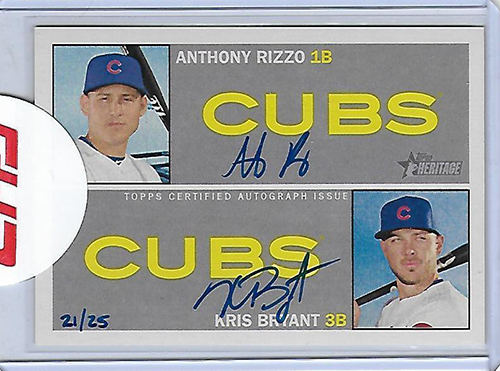 2016 Topps Update All-Star Stitches Dual Kris Bryant/Anthony Rizzo #ASD-BR /25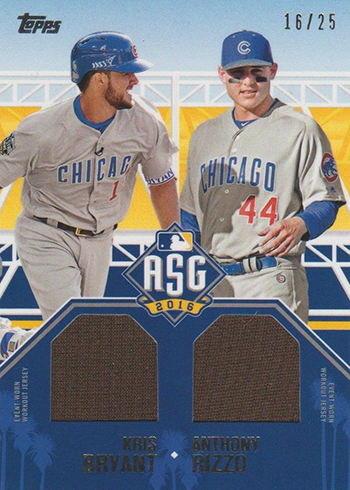 2017 Topps Allen & Ginter Dual Relic Autograph Booklets Kris Bryant/Anthony Rizzo #ARBC-BR /10

2017 Topps Diamond Icons Dual Player Autograph Relics Anthony Rizzo/Kris Bryant #DP-RB /10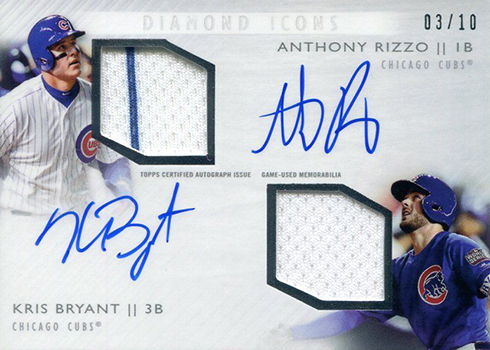 2017 Topps Heritage High Number Combo Cards Anthony Rizzo/Kris Bryant #CC-1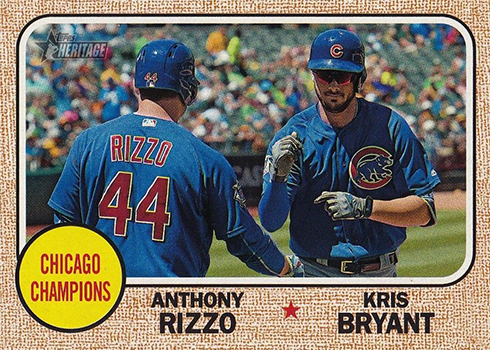 And then there's this one — a 2016 Topps Now Dual Autograph Relic that has a piece of a base from the World Series-clinching Game 7. As far as Kris Bryant/Anthony Rizzo cards go, it's going to be tough to beat simply based on the historical significance.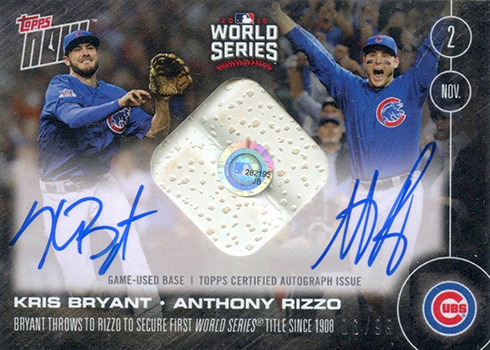 Comments? Questions? Contact Ryan Cracknell on Twitter @tradercracks or by email.