2017 Topps Chrome Baseball Refractor Cheat Sheet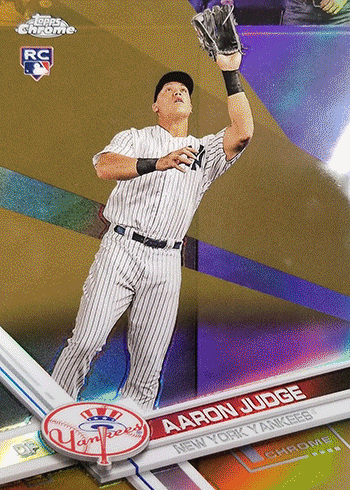 Need help identifying or keeping track of all the 2017 Topps Chrome Baseball Refractor types?
If you're chasing a particular player or team, there are enough of them that a handy catch-all reference would probably be helpful. Well, you're in luck because here's just the thing.
2017 Topps Chrome Baseball has a few different rainbows to chase. Base cards have 15 different types of parallels (18 if you break out the individual Printing Plates). Some of these are exclusives to certain packs and outlets, others are just plain rare.
It's a similar case for the Rookie Autographs. While not quite the same amount of parallels, there are still lots of Refractors for the signed cards from Aaron Judge, Cody Bellinger and company.
2017 Topps Chrome Refractor Cheat Sheet
The following gallery breaks down the various types of cards and Refractor parallels found in 2017 Topps Chrome Baseball. In addition to the image, you can find things like print runs and pack odds.
Base
---
---
---
---
---
---
---
---
---
---
---
---
---
---
---
---
---
Rookie Autographs
2012 Topps Chrome Rookie Autographs Refractors Gallery
---
---
---
---
---
---
---
---
---
---
---
---