2017 Historic Autographs HOF Inductees Combine Baseball and Football Signatures
2017 Historic Autographs HOF Inductees is all about Hall of Fame signatures. And it doesn't hold itself to just one sport. Each box promises three signed cards: one from baseball, one from football and a third that could be either.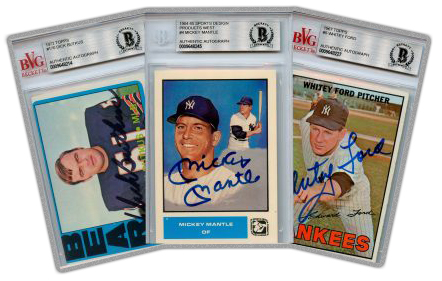 Many Historic Autographs products use cut signatures. 2017 Historic Autographs HOF Inductees does not. It's more of an autographed buyback approach with the signatures coming on existing cards. Everything is signed directly on the card. All autographs have been vetted by Beckett Authentication.
While both baseball and football are represented in each box, the third autograph can vary between the two sports. According to Historic Autographs, more often than not, the third card is baseball.
It's also worth noting that while virtually all players on the checklist are Hall of Famers, there is an exception in the form of Derek Jeter. That said, unless something major happens, his induction in 2020 is a mere formality. Also, Jeff Bagwell has been voted in but his Cooperstown induction doesn't come until the summer, 2017.
2017 Historic Autographs HOF Inductees at a glance:
Packs per box: 1
Cards per pack: 3
Boxes per case: 10
Release date: March 29, 2017
What to expect in a hobby box:
• Baseball Autographs – 1
• Football Autographs – 1
2017 Historic Autographs HOF Inductees Checklist
Jump directly to:
• Baseball Autographs
• Football Autographs
Baseball Autographs Checklist
Hank Aaron
Roberto Alomar
Walter Alston
Sparky Anderson
Luis Aparicio
Luke Appling
Richie Ashburn
Earl Averill
Jeff Bagwell
Ernie Banks
Al Barlick
Cool Papa Bell
Johnny Bench
Yogi Berra
Craig Biggio
Bert Blyleven
Wade Boggs
Lou Boudreau
George Brett
Lou Brock
Jim Bunning
Rod Carew
Max Carey
Steve Carlton
Gary Carter
Orlando Cepeda
"Happy" A.B. Chandler
Jocko Conlan
Stan Covelski
Bobby Cox
Joe Cronin
Ray Dandridge
Andre Dawson
Leon Day
Bill Dickey
Joe DiMaggio
Larry Doby
Bobby Doerr
Don Drysdale
Leo Durocher
Dennis Eckersley
Bobby Feller
Rick Ferrell
Rollie Fingers
Carlton Fisk
Whitey Ford
Nellie Fox
Ford Frick
Frankie Frisch
Charlie Gehringer
Bobby Gibson
Tom Glavine
Lefty Gomez
Goose Goslin
Goose Gossage
Hank Greenberg
Ken Griffey Jr.
Burliegh Grimes
Lefty Grove
Tony Gwynn
Ernie Harwell
Rickey Henderson
Billy Herman
Whitey Herzog
Waite Hoyt
Carl Hubbell
Jim Hunter
MOnte Irvin
Reggie Jackson
Travis Jackson
Ferguson Jenkins
Derek Jeter
Al Kaline
George Kell
George Kelly
Harmon Killebrew
Ralph Kiner
Sandy Koufax
Tony Larussa
Bob Lemon
Buck Leonard
Fred Lindstrom
Al Lopez
Ted Lyons
Lee MacPhail
Greg Maddux
Mickey Mantle
Heinie Manush
Juan Marichal
Eddie Mathews
Willie Mays
Bill Mazeroski
Willie McCovey
Johnny Mize
Paul Molitor
Joe Morgan
Eddie Murray
Stan Musial
Hal Newhouser
Phil Niekro
Jim Palmer
Tony Perez
Gaylord Perry
Mike Piazza
Kirby Puckett
Pee Wee Reese
Jim Rice
Cal Ripken
Phil Rizzuto
Robin Roberts
Brooks Robinson
Frank Robinson
Edd Roush
Red Ruffing
Nolan Ryan
Ryne Sandberg
Ron Santo
Mike Schmidt
Red Schoendienst
Tom Seaver
Joe Sewell
George Sisler
Enos Slaughter
Ozzie Smith
Johnny Smoltz
Duke Snider
Warren Spahn
Willie Stargell
Bruce Sutter
Don Sutton
Bill Terry
Frank Thomas
Lloyd Waner
Earl Weaver
Zack Wheat
Hoyt Wilhelm
Billy Williams
Dick Williams
Ted Williams
Dave Winfield
Early Wynn
Carl Yastrzemski
Robin Yount
Football Autographs Checklist
Herb Adderly
Lance Alworth
Doug Atkins
Morris Badgro
Lem Barney
Sammy Baugh
Chuck Bednarick
Bobby Bell
Raymond Berry
Elvin Bethea
Jerome Bettis
Fred Biletnikoff
George Blanda
Mel Blount
Derrick Brooks
Bob Brown
Jimmy Brown
Paul Brown
Roosevelt Brown
Tim Brown
Willie Brown
Buck Buchanan
Nick Buoniconti
Dick Butkus
Earl Campbell
Tony Canadeo
Harry Carson
George Connor
Lou Creekmur
Larry Csonka
Willie Davis
Len Dawson
Joe DeLamielleure
Dan Dierdorf
Mike Ditka
Art Donovan
Tony Dorsett
Bill Dudley
Webb Ewbank
Brett Favre
Tom Fears
Raymond Flaherty
Dan Fortmann
Dan Fouts
Frank Gatski
Joe Gibbs
Frank Gifford
Sid Gillman
Otto Graham
Red Grange
Joe Greene
Forrest Gregg
Bob Griese
Lou Groza
Ray Guy
Jack Ham
John Hannah
Franco harris
Bob Hayes
Mike Haynes
Mel Hein
Ted Hendricks
Elroy Hirsch
Paul Hornung
Ken Houston
Sammy Huff
Lamar Hunt
Don Hutson
Jimmy Johnson
John Johnson
Charlie Joiner
Deacon Jones
Stan Jones
Sonny Jurgensen
Leroy Kelly
Paul Krause
Tom Landry
Dick Lane
Jim Langer
Willie Lanier
Steve Largent
Yale Lary
Dante Lavelli
Marv Levy
Bob Lilly
Larry Little
Howie Long
Ronnie Lott
Tom Mack
John Mackey
Gino Marchetti
Jim Marshall
Curtis Martin
Ollie Matson
Don Maynard
George McAfee
Mike McCormack
Tom McDonald
Hugh McElhenny
Bobby Mitchell
Ron Mix
Warren Moon
Lenny Moore
Marion Motley
Anthony Munoz
George Musso
Joe Namath
Ozzie Newsome
Ray Nitschke
Chuck Noll
Leo Nomellini
Merlin Olsen
Jim Otto
Ala Page
Clarence Ace Parker
Jim Parker
Walter Payton
Joe Perry
Pete Pihos
Dan Reeves
Mel Renfro
Jim Ringo
Andy Robustelli
Charlie Sanders
Gale Sayers
Joe Schmidt
Texas Schramm
Lee Roy Selmon
Billy Shaw
Art Shell
Don Shula
Jackie Smith
Bob St. Clair
Ken Stabler
John Stallworth
Bart Starr
Roger Staubach
Ernie Stautner
Jan Stenerud
Hank Stramm
Fran Tarkenton
Charley Taylor
Jim Taylor
Lawrence Taylor
Thurman Thomas
Y.A. Tittle
Charley Trippi
Clyde Turner
Johnny Unitas
George Upshaw
Steve Van Buren
Doak Walker
Bill Walsh
Paul Warfield
Mike Webster
Arnie Weinmeister
Randy White
Dave Wilcox
BIll Willis
Larry Wilson
Kellen Winslow
Alex Wojciechowicz
Willie Wood
Rayfield Wright
Ron Yary
Steve Young
Jack Youngblood