2019 Topps Luminaries Baseball Cards Are All Autographs
2019 Topps Luminaries Baseball is an all-autograph release where every card maxes out at 15 copies. This marks the third year for the Luminaries line.
Like previous years, including 2018, much of the product revolves around a few different themes: Home Run Kings, Hit Kings and Masters of the Mound. All three have Autographs that come numbered to 15 along with Red (/10), Blue (/5) and Black (1/1) parallels.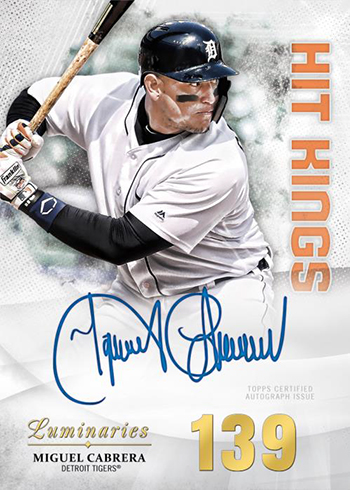 Each theme also has Autograph Relics (/15) that have their own Blue (/10) and Black (1/1) versions.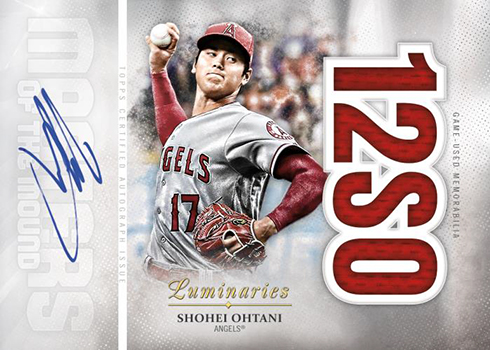 Home Run Kings and Hit Kings Autograph Patches have just five copies each plus one-of-one Black parallels.
Dual Autograph Patch book cards for all three sections are one-of-a-kind. One-of-one Home Runs Kings Autograph Patch Triple book cards are also available.
2019 Topps Luminaries Baseball has some massive book cards that come with lots of autographs. Ultra books for Hit Kings and Home Run Kings (1/1) have ten signatures. A Home Run Kings Ultimate Book (1/1) has 50 autographs while a similar Hit Kings Ultimate Book (1/1) has 40. Finally, there's The Greatest, a one-of-one booklet with 30 autographs.

New for 2019 are Lighting the Way Dual Autographs (/5 or less). Signers come from different time periods but share a common bond. These also have autograph relic versions, also with five copies or less.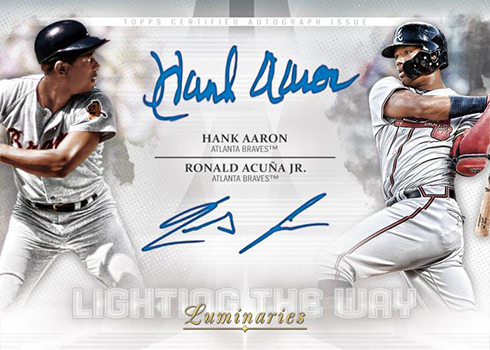 Lighting the Way is also a theme for an autograph-cut signature combination series. These have just one copy each.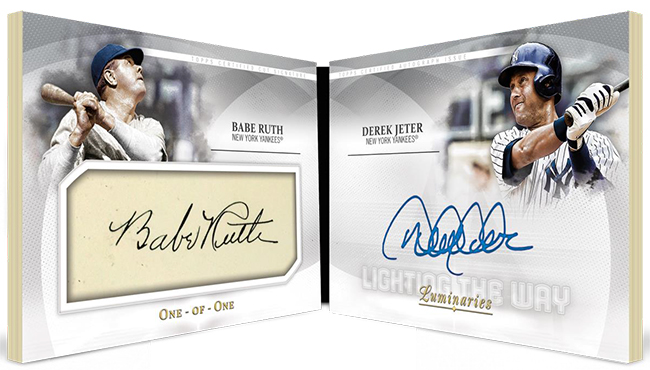 One-of-one Letters Autograph book cards open up to include both an autograph and a full letter taken from the back of a jersey.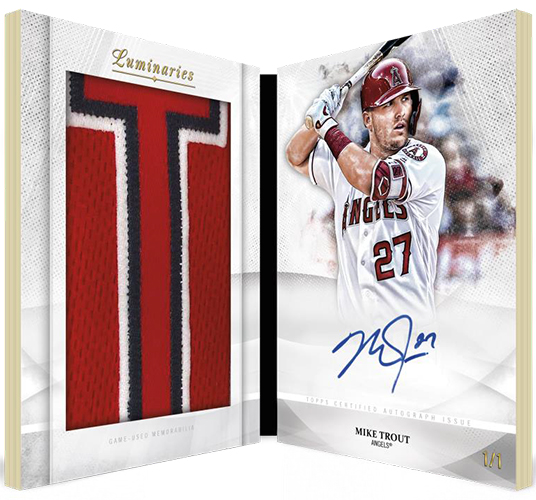 Rounding out the 2019 Topps Luminaries Baseball checklist are Cut Signatures (1/1), Cut Signature Relics (1/1) and Cut Signature Bat Knob book cards (1/1).
2019 Topps Luminaries Baseball at a glance:
Cards per pack: 1
Packs per box: 1
Boxes per case: 12
Release date: August 7, 2019
What to expect in a hobby box: