2017-18 Upper Deck Premier Hockey Checklist, Team Set Lists and Details
Like a lot of card releases that come towards the end of a card season, 2017-18 Upper Deck Premier Hockey has its sights set to the high end. Both autographs and memorabilia are not only in big supply in the product, but they tend to be some of the biggest of the year. All autographs in 2017-18 Upper Deck Premier Hockey come on-card.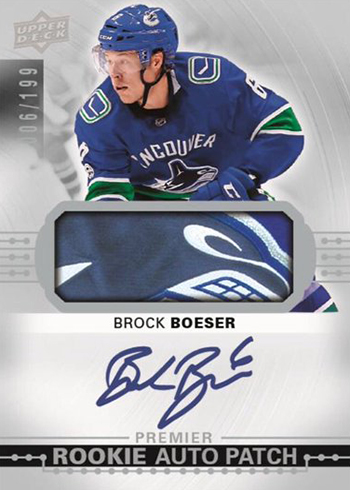 Boxes come in the form of tins (Wayne Gretzky is the featured star), each delivering a total of five hits.
2017-18 Upper Deck Premier Hockey: What to Look For
A rookie autograph patch cards is among the expected hits in each 2017-18 Upper Deck Premier Hockey box. These come in a couple of forms. One is a new design, once again done with acetate. These come in two tiers numbered to either 299 or 199. Platinum Blue (/25) are the only parallels. Select players have unsigned patch cards (/99) using a similar design. The Platinum Blue parallels here have just ten copies.
Other rookie patch autographs take on a Tribute theme, adopting either the 2002-03 or 2003-04 design. 2002-03 Rookie Patch Autograph Tribute Tier 1 cards have 49 copies each while Tier 2 have just 15. 2003-04 Tribute cards are numbered to 99. Both versions have Gold parallels with 25 copies each or less.
Acetate Stars Auto Patch cards (/49 or /25) let non-rookies get in on the action. Select cards come with Platinum Blue (/5) versions as well.
Other autograph inserts in 2017-18 Upper Deck Premier Hockey include Signature Champions, Signature Awards Winners, Ink Script, Premier Signature Booklets (1:5) and Magnificent Marks (1:4).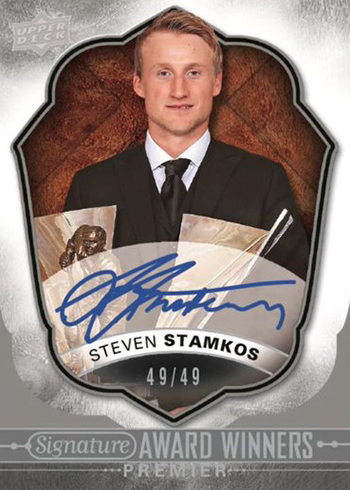 On the multi-player side, there are Premier Dual Signature Booklets (/40 or /20).

Although not a card, select tins come with a Wayne Gretzky autograph. These come with certification from Upper Deck Authenticated.
As far as memorabilia goes, Premier Mega Patch cards come with a swatch that's almost as big as the entire front of the card. Variations include Chest Logo, Shoulder Logo (/3), Sleeve Numbers (/4) and Commemorative Logos (/3).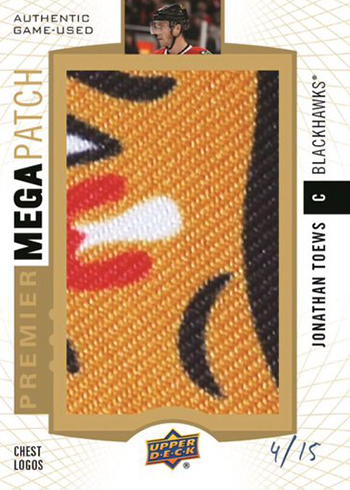 In a similar vein come Mega Goalie Pads (/10). The jumbo memorabilia piece remains, although instead of a patch, it's goalie leather. These are a new addition to the Premier line.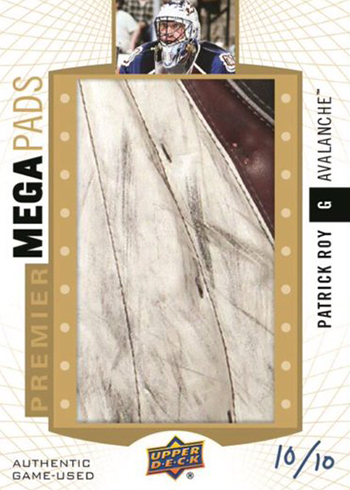 The Mega theme continues with dual patch (/25) and dual stick (/25) versions.
Other multi-swatch memorabilia cards include Dual Premium Relics numbered to 15 or 5 and Triple Premium Relics with ten and five copies. Quad Jerseys have 49 copies or less. There's also Premier Duals Jersey (/99) and Premier Trios Jersey (/75).
Every other tin comes with a Rookie Jersey card. Parallels for these cover various premium pieces of gear such as Patch (/36), Neckline (/12) and Tag (/3).
Additional memorabilia inserts include Premier Gear (/3), Premier Gear Rookies (/3), NHL Legendary Sticks (1:40), Premier Swatches Jersey and Premier Swatches Premium.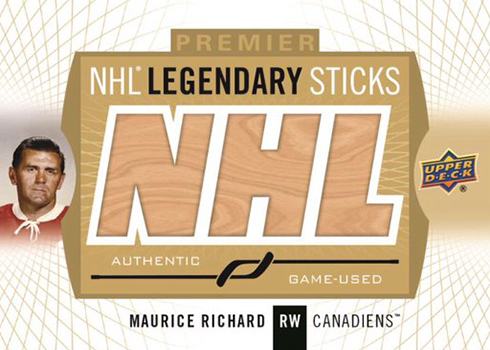 Base Set
The 2017-18 Upper Deck Premier Hockey shell set has a couple of different levels: Stars (/249) and Legends (/149).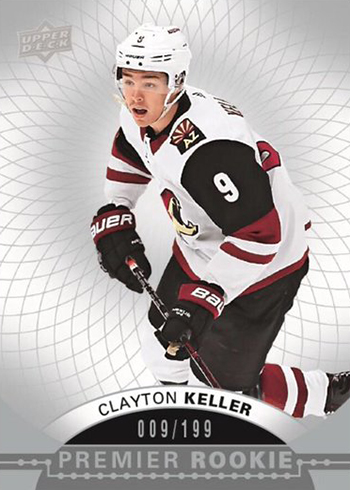 Parallels are primarily about memorabilia. In addition to basic jersey versions, there are Premium Materials, Neckline (/6) and Tag (/3). Platinum Blue Spectrum Autographs have five copies each.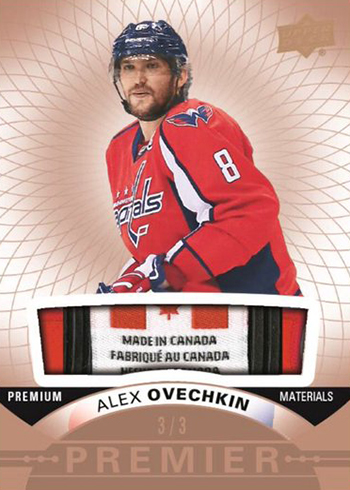 2017-18 Upper Deck Premier Hockey at a glance:
Cards per pack: 7
Packs per box: 1
Boxes per case: 10
Set size: 100 cards
Release date: August 1, 2018
What to expect in a hobby box:
• Rookie Autograph Patch Cards – 1
• Additional Autograph or Memorabilia Cards – 4
• Base Cards – 2
2017-18 Upper Deck Premier Hockey Checklist
Base
Autographs
Memorabilia
Updates
Team Sets