2019-20 Upper Deck The Cup Hockey Checklist, Team Set Lists and Details
When you click on links to various merchants on this site, like eBay, and make a purchase, this can result in this site earning a commission.
2019-20 Upper Deck The Cup Hockey is everything collectors have come to expect from the line. The checklist is all super-premium with lots of on-card autographs, memorabilia and low serial numbers. Of course, there are the Rookie Cards, too, that are historically the biggest of the season. Each tin of The Cup includes a pair of autograph patch cards.

2019-20 Upper Deck The Cup Hockey Checklist Overview
The Cup starts with its base set. It's broken down into a few different sections based on whether it's a veteran or a rookie. Parallels are similar, although there are some difference, particularly when the checklist gets into autographs.
Here's a quick base breakdown:
Veterans
Print Run: /249
Parallels (select cards at each level have autographs):
Gold Spectrum Foil – /12
Gold Foil Patch – /8
Green Foil Button – /3
Red Foil Tag – /2
Black Foil – 1/1
Black Foil Shield – 1/1
Rookies
Print Run: /249
Parallels:
Gold Foil – /24
Red Foil – /2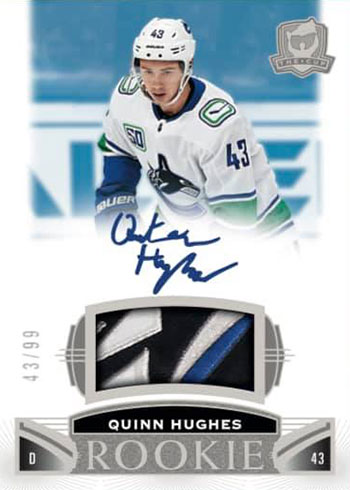 Rookie Auto Patch
Print Run: Tier 1 – /249, Tier 2 – /99
Parallels:
Gold Spectrum Foil Variation – Tier 1 – /36, Tier 2 – /24 (no patch)
Gold Foil – Tier 1 – /24, Tier 2 – /12
Green Foil Button – /3
Red Foil Tag – /2
Black Foil – 1/1
Rookie Auto
Print Run: /249
Parallels:
Gold Foil – /24
Red Foil – /2
Rookie Patch
Print Run: /249
Parallels:
Gold Foil – /24
Green Foil Button – /3
Red Foil Tag – /2
Black Foil Shield Logo – 1/1
Masterpiece Press Plates are also available. These one-of-ones were used in the production of the set. For some rookies, the plates also have a signature.
Autographs
For more than a decade, The Cup has become the place where collectors look for some of the best autograph cards of the year. It's not just the overall quality of signers that's the draw but the style and technology used to create them.
Emblems of Endorsement (/15) and Limited Logos (/50 or less) have long been autograph patch cornerstones. They return for another year, complete with jumbo patches.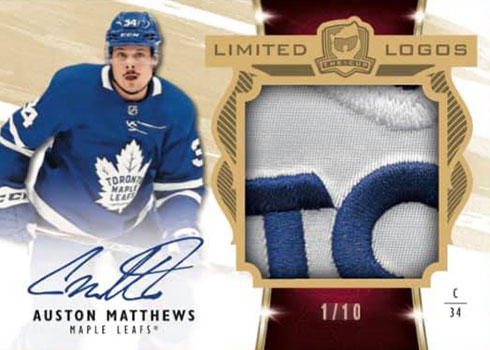 Debuting in a similar vein is The NHL Collection (/35 or less).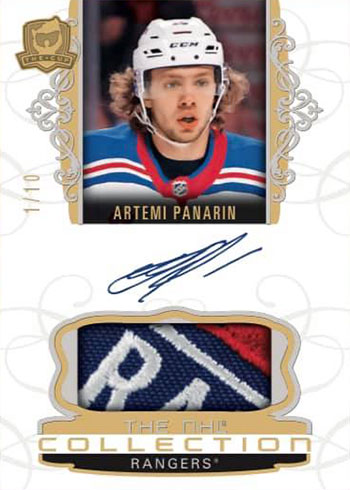 There's jumbo patches and then there's Autographed Monumental Patch Booklets. These open up to have a pair of massive patch pieces, kind of like a self contained puzzle. Rookies have six copies while veterans are one-of-ones.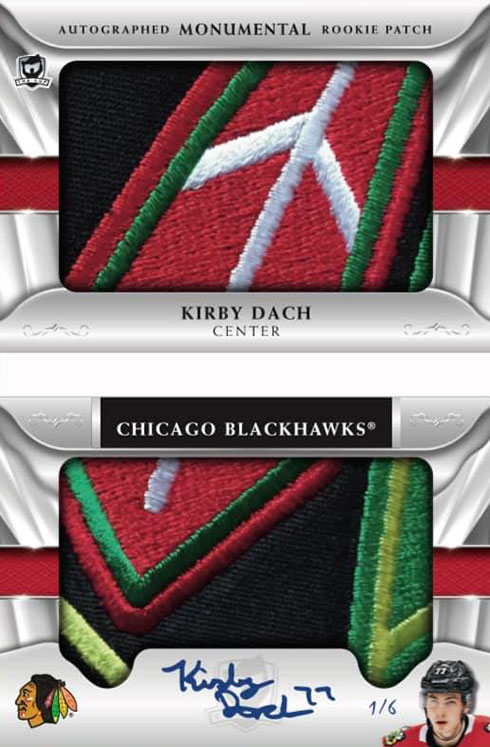 Other returning autograph inserts include Color Coded (/33 or less), NHL Glory (/10), Dual Auto Rookie Bookmark (/18), Enshrinements (/99 or less), Enshrinements Duos (/25 or less), Signature Renditions (1:13), Signature Renditions Combos (1:120), and Brilliance (1:18).
2019-20 Upper Deck The Cup Hockey has a couple more new autograph additions. Inked Insignias (/75) use manufactured patches to compliment a signature.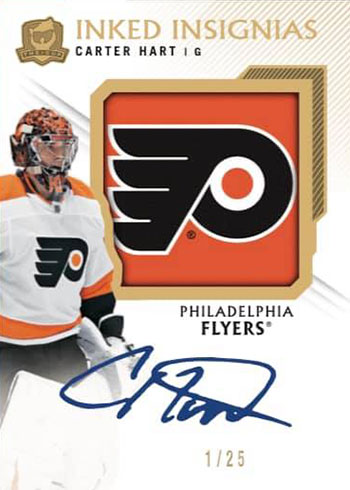 It's customary now for The Cup to reach back to its roots for some design inspiration. This year, there's Rookie Auto Patch Tribute lineup reaches back to 2005-06, 2014-15, 2015-16, 2016-17 and 2017-18. For each of the designs, cards are numbered to 10.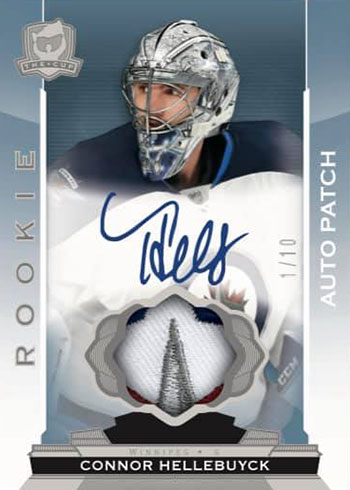 The Splendor brand might not have a home of its own this year, but it does take up residence on The Cup's checklist. For rookies and some veterans, these represent another autograph-patch combination. For other veterans, it's all about the signature. All Splendor cards have 36 copies.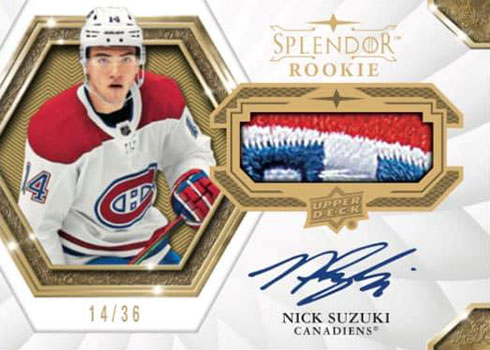 9-Way Signature Booklets (/9) and Legends of Hockey Triple-Signed Booklets (/9) are all about deliver autographs from large numbers of players.
Sticks and Swatches
Multi-player memorabilia combinations are part of Cup Trios (/33), Cup Quads (/24) and Cup Sixes (/15). Premium Materials Gold parallels have no more than 10 copies each while Red versions are numbered to 2. Finally, there are one-of-a-kind Button Green cards.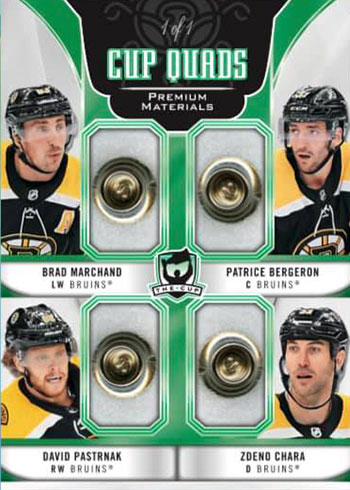 Cup Foundations (/49) and Cup Foundations Rookies go with four jersey pieces from one player. These have parallels with patches, tags and autographs.
Notable Nameplates take letters from the back of jerseys and embed them into cards.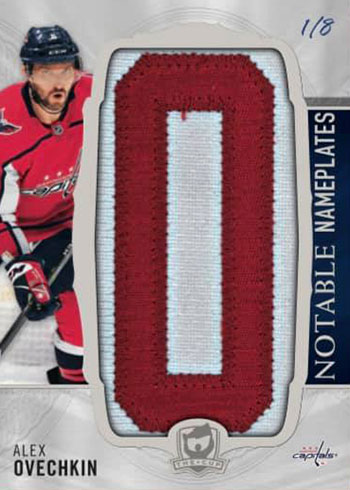 For those looking for more on the autograph memorabilia side of things, there's Signature Materials (/99 or less), Dual Signature Materials (/15 or less), Autographed Rookie Gear (/24), Autographed Pro Gear (/12), Scripted Swatches (/35) and Honorable Numbers, which have jersey numbering.
Logo Autographed Booklets have three copies for rookies and just one for vets. These open up to showcase the player and their penmanship on one side and a massive patch on the other.

Premium Inserts
Not all of the inserts in 2019-20 Upper Deck The Cup have player ink or gear. That doesn't mean that they don't lean into the brand's super-premium nature.
Championship Etchings (/15) return with more engraved cards that are meant to evoke the names carved into the Stanley Cup.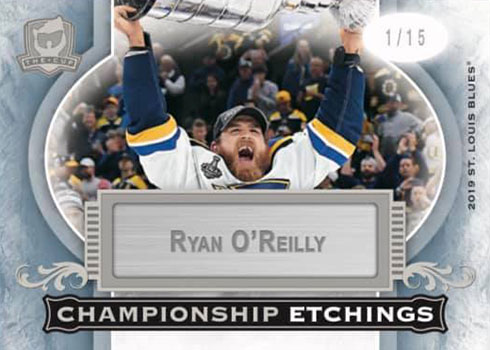 Splendor Silver Sticks (/10) get an expansion. These also have Red parallels (1/1).
Rookie Class of 2020 and All-Time Alum both come with print runs of 249. Parallels join the autograph ranks with Gold Foil (/75 or less), Red Foil (/5) and Black Foil (1/1) autographs.
In a small way, The Cup brings the entire hockey card season full circle with a throwback to 2019-20 Upper Deck Hockey. Printing plates from the flagship line (including Young Guns) are included here. But they're not alone. Collectors will find all four plates from the same card put together in a booklet card. Some also have autographs.
Exquisite Conclusion
After installments in Black Diamond and Ice, 2019-20 Exquisite Collection gets closure in The Cup.
Exquisite Rookie Auto Patch come numbered to the player's jersey number. There's more consistency in the quantities for the one-of-one Shield parallels.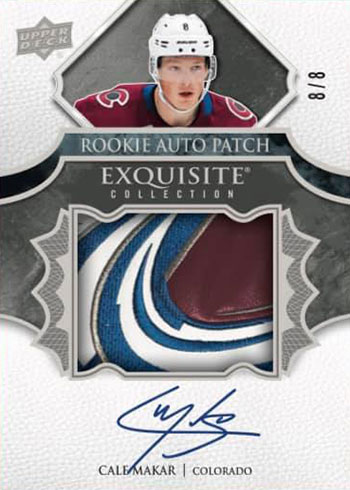 Premium memorabilia is on display in Exquisite Endorsements. Rookies have 50 copies each while vets are found in three tiers numbered to 50, 25 or 10.
2019-20 Upper Deck The Cup Hockey cards at a glance:
Cards per pack: 6
Packs per box: 1
Boxes per case: 6
Set size: 158 cards
Release date: February 17, 2021
Shop for 2019-20 Upper Deck The Cup Hockey boxes on eBay:
What to expect in a hobby box:
Autograph Patch Cards – 2
2019-20 Upper Deck The Cup Hockey Checklist
Please note that print runs have not been released for cards without serial numbers.
You can also download a customizable spreadsheet copy of the checklist:
(The spreadsheet includes additional Printing Plates from a variety of 2019-20 sets not included below.)
Base
Parallels
Autographs
Memorabilia
Inserts
Exquisite
Splendor
Sheet Redemptions
Updates
Team Sets